BACK
Dec 14, 2009 |
Archive (2008 - 2020), |
admin
2007
Laser regional training
Laser regional training really starts at the end of the domestic sailing season which ends at the Inlands. This year the Inlands were held at Rutland allowing sailors to drop their boat off at Grafham for the Grafham Water Centre residential weekend (November 10/11) and avoid taking their boats all the way home.
Whilst the Inlands was a predominantly light wind affair, Grafham was anything but, with a strong North Westerly breeze all weekend making for exciting training conditions.
Nearly sixty sailors attended the training which allowed sailors to choose the areas they wanted to work on each session (Saturday morning, afternoon and Sunday morning) with a choice of three different activities such as starting, upwind, reaching, downwind, boat handling and rig tuning to choose from. Each activity had its own video debriefing and there were further dry land topics to choose from after dinner.
The weekend finished with some large racing on the Sunday afternoon. Many of the sailors attending were new to the class. There was also an opportunity for parents to meet with the coaches and find out the best way to progress through the class, the appropriate weights for the different rigs and how to get the best out of being in the UKLA.
The next weekend at Grafham will be on April 26/27 and the aim is to fill every bed in the place!!!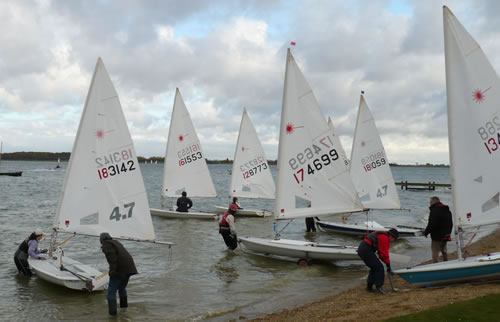 A New beginning
I really see my operation as a chance for me to have a fresh start. I start my physiotherapy this week which at last means I can do something to speed my recovery and I am already making plans for when I am back in Weymouth. The aim is to improve my flat so I have a good working environment to complete all my admin but also to make it a nicer place to stay for when people come to me for one to one coaching.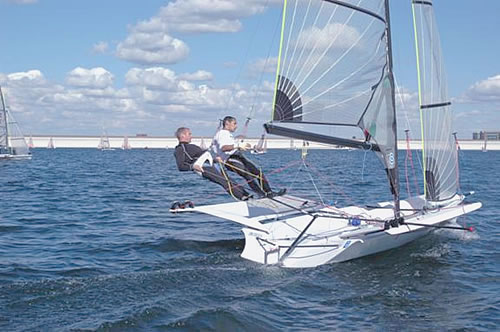 49er for sale
Since I am not going to be able to sail for six months I have decided to sell my 49er:
49er GBR 905
The boat has been stored in a stored in a shed since 2005 (it has been unsailed since my injury) comes with:
Light weight trolley (Gunwale, so nothing touches the boat) and Trailer
Complete set of covers and lightboard etc so boat is ready to go.
Everything ready to race having been regularly replaced so nothing is more than 30 days old.
Plus Brand new mast, 2 spinnakers, jib and main (worth £4900)
£11000 O.N.O
Looking to the future
Well the plan for the future is quite simple. In April 2008 I am going Tornado sailing, (hopefully doing the Breitling regatta in Holland the following month). My top priority in the first six months is to get fit and get back out on the water.
Obviously it takes a long time to get up to speed in such a demanding class. So I would actually view this as a two cycle campaign. However you do not need to get all the way to the top of the learning curve to work out whether you will be one of the top boats.
My plan would therefore be to do the European season in 2008, followed by the Australasian series followed by the 2009 European season. At this point I think it would be reasonable to make a decision whether to continue to 2012 or look at other options. This period of time will make things much clearer.
In November 2008 the decision will be made regards the Olympic classes in 2012. If at this point the Tornado is removed from the Olympic classes I would stop Tornado sailing (having done one European season). At this point I am sure I will have learnt a lot (another string to my bow) as well as getting back to full fitness.
In order to make the best possible start for my 2012 campaign I need to start sailing as soon as possible rather than waiting for this decision. If regrettably the Tornado loses its spot I will have spent a minimum amount of time and funds on the project.
Well, the last couple of years do not seem to have been that kind to me: in 2004 I slipped on a wet floor and twisted my ankle and was therefore in poor condition for the Worlds, Europeans and National championships. 2005 I had a shoulder injury, before in the beginning of 2006 developing problems with my neck.
This has meant that although I have been able to race I have not been able to compete at 100%. Surgery is always a serious option but considering I have not been able to run pain free for two years I felt it was something I had to do. Surgery seems to have gone well and I am now "enjoying" six months off before returning to training.
When I return I will be starting a Tornado campaign with John Ready, sailing both the 2008 and 2009 season to see if we have a realistic chance for 2012. I believe John and I make a great team. I am extremely analytical and contemplative whereas John is extremely single minded and good at focusing on the here and now.
We have both had lots of experience before (we are in our 30s) and are both used to doing the lion's share of the logistics, boat work etc so I am really looking forward to being in a professional team. At this stage I am unsure of our regatta plan for next year but rest assured my enthusiasm for the sport continues!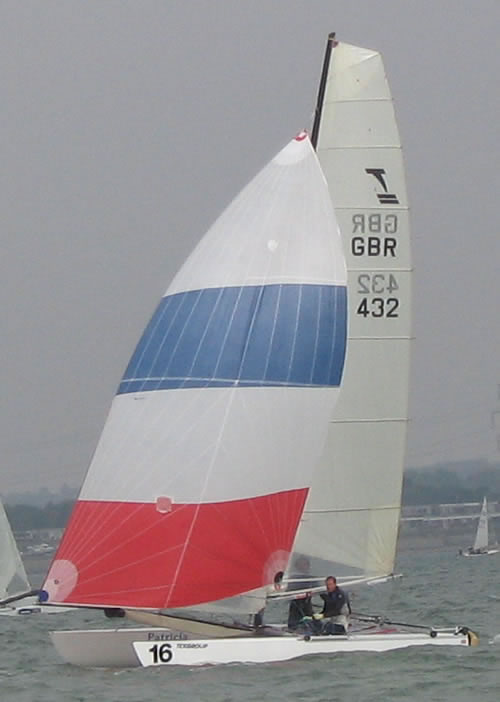 Tornado Nationals
Well I finally had my first experience of Tornado racing. Talk about being chucked in at the deep end! Having not sailed the boat for around six months and with the racing sails still on, the East coast regatta preparation for the Tornado National championships was not what it should have been, but it was still excellent to get out. We will be much better prepared for our next regatta, Sail for Gold, which will be held at Weymouth, before I take six months off Tornado sailing to recover from my upcoming surgery.

We actually spent all of Thursday rigging the boat which has been stored in Weymouth. Having not been out on the water there was lots of boat work to do. It seems that boats like cars like to be used on a regular basis or they seize up. However we managed to get everything sorted enough to race, but the Tornado really needs some TLC.

Friday and the wind was light all day. Unfortunately the wind never built enough for us to race, so I worked on the Kite Halyard system which was very useful and I now think it is 90% there. I re-rigged the system, so I had to start again with the lengths. It is an iterative process getting the "perfect" system but it is just so important, as it makes the hoists and drops so much better. The Harken blocks work really well, it is just getting the lengths correct. My next step is to use a longer halyard and shorter and/or thicker elastic. There needs to be enough tension in the system to make it easy to raise and lower the spinnaker without too much tension, so the halyard re-cleats itself.

Saturday we made up for things with five short races, perhaps not the best of racing with the course sometimes quite lopsided but at least we got enough races in to guarantee we had a championship! Funny the style of racing seemed very much that of the 49er. However I have been told that normally the races are much longer! Saturday we had a curry at the club and it was great to meet some of the Tornado sailors and see the direction the class is going.

Sunday and we only managed to get in one race We were second around the top mark after leading coming from the left hand side (but we did not have room to tack onto starboard with another boat on port not far behind). The next race we were looking good at the end of the second lap but they abandoned the race as the wind died and I was extremely grateful for a tow in from Pete Conway. It took about two hours to pack away and some of the last boats were only just coming in at that point.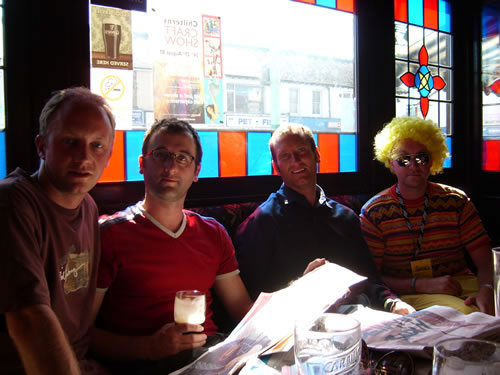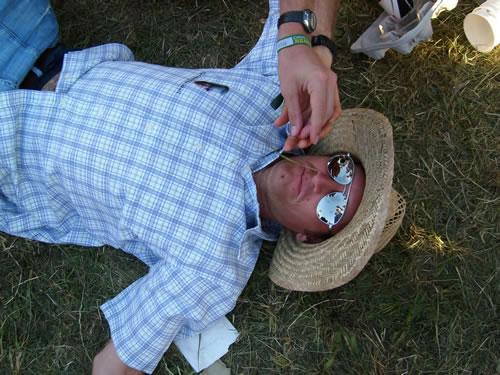 Reading Festival
After attending two major Championships I felt I really needed some time off before the start of the National ranking series, so I went to Reading festival with my University friends. It is a constant reminder of my dedication to the sport how little I see of them which makes me a little sad but determined to make the best of any time we have together; most of my Uni mates I had not seen in over a year.
The festival was also Paul Hyde's stag do, so everyone was up for a good time. It could certainly not be called a rest, standing up for several days is not ideal for a bad back, and the food, although great (to eat) was not what the nutritionist ordered: burgers, pizza, chips, with plenty of ice cream and donuts and all kinds of take away food. Plus plenty of late nights!
The weather for the festival was actually very good, hot and sunny (lots of sun cream required) but before it had been raining heavily, so we had the interesting combination of lots of mud and 25 degrees! As a result, some of the camping area was unusable meaning "our" car park had to be turned into another campsite (it was probably the best and certainly the quietest, but a long way from the main arena).
This meant all the cars were parked the other side of the river, so lots of queuing for the boat everyday (I slept in my van, leaving the rest of the stag do camping in their Tesco's own £6 flowery tents). The boats ran very well; there were just loads of people and a mad rush to get to them first thing in the morning and after the last band of the day.
I travelled up to Reading for the Festival on the Thursday hoping to avoid the rush. I actually exchanged my ticket quite early and was number 56249, so I am guessing there were perhaps 100,000 people there. It certainly felt like it when the last band of the day had finished playing and we all tried to leave the Arena at the same time, certainly not good for anyone suffering from claustrophobia!
The atmosphere was great, with lots of people wanting to high five or hug people they met coming the other way (it certainly took a long time walking anywhere) and whilst in the camp every so often there was some random shouting which moved like a Mexican wave through the camp!
There were some interesting things at Reading (some good, some not so good!) Carling sponsored the weekend and had a beer amnesty, allowing you to trade in any beer for a cold Carling (for example warm, Tesco's own lager!) All the drinks were served out of Carling paper cups (no glass in the arena) and to try and encourage recycling you got 10p for a returned cup and a free beer with every returned bag (around 30) cans.
There was also the Lynx Man wash where you could get scrubbed down by some lovely ladies. However due to queues for both this and the showers most people opted to smell for three days or had a "baby wipe bath".
The thing which does stick out was the toilets, obviously something new if you have never been to a Festival before. This was basically a big hole in the ground with the toilets above it. Needless to say the smell was not great and lots of people opted to go to McDonalds or similar if they had half a chance. Top tip – remember some toilet paper or bring the Immodium!
Friday morning started with me being woken up to the Wombles before trekking through the mud to meet my mates. There were several stages of music, which kicked off at midday. Most of the bands I was interested in started later in the day meaning we could have a relaxed start. The highlight for me on Friday was Ash, although I did end up getting pinned next to the front barrier for most of the set.
Saturday and the stag do started in earnest with team kit (which made it a lot easier to find people, which was becoming increasingly difficult with the place absolutely packed! A lot of people were carrying flags or blow up animals on sticks to make it easier to find them!) of checked shirts with a picture of Paul, straw hats and sunglasses. The final band on the main stage was Red Hot Chilli Peppers, which was great, although the ending was somewhat strange with the lead singer already gone and a rather strange guitar solo.
Sunday and Paul was forced to wear very loud yellow trousers and hair (once again making the group easy to find) whilst the rest of us got off Scott free. We started the day with a very large (all you can eat) curry for lunch before heading to the main arena. The music was great and the bands really interacted with the crowd. The last four bands were Fall Out Boy, Lost Prophets, Nine Inch Nails and Smashing Pumpkins, a great way to end the weekend. I just could not believe how quickly the time went, which shows how much I enjoyed myself…
I drove home early Monday morning. With a single lane out it was not a quick exit, but I am glad I left early as the queues were only getting longer and I was extremely keen to get back and see my girlfriend Emily, although I made sure I had a very good wash first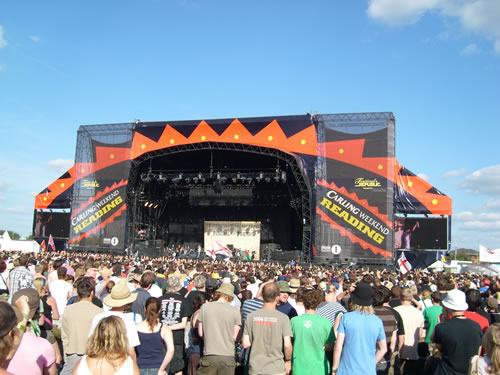 Jon Emmett from Weir Wood Sailing Club/Weymouth and Portland National Sailing Academy has just finished racing in the Laser Radial Nationals. Last year he led the event from start to finish when the Championship was contested in lights winds at Largs, Scotland. This year was a strong wind event held in Portland, England. Next year's is scheduled for Abersoch, Wales.
Emmett finished a respectable third in a fleet of over 140 boats. The first four days of racing was held in mixed fleets before being split into finals (ranking: Gold, Silver and Bronze). Every day was sailed in demanding conditions but one day was lost with the wind being too strong to race safely.
The series was very tight with Emmett just three points off third and only two points in front of fourth before going into the final day, with the top four places well in front (around half the points) of fifth place and the chasing fleet. Any of the top four boats had a chance of winning.
Going into the penultimate race, Emmett was just three points off the lead, despite not being at full fitness. He grabbed the bull by the horns and won the start, crossing the fleet and heading out to the favoured right side of the course. He was comfortably winning after the first lap when he was informed he was over at the start and disqualified from the race.
This meant Emmett had to count his next result, meaning a poor race (Emmett's worst race in the event was third place) could see him drop out of the top ten overall. A conservative start for Emmett saw him round the top mark in sixth place and work his way to third. Interestingly the finishing order of the last race was the overall finishing position of the top four overall.
Jon trains at Dunnings Mill, East Grinstead and Future physiques in Weymouth, and uses Nelson physiotherapy clinic. He is also supported by Harken (Sailing hardware), Typhoon (quality wetsuits). After being injured for the last couple of years Emmett will shortly be having neck surgery and hopes to return to full fitness for the Nationals next year, providing a springboard for his campaign for the 2012 Olympics.
After suffering with slipped discs in my neck for the last two years (since 2005) and having had consultation with a neurosurgeon, I have decided to opt for surgery. Although the condition has been stable for the last nine months (since I came out of the neck brace) I feel the numbness and weakness in my left hand side has limited my performance.
Olympic sailing is all about that extra 1%. Currently I have not been able to try 100% because I am concerned about causing further damage to the discs (which could result in paralysis from the neck down), hence the reason why I have been unable to run, lift heavy weights or do any high performance sailing, to mitigate the risk.
It now appears the matter will not resolve itself (the discs have extruded rather than protruded, so there is no way for them to go back and relieve the pressure) and rather than retire from the sport (I would like to do two further Olympic campaigns), I have decided I need to get the matter sorted as soon as possible. This is not only because of the physical side of the injury but because I have found the concern has increasingly affected my ability to concentrate at regattas, meaning that I have not been as sharp as I could be. There are risks, but I believe they are acceptable and I am good hands.
Over the past two years despite being injured I have won National Championships, twice finished top five in the Worlds, and as coach have helped others qualify for a spot at the Olympics. However I can not help but think how I would have been able to perform if I were pain free.
I am currently on the waiting list for surgery which I hope to have in the next three months (before November). They will remove the bottom two discs in the neck, replacing these with titanium discs which will last a life time, and fusing the joints. After the operation I will be out of action for around 3 months and will return to training after 6 months. This means I should be fit and well by the time the Olympic classes for the 2012 games are decided and able to really push myself in the next Olympic cycle with nothing hanging over my head.
Up to the point of the operation in October, I will try and keep racing/training as much as possible. Therefore there is still the opportunity for me to do some gear testing, but it would need to be done in the near future. I will of course keep you informed, but rest assured I am 100% committed to an Olympic campaign. I just feel I need to take a break so I can compete at the very best of my ability in the future.
Radial World Championships
Jon Emmett has just returned from the Radial World (and European) Championships in The Hague, Holland. Emmett who has been suffering with a slipped disc in his neck (for which he will be shortly receiving treatment) decided to go to the regatta and make the decision to sail when he had seen the conditions. The regatta had over 120 sailors competing from 30 countries. This year sailors had to be selected by their country to attend the event, so the standard of competition was much higher than normal, with any one of half a dozen boats capable of winning the event.
Emmett's preparation for the event was far from ideal, as he had just returned from the ISAF World Sailing Championships held in Cascais, Portugal, as a coach (this was the selection event for the Olympic Games in which he helped the Swiss Radial team qualify for a place). Jon is currently seeking sponsorship, and at the moment funds all his sailing activities through coaching.
He had limited time to practise himself and went out training in Weymouth Bay, not noticing that someone had removed the bung from his boat. After a couple of hours sailing, the boat was full of water and nearly sinking by the time he returned to shore. Emmett promptly emptied out the water, but the inside of the boat remained wet, making the boat heavy.
Emmett decided not to sail until the last minute (not training at the venue or doing the practice race) in an effort to get the boat as dry as possible inside. This also gave him the chance to rest himself.
Looking at the forecast it appeared the start of the Championship would be windy (not ideal when injured) but with the wind dropping off for the rest of the week, so Emmett decided to sail. In hindsight this was a good decision, but he was very nervous at the time, not wanting to cause further injury, thinking of the big picture and his future success…
Day one, and his aim was simple: to get some reasonable results, and despite considerable discomfort he posted two top ten places (9,7), keeping him in the running, which was more than could be expected, since he was struggling somewhat with boat speed. The wind for day two was even windier and luckily for Emmett no racing was held. Then a high pressure system moved in, providing lighter winds for the remainder of the championship.
Day three and there was just one race sailed in very light winds. Emmett was leading until just before the finish line where he got penalised for too much body movement, dropping him to second place overall. This meant for the rest of the championship he needed to be especially careful. Another call by the Jury would mean a disqualification from a race. Another race was started and Emmett was lying in third place when the wind finally died and the race was abandoned.
Day four was another frustrating day with only one race sailed due to light winds. A solid 8th (gradually pulling his way through the fleet with good down wind speed) saw him in the top five going into the finals (previous racing had been in two equally split groups).
Day five was the first day of the finals, with the top 50% of the fleet sailing in the gold fleet (the bottom 50% were in the silver fleet), making the racing twice as difficult! And the tide was now getting really strong. Emmett was winning the left hand side of the course but did not realise how significant the current was. He left it too late to tack and ended up in the 30s. He was in good company with two of the other top five sailors also on the left and finishing in the 50s. He was allowed discard this result (the score from his worst race is not included in his series) but he could make no more mistakes; this really put the pressure on for the rest of the Championship. The second race of the day Emmett tacked at start time and finished the day on a high note with a solid 5th place.
Day six and the first race Emmett played a cautious game and was rewarded with a fifth whilst the event leader finished in the 20s. Thus going into the last race Jon had a theoretical chance of winning the event, and going up the first beat he was leading the race, at this stage winning the Championship. However at the top mark he could not quite cross the right of way boats on starboard tack. As with many racing decisions, there was a split second to choose to cross in front (in first place) or to duck and be third round the mark.
Emmett thought he could cross but he couldn't, and he was protested by the starboard boat (who was lying in second overall) With the strong current the penalty turns (he did not want to risk disqualification) cost him twenty places which he was forced to count, and this dropped him off the podium, plummeting into fourth place, comfortably in front of fifth. Well, a fourth place is always disappointing, finishing just off the podium, especially as he was winning the World Championships after four days last year and dropped to fourth in the final race.
However he acknowledges all the sailors who finished in the top three sailed an extremely good regatta. Next year the World Championships will be in New Zealand and this time Jon is determined to be on the Podium. His result in Holland has just increased his motivation for further success and his long term goal of competing in the 2012 Olympics.
It was definitely a good idea for him to compete and despite long days on the water (often approaching ten hours) Jon is no worse the wear for it! He is now hoping to get back to full fitness as soon as possible and to achieve even better results. Those wishing to follow Jon's progress should visit his website www.jonemmettsailing.co.uk which is regularly updated.
ISAF World Championships
Well the ISAF Worlds have now been: it seemed as if we were waiting for ever for the event to happen. It was actually great, although it was certainly the most stressed I have ever been at a regatta as a coach. I am now taking some much needed holiday!
The expectation was strong northerly winds, with a one way race track (paying to go right due to the shore effect), so many people thought all you needed to do was get fit and heavy and spend lots of time sailing in the waves of Cascais.
Actually the championship provided a range of conditions and was often shifty and gusty, with the current sometimes proving crucial, and so perhaps a far better selector for China than many people would have first thought.
Now I know there will always be the argument that this is not fair racing (when the pressure is not even across the course for example) but isn't it funny how the best sailors always make it to the top of the fleet, what ever the conditions!
Anyway my role was to qualify the Swiss Nation for a spot at the China games… drum roll please, well: Nathalie Brugger finished eighteenth Nation and qualified for the last available spot for the games, I told you it was stressful.
This was an especially great achievement for Nat, who had her appendix removed less than two weeks before the Championship. It just shows how fit she is that her recovery was so rapid. However I do not mind admitting I had reservations about her doing the event, thinking about her long term health Thank goodness she decided to give it a go.
coaching
Jon has recently been coaching the Swiss Radial team, helpng them to gain a place in the Olympics next year. He is currently suffering with a trapped nerve in his neck so is full time coaching and doing some Radial sailing whilst he gets this issue resolved

He qualified first in the selection for the World Men's Radial Championship 2007 which will be held from Friday 27th July 2007 to Friday 3rd August in Scheveningen in Holland, and is waiting to hear from a specialist whether he will be able to compete..

Ideally Emmett would like to defend his title at the UK Radial Nationals which will be held at his home town of Weymouth from Saturday 11th August to Friday 17th August 2007. Since the World Championship is held in Europe this year there will be no European Championships.
Emmett's long term aims are with the Olympic classes and after August he is hoping to be back full time sailing....
Coaching
The season has now well and truly started with the Princess Sofia and Hyeres regattas both taking place in April. Both events were sailed in predominantly light winds, very different from the expected conditions for the ISAF Worlds. Next month is the Holland regatta which is the last one before we go to Portugal. I would expect this regatta to be quite different with short chop rather than swell, and an oscillating breeze rather than persistent shift to the right. I will be very interested to see how the Swiss sailors I am working with perform, as they have improved a great deal this year.
The Laser regional training has now stopped and I have now completed the UKLA training programme for 2007/2008 (see the coaching page) which hopefully will see even greater numbers.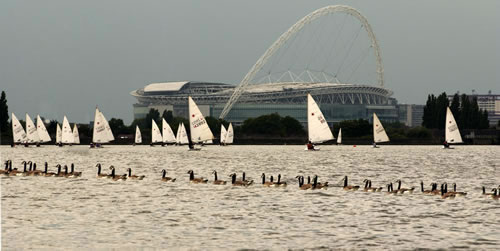 Ice Yachting
Prior to the start of the season I went Ice Yachting which was great fun. Unfortunately the wind never got above 10 mph (you could not see it as you can not see wind on snow or ice – like you can see wind on water). However I still managed to get well over 30 mph (clocked with GPS).
Well, March sees the start of the qualification series for the Radial. I did two events, one at Stokes Bay and one at Highcliffe. I have now done enough to qualify for the Radial World Championships this year in Holland, which is a few weeks after the ISAF worlds in Cascais. I am definitely going to do the Radial Nationals which is at Weymouth where I live!
I have continued to do some Tornado sailing but I have been trying to take it easy as I slowly but surely recover from my neck injury last year. I have agreed to do the Tornado Nationals in September which doesn't clash with any other fixtures and should provide four good days racing on the Solent.
Next week I fly out to Palma. However this year I shall be coaching (Nathalie Brugger and Corinne Meyer) and then home for the weekend before flying to Hyeres. I may even be allowed back in the gym next month, after six months out due to injury I am really looking forward to it!!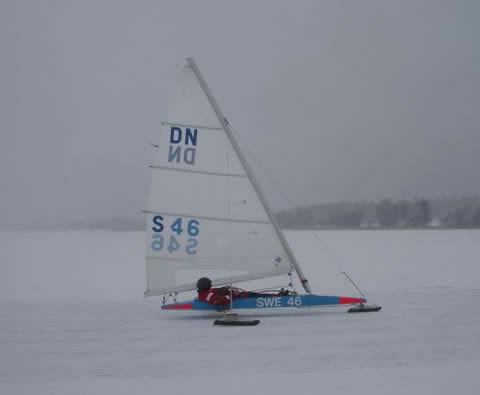 The plan for the year
Looking back at 2006, one of the decisions I made was to look at lots of new possibilities this year. One of these was to go Tornado sailing. Well I did a couple of hours sailing last month with John Ready. The plan was to do the first National Ranking event at WPNSA in February Well we got the boat all rigged up, but only one other boat turned up… so no regatta. Needless to say we used the time well and did a couple of days training (well one actually, as there was no breeze on the Sunday) but this was rather disappointing.

I am going to do the next Tornado National Ranking event which is at Worthing in May. This currently seems a long way away, but I guess in some respects this is a positive as it enables me to do a few more hours of practice(I had only been in the boat twice before the first National ranker).

Last year was a difficult year for me with injury, although I still had some great results.I just wondered how much better I could have performed if I was in perfect working order! Although I am still campaigning hard, as a result the chance for my selection for the 2008 games is now very small and hence I have decided to have a slight change of focus over the next eighteen months to ensure I have a complete recovery (I am still having lots of acupuncture to help repair the nerve damage I suffered last year) and to be on a firmer financial footing for 2012. Although I have great support with Typhoon for sailing clothing, and Harken for hardware, I am still searching for a partner to help with the major logistic costs of running a campaign.
I have recently coached Nathalie Brugger and last year Corinne Meyer and I have decided to work with the girls this year as the Swiss Olympic Radial coach. I really enjoyed working with the girls in the past and this will enable me to attend the major regattas but also get some money set aside for next year. There may even be a possibility of going to the Olympic games as a coach but I guess I have to see how things work out this year.
Talking of doing something completely different, I am now off for an ice sailing holiday in Sweden (the first holiday I have had since going full time sailing in 2000). I guess this is a bit of a bus man's holiday and I am really looking forward to it (apart from the getting up at 3am in the morning to catch the flight on Monday and getting home at 2am Saturday morning!) The idea is to have a small break before the start of the season which is very intense this year, since the worlds in July are used to select the vast majority of places for the China games (so pretty much 6 months on with no break!)
At the end of the season I will probably have another bus man's holiday by doing some Radial sailing, but a lot will happen between now and then so we will see how it goes. Perhaps August is the time to once again try and stand on a windsurfer!!!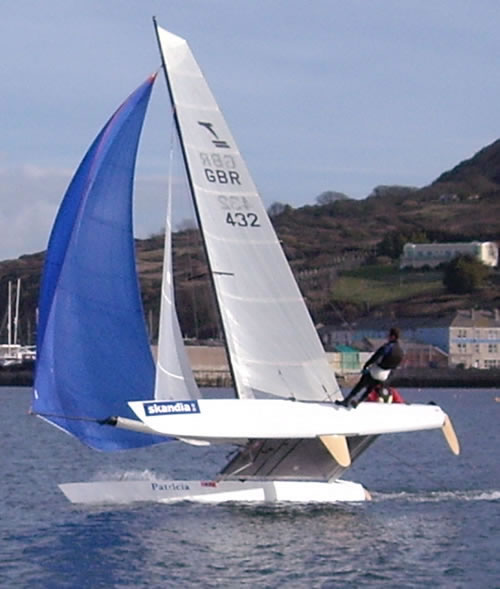 Training
Coaching has been my main focus recently. As the UKLA Training officer I am involved with the Laser class regional training and I have been doing a fair amount of travelling. Where possible I try and attend the first session of each region but this is not always possible. There is now training in eight regions, meaning nearly everyone should be able to get access to class training a couple of hours from home.
January was certainly a mixed month, going as far north as Loch Venachar (very beautiful) with the Scottish training, as far south as Hyeres (where I worked with the Dutch team) and in the South West I went to Roadford… So next weekend I am off to Brightlingsea in the East. I also ran the Laser coaching conference, meaning I now have a great team to send out to all those clubs who want training.
I really enjoy coaching and it enables me to raise much needed funds for this year which is already looking especially expensive. This is the crunch year with Nationals qualifying for places at the Olympic Games and sailors qualifying for the opportunity to represent their nations. So top quality gear for this year is an absolute must!
The World Championships is in Australasia next year which means putting the boat on a container before Christmas. The World championships are always early in the Olympic year, so there are lots of resources to sort out, with the RYA National ranking series not finishing until October.
I have also taken the opportunity to do a couple of hours sailing in the Tornado which was great fun and even faster than the 49er. I am already considering my options for the 2012 games and also need to bear in mind that there will be only ten Olympic classes, meaning one (or more) of the existing classes will be dropped. As a short male (5'6") I need to sail a wide boat (the Tornado certainly fits this bill) and I originally looked at Tornado sailing with Jamie Smith back in 2000.
The RYA spring series starts in February, usually with a cold, and strong North Easterly at Weymouth, so fingers crossed it will be different this year! However WPNSA is very close to my flat, so it doesn't take me very long to get home. This is really the start of my season. I can not wait!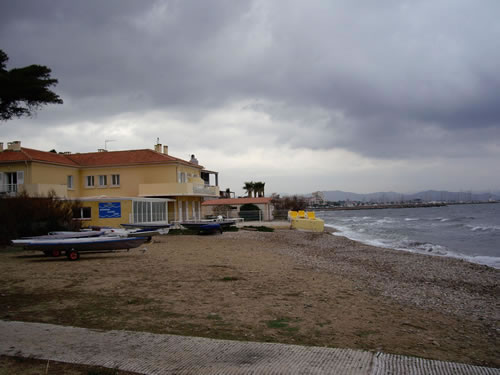 Jon Emmett has over 20 years of coaching experience from grass roots to Olympic Gold.