BACK
Dec 15, 2009 |
Archive (2008 - 2020), |
admin
2008
The winter is the time I do most of my coaching, as this is the period when there is the least racing in the Northern hemisphere…
Dubai
The winter is the time I do most of my coaching, as this is the period when there is the least racing in the Northern hemisphere… so this is the best time to work on improving your technique!

Although I am always looking for sponsorship (I may well have an announcement to make in 2009) I feel it is important to have guaranteed funds to sail (otherwise you have to stop sailing as soon as the sponsorship or other funding stops).

I have also found coaching a great way to improve my own sailing as it means I get to observe races from an external point of view, seeing what works for the top sailors as well as improving my analytical and communication skills.

In fact this time of year I have very much a 9-5 Monday to Friday job, although it is usually less than 9-5 because of the available daylight! I am, for example, going to get some photos taken for Yachts and Yachting next week, and I need to remember I do not have much time as it will probably be dark by 3:30!

I will do a couple of weekends work, but in 2009, my aim is really to minimise this to allow myself to have time with friends and family. In fact at the time of writing I haven't sailed since the Inlands, having just been concentrating on my fitness.
My latest job was in Dubai. I flew out (really early) Monday morning, arriving around midnight their time. It did not really help that I had an extremely late night Saturday having been out celebrating Paul Goodison's birthday in Weymouth, but it was self induced tiredness so I don't expect any sympathy.
I was somewhat nervous about getting picked up from the airport as I could not turn my phone on (I tried to turn it on with a pen, managing to break both the phone and the pen, meaning I could not shake anyone's hand as I was covered in ink… first impressions and all that!)
There was no rest for the wicked (me) and it was straight to work Tuesday morning, Running just a four day camp, timing was pretty tight, and despite the light winds we managed to get some good boat handling and boat speed sessions done although the racing at the end of the week was not in the best of conditions. I must make a special mention of Craig, Petra, Marcel, Denise and Jess who looked after me extremely well, although I may well have put on a couple of pounds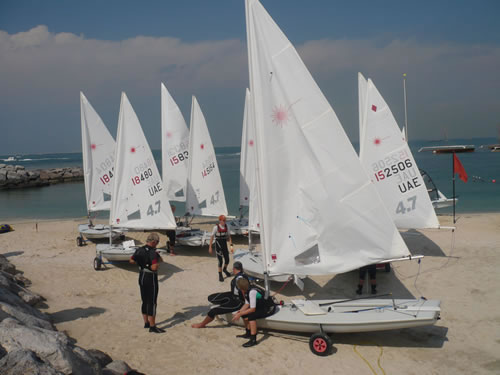 I got a plane around midnight on the Friday to fly back to the UK where I arrived at 6:30 ready to coach at Datchet at the weekend. I have actually run Laser Southern regional training at Datchet for the last three years and although I am keen to keep my weekends free it is somewhat of a tradition… and I like tradition.

Speaking of tradition, on the Saturday night I went to the Weir Wood Sailing Club Christmas dinner. This was great fun although I did have to try quite hard not to fall asleep in my soup!

Funnily enough when I finally managed to check my voice messages on Monday I had a call from ISAF asking me if I wanted to go out to Bahrain for the week… I decided I was glad I missed the call!

I think I now deserve a quiet week getting ready for Christmas and although it was nice to have a week off Pilates, Physiotherapy, Acupuncture and not least my daily hour on the mobiliser, it is time to get back to normality even if it does seem to be a bit cold in the UK.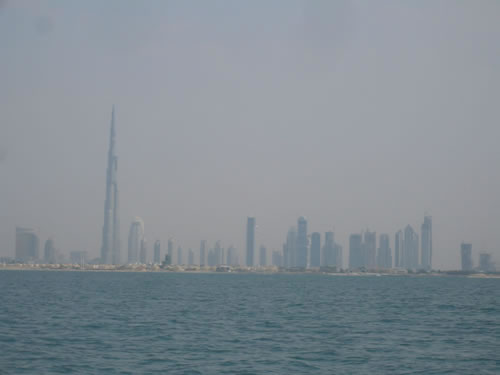 Progress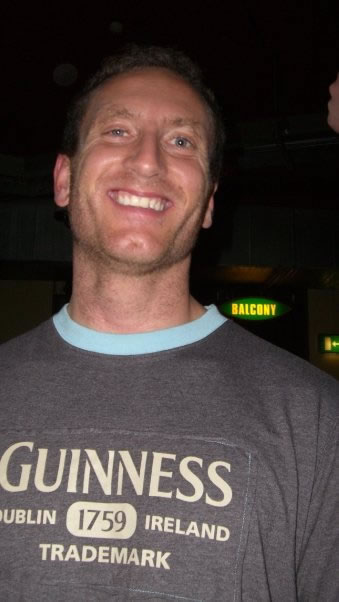 Well I now feel I am making excellent progress. I am now 300% stronger than I was after my injury and up to 70% of the strength before my injury. However I still have very painful physio at the Neilson clinic twice a week (to stop the muscle spasm in my left arm which still seems to be causing "electric shocks" in the hand during treatment)

I am now training regularly. I do up to five hours pilates a week which has seen large improvements in my core strength and a huge reduction in lower back pain. I am also weight lifting (just avoiding over head movements). My next step is to look into low impact aerobic training, but at the moment I am still very definitely in my strength and condition phase over the winter.

Although my symptoms are now worse than before the surgery I am absolutely sure I made the right decision as I had without a doubt a potentially career ending injury whereas now I am good to campaign for 2012 if not beyond. It is just a question of time for my recovery.

In order to keep as symptom free as possible the mobiliser has been fantastic at improving my spine mobility and although it feels like torture twice a day lying on rowers which go up and down your back, it is definitely gradually becoming less unbearable as my mobility increases to normal ranges and my muscles soften and lengthen. I have also been using Jin Si Gao Hydrogel Herval Plasters which I get from my acupuncturist and these have proved very quick and effective in reducing pain and inflammation.

I am now starting an eight week training cycle which will finish at the end of January when I shall have another (active) break. I am sure I shall have more positive improvements to report by then.
ISAF's decision
Well the main topic of conversation this week has been the choices of Olympic classes for 2012. While there have in the main been no surprises with the Laser, Laser Radial, Finn, Star, Men's 470, 49er, RSX (Men and Women) keeping their places, with the previous Women's keelboat the Yngling being replaced by the modified Elliott 6m (a far more high performance keelboat) for Women's match racing.
However I am extremely disappointed that they did not take into account the recommendations of their Equipment, Events and Women's committee which has to make you wonder what the point is of having these committees if they are simply ignored. Replacing the Women's 470 with the 29er XX would have been a great opportunity to allow women to race high performance boats at the Olympics like the men.
Unfortunately I am not surprised, as last year the Equipment committee was once again ignored when the Tornado was removed by the ISAF council, not only removing a class, but a whole discipline from the Games. However there is still a chance that the IOC may reinstate the 11th sailing medal, but we could have to wait as long as February for this decision to be made.
In the meantime I am continuing to work hard on my fitness and improve the nerve function on my left hand side. At the moment the muscles in my arm and upper back tend to get extremely tight and the massage to remove this is extremely painful, causing extremely strong electrical sensations to travel down my arm and into my hand.
I am doing absolutely everything I can to improve my spine health, and one of the most useful trips is to the International College of Oriental Medicine in East Grinstead to have acupuncture (again not very comfortable, but it is all about the end result!) I have also invested in a stand and portable keyboard for my laptop (I seem to spend lots of time in front of a computer these days) and a super office chair to help improve my posture whilst planning my campaign. Finally, as the piece de resistance I bought a mobiliser as used by Stephen Redgrave amongst others to mobilise my back.

Now I am at home much more I also have a better opportunity to look at nutrition, and I am delighted to be sponsored by Bulk supplements direct meaning I have the nutrition to support my training. I am now looking at my sailing apparel for my 2012 campaign.


The Treble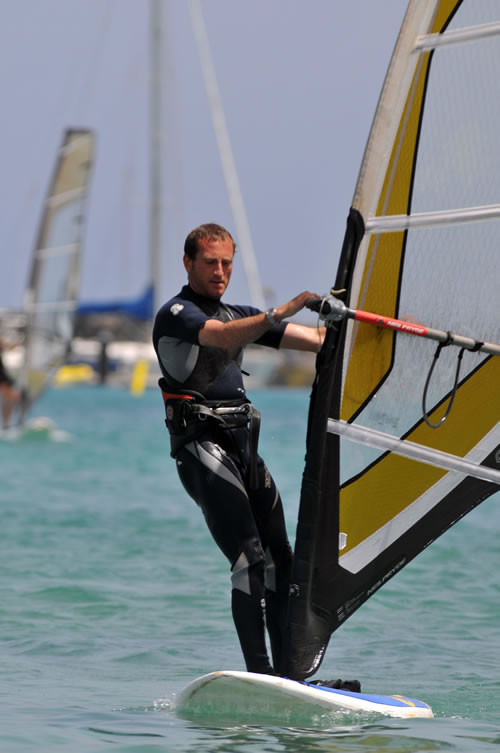 After the end of the 2008 Qualifiers I felt it was really important to have a holiday. Taking breaks is vital to recover both mentally and physically. Often I have not realised just how desperately I needed to relax and unwind until I actually did! I went to Dahab (Egypt) with club Vass on a windsurfing holiday and it was simply awesome. Although I had a week off pilates and gym work it was still a physical week… it felt like my arms were going to fall off until the last few days when I finally got into my harness. I also rode a camel (which is a once in a life time experience if you get my meaning) and scuba dived in the Red Sea.
The last event of the season was the Radial Inlands at Carsington Sailing Club and I could not have asked for a better end of the year. Having won every race in cold and windy conditions I now really feel I deserve my break over the winter. This meant in 2008 I did the treble, winning the Nationals, Qualifier series and the Inlands. I am absolutely chuffed to bits because this time last year the heaviest thing I was allowed to lift was a spoon with food on it (I had to ask my Mum to put my laptop on my lap for me and take it off when I needed to go to the loo!)
I am now full of enthusiasm to get up to top fitness, improving my core before I return to sailing. I am now being very careful, avoiding any movements which aggravate my spine (Unfortunately it appears now I am getting stronger, dead lifting also causes an increase in symptoms.) I need to train differently to how I did before my surgery but I am confident I can reach my goals and after all I had a very good season this year, so imagine how good 2009 can be when I am fully fit.
This week I finally got signed off from hospital where my physio Toby has been invaluable with help and advice (as well as sticking needles in me to get my silly muscles to relax). I have been travelling to the Princess Royal for a year now following my operation and it will be strange no longer going there.
However I still have great support in Weymouth at the Nielson clinic where I shall be going twice a week. Whilst I am fundamentally ok (as my sailing results prove this year) I still have some symptoms of nerve damage which I am doing my best to keep on top of. The left side of my body (back, arm, neck and shoulder) tends to tighten up, so needs regular soft tissue massage.The most bizarre feeling is the "electrical" sensations I get in my left tricep. Fortunately these can be massaged out which makes my hand feel like it is holding a coke can attached to a car battery (it feels VERY electrical). I can not really explain just how unpleasant this is!
My main consideration while I am getting my body in order (I am on the way up but I still have a little way to go) is my options for the 2012 Olympic campaign. ISAF decision regards the Olympic classes is not until 12th December so I have at least a month off serious sailing to concentrate on my fitness and have a good think. It will then be important decision time!!!
The Radial Ladder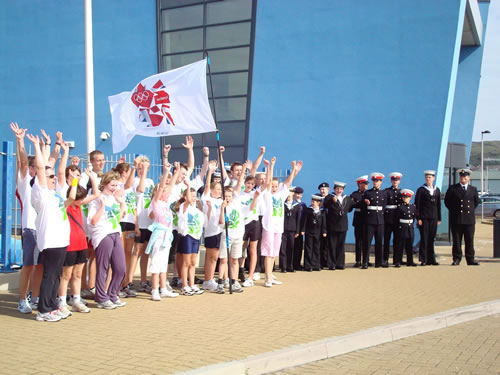 Well another year has come to an end and I managed to do four Qualifiers: Pwllheli and Weymouth in the spring and Lowesoft and Torbay in the Autumn. The National rankings or Radial ladder is made up of your top four events, so counting 2,1,1,1 leaves me still ranked number one in the country which is a tremendous relief after having been so long out of sailing due to injury.
I have now been in the gym for a month and I can feel the difference it is making. However it is putting increased stress on my body with the muscles down my left side (back, shoulder, tricep and forearm) tending to spasm (tighten up and not "let go"). I am now doing the majority of my training at Weymouth in Future Physiques gym who sponsor me.
Whilst in Weymouth I am having physiotherapy treatment at the Nielson clinic, where my physio Tina has been fantastic, working to get my muscles to relax! It has been a far from pleasant experience with the pain levels increasing in waves, and in my last treatment I actually went through agony into total numbness. However my focus is totally on 2012, and if that means I have a hard winter ahead of me getting my body in order then so be it!
Back to Fitness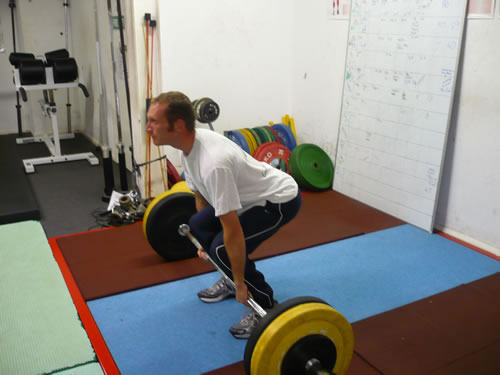 I am now approaching one year since my operation. Although I am still light, I weighed myself on the official 29er measuring scales and found I was 64kgs (over a stone lighter than a 29er hull!). My fitness has improved a lot. The first six months of rehabilitation were the hardest thing I have ever done in my life and after this I just wanted to go out racing before I went completely mad!
Now the regatta season has finished (although there are still some weekend regattas to qualify for next season), I can concentrate on putting on some strength and bulk. So I arranged a few of sessions again with Dan Temple at the Eastbourne Centre of excellence.
One thing this year has given me is the confidence to take some time out from my sailing, knowing I will come back sailing well (or better!) So now that the winter is approaching it seems sensible to switch my focus from sailing to my fitness training (and a bit of coaching to pay the bills).
I found it hard enough just getting through the regattas, so it was never really an option to do any weight training whilst away. Hence my weight and strength has improved up to where it lies naturally (around 10 stone) and then the improvement has plateaud.
The good news is that my condition is OK and there are now no huge deficiencies in my fitness which need serious attention. Initially, after taking six months out, I had an extremely weak core and everything I did aggravated my lower back, but thankfully this is now not the case, so I can work to train in a way to improve my performance. I am aiming to put on 3-4 kgs of muscle over the winter.
To improve my spine I am now doing two to three pilates classes a week, something that is obviously not possible to do whilst away, although I did travel with some equipment. I have found that to have an instructor who can look at you makes a real difference, and I am extremely lucky the Weymouth swimming pool (which is walking distance from my house) runs very good classes. My priority for the next six months is to improve my spine and general fitness with my sailing going on hold after the end of the domestic season. This I believe will have me in the best possible shape for 2012.
I shall also be weight training twice a week although my first hard session (in over a year!) left me feeling very sore, even when going for a leisurely tandem cycle with my girlfriend along the South Downs. It was a good feeling as I knew I was now improving. Traditionally I did my bulk training using squats but unfortunately as Dan loaded up the bar I started to get pins and needles in my left hand as soon as the weight on the bar exceeded my own weight. We considered doing front squats, so as to reduce the load on the neck but this means lighter weight and less improvement.
Part of my strength and conditioning is learning how I should now train. So we settled on the deadlift, another exercise which uses large muscle groups and is great for posture. Since it is nearly a year since my surgery I now feel comfortable to start loading up my body although I still have regular trips to see my physiotherapist Toby at the Princess Royal Hospital, Hayward Health. My aim is to make steady progress, trying to minimise the chance of any setbacks, concentrating on good technique rather than on how much I lift.
Lastly, aerobic fitness has been a bit of an issue as I have avoided running, due to the high impact nature, even with very cushioned trainers. This has probably meant that I have been suffering more with fatigue than I would do normally, but I really did not want to aggravate my neck while I was away and could not get easy access to a physio and acupuncture.
Now I can easily get back to running in Weymouth I can go on some lovely cross country routes. In the gym I can train using a variety of low impact machines, and using a Polar heart rate monitor ensure that I am training at the right intensity.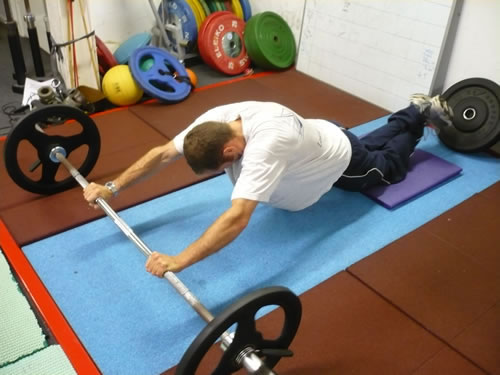 Byte World Championships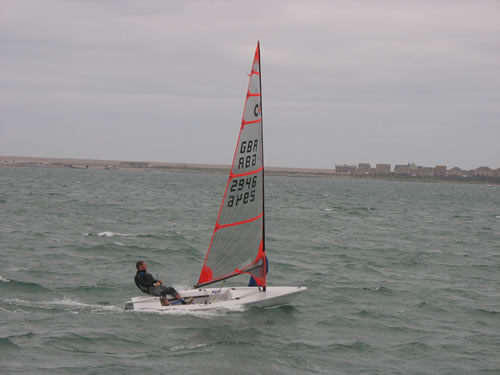 At last! I am finally a World Champion, and it is all somewhat unexpected… When I heard the Byte class was having its World Championships at Weymouth at the end of August I jumped at the chance to race at the venue for the 2012 Olympics. Better still, it meant I had the chance to do a regatta sleeping in my own bed (rather than in my van as I had done most of the summer!)

Dave Hall from Ovington boats sorted it out so I could use the demo boat (the Byte that tours the country so people can see what the boat is like to sail, and also the first boat they ever built). Luckily for me Dave brought the boat down a few days early so I had a brief chance to sail the boat before the first race.

Imagine my surprise when I arrived to find the boat fully rigged as a young Brazilian sailor impatient for his boat to arrive fully rigged my boat and was just about to take it for a sail. Luckily for me I arrived just in time, meaning all I had to do was pull on my wetsuit and push the boat in the water. I was somewhat concerned at how slow I seemed upwind compared to the trapeze boats zooming around the harbour, but with no one to line up against I had no idea of my real speed!

I then gave the boat a good wash, filled and sanded away as many of the holes and scratches on the hull and foils as I could and gave the boat a quick polish… I was prepared, I think!

As it turned out I had no need to worry about my boatspeed, as I won every race in the series but one where for no apparent reason I had very poor boatspeed and was struggling to get the boat to plane downwind (to add insult to injury I got yellowed flagged for pumping, meaning I had to do two complete turns to exonerate myself for illegal propulsion). I was hiking hard and the rig looked great… I just could not figure out the problem.

Upon returning ashore all was revealed, as I sat on the back of the boat for three minutes emptying out all the water. It appears one of the screws holding the toestrap had half pulled out leaving a gaping hole which all the water went into… no wonder I was slow! Anyway, Dave filled the holes and reattached the toestrap and I was all sorted for the next day, where funnily enough the boat seemed to go much faster!!!

After prize giving I had a huge party with my closest University friends coming down to visit me, one with his six month old son in tow. It was great to finally have the chance to let my hair down and it really reconfirmed how much I love living in Weymouth. However I must now turn my head to the future and start considering the winter season…
2012 Olympics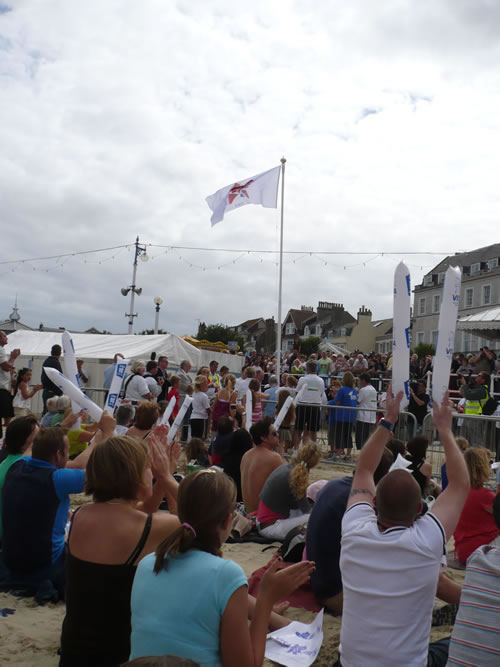 Wow, what can I say? Six Olympic medals for the GB sailing team makes this the most successful games ever. Having been involved full time in the sport for nearly a decade I personally know many of the sailors and the work involved in bringing back those medals.

I am especially delighted as two of the contributors to my book medalled: Paul Goodison brought back a Gold in the Laser class and Joe Glanfield a Silver in the 470 class (the third contributor Simon Hiscocks won a Silver in Sydney and a Bronze in Athens, both in the 49er class, and narrowly missed out on going to his third games this time.)

Watching the coverage has been inspirational. I am sure Bryony Shaw's speech brought a tear to the eyes of many people, some of whom may have known nothing about sailing! This has absolutely confirmed my commitment to run my own campaign for 2012 and I shall be continuing to work extremely hard on my fitness… more to follow.

No sooner has one Olympics stopped, then the next one started. The handover on Weymouth beach was absolutely amazing with thousands of people packed on the sand watching the official flag raising. There was then a relay with flags being carried around to various points. I obviously followed the flag which went to WPNSA (Portland)! This was very convenient as I got there with plenty of time for the Byte World Championship sailor briefing…
Radial Nationals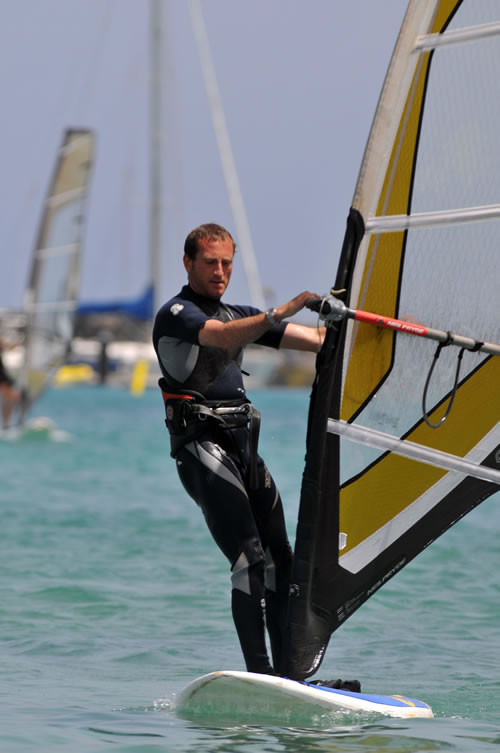 Well I decided after all the excitement of the Europeans what I really, really needed was a holiday. So I got on the 'phone and booked myself a windsurfing holiday with Extreme holidays (I know, somewhat of a busman's holiday, but my time off with injury taught me that I am rarely happy unless I am active!)

I then headed back to Weymouth to get my boat ready for the Nationals and check my house was still there! Unfortunately at this stage my leg was still not healing well (10 days after the Europeans and 17 days after the accident), so I hobbled down to my local surgery and was given another course of antibiotics.

I then headed back to my parents' house, conveniently near Gatwick airport, to collect my tickets and have a good night's sleep, only to discover to my shock and horror the holiday had been booked for the following week (which was the Laser Nationals) and with my flight due to leave at 5am the next morning there was absolutely nothing I could do about it.

The following day I was straight on the 'phone as it was only at this point I realised just how much I needed a holiday. Finally I ended up buying another holiday and going to Gatwick to buy another ticket on standby and getting the first available flight out, so 12 hours later… I finally got to Fuerteventura.

Well, it probably took me a couple of days to fully relax, but I had a great holiday and by the end I could get in and out of a harness, turn around and even planed a couple of times. It is fair to say I am definitely going windsurfing again and will probably buy my own kit at the end of the season.

I was extremely lucky to be grouped up with a great bunch of people (it was a windsurfing safari holiday) so every day we got in a Jeep and got taken with all our kit to one of the many beaches. It would have been awful if you ended up with a group you did not get on with, but actually this probably never happens as everyone is brought together with a common interest in watersports, so they must be all right!

I did 5 days of windsurfing and on my "rest" days I hired a bike and went exploring, as well as doing some stand up paddle boarding which is quite difficult in twenty knots of wind! I really hope to see the friends I made from the trip when I am back in the UK.

Well, my flight arrived around 2am in the morning, and then it was straight up to Abersoch (North Wales) for the Laser Nationals where the conditions were very different from sunny Spain. Unfortunately I had a very high fever on the first day, but my luck was in and we did not race. Although the Optimist sailors five miles down the road did!

From the very first day I knew it was going to be a tight championship and I was extremely pleased we sailed all twelve races as I spent the first 5 days one point off the lead, which is an extremely frustrating place to be. However I won the penultimate race to grab the lead and I just needed to finish within two boats of the second place to take the event.

Steve Cockerill, who had been winning the event, made my life hard by winning the last race, but there was no way I was letting the event be taken away from me and I pulled through to second to win by two points. The feeling of relief was absolutely awesome and to win the Nationals when less than twelve months ago I was unsure if I would ever sail again, was a dream come true.

Finally after my summer travels I am back home in Weymouth and absolutely loving it. My next regatta is the Byte World Championships to be sailed in Weymouth, which means for once I can sleep in my own bed!
Radial Europeans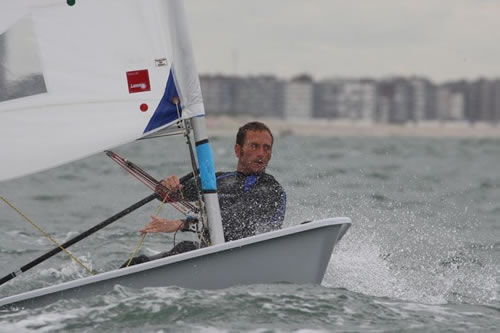 After Warnemunde I drove straight to Nieuwpoort for the Europeans. I stayed at the Lighthouse which was fantastic. I was very well looked after with a great breakfast and internet access in my room, and I could not have been closer to the sailing club!
Before the regatta I did a couple of days training to test out my new sail and become familiar with the conditions. There was certainly a lot of tide which resulted in some big waves.
The day before the regatta I decided to rest. Although I have been working hard on my fitness I am not quite there, and with six days racing in front of me I thought a bit of rest would do me more good than an extra day's sailing. I did however go to the Opening ceremony.
The boat park and the car park were some distance away, so the regatta ran a shuttle service between the two. After the Opening ceremony had finished I grabbed the first shuttle van but unfortunately there were some cyclists in the road. I jumped out to get them to move and as soon as they did the van went, knocking me down…
My first thought as I went flying through the air was protect your neck, protect your neck! So I tucked my head in and rolled out of the road but landed heavily on my knee, which hurt like hell. Full of adrenaline I got back in the van and got dropped off at my car. I then started to drive the short distance home before the full impact caught up with me and I nearly blacked out with the pain.
I managed to get out of my car but had great difficulty getting up the stairs (my leg would no longer bend). I pulled off my jeans to discover the complete mess my knee was in. I was very lucky to have worn my thickest denim. Even so the knee was a right state, and late on a Sunday there was no way I could get to a doctor, or even get some pain killers or ice as the B&B owners were out.
I had a very sleepless night as the wound on my leg, which was about a square inch was completely open and every time I did the slightest movement I was in agony. At this point I considered seeing if someone could drive me home but I thought I should stay and support the other GBR sailors. In the morning I was lucky that I was sharing my B&B with someone who had a knee injury and some very strong anti-inflammatories. I took a double dose, which resulted in stomach pains about an hour later, but meant I was good enough to drive, so I went down the sailing club.
At this point sheer bloody mindedness took over and I decided to try and sail. One of the hardest things was putting my rig in the boat and putting my clothing on with one leg which would not bend, but somehow I managed it. Upon arriving at the race course I took more pain killers and decided to get on with it.
The first race I rounded the top mark in the top ten. Hiking seemed OK but any sort of bending (or going from bent to straight) took a huge amount of will power. However on the final run I discovered I was close enough to catch the leaders and pulled through into second place, only to look down and discover my right leg was bent! The same happened in the second race, the pain increased with all the waiting around, but when the adrenaline really kicked in, I could block out the pain, and this time I snatched first place on the final reach.
Day two and anti inflammatories were starting to make my stomach ache and cause all sorts of other ahem, problems. I actually ended up leading both races but finished with a fourth and a second as I was really starting to find it hard to concentrate.
Luckily on day three the wind dropped and I decided to give my body a break from the anti-inflammatories. In the light winds I won both races very comfortably (the last race of the day I won by such a margin they missed me off the results to start with!) to move into the lead overall. However my leg having been wet in salty water was now starting to look rather upset and showing no sign of healing.
Day four and I decided to have a conservative approach. However with a very strong tide, a poor start was nearly impossible to recover from and I sailed my discard but came back with a fourth place in the next race meaning I slipped to second overall going into the finals.
Dave five was in fact the last day of the championship but I was not to know this at the time. I had a good start at the port end but we (the men's gold fleet) caught the women's silver fleet at the windward mark, despite the beat being 20 minutes (for us) and the girls having an 8 minute head start! As a result I got caught in the traffic and whilst the top half dozen boats got away I was stuck in all the dirty wind from the mid fleet girls and got pinned to the windward mark for quite sometime.
When I had finally extracted myself I pulled through the fleet, with the Polish sailor who was currently winning just in front of me, covering me.
The final race I again started at the port end and this time got round in second place (in front of the vast majority of the women's fleet), which I held comfortably to the finish, with the Pol in third. However Frenchman Frei Matthieu had a stormer of day, winning both races taking him into the overall lead.
Day six and my leg was really starting to protest, looking extremely angry and punishing me for any movement. I was dreading pulling on my wetsuit (which pressed hard on the open wound, especially when kneeling) However I really wanted to race to have a chance to stand on top of that podium… however it was not to be, as the strong winds cancelled racing. In hindsight this was probably quite good for me, well my knee at any rate but I certainly did not see it like this at the time!
Upon returning home my first port of call was the physio. However whilst rushing to get there I heard a pop and a large bump appeared in my groin, making it now nearly impossible to walk. However I did get to the physio who suspected I had a hernia. I spoke to the GP and he agreed and asked me to come in for an examination.
After a night of wondering how many months I was going to be off sailing this time, I was pleased to know that it was just an extremely inflamed node as a result of the severe infection in my leg. It appears staphylococcus absolutely loves salt water, so I must have been giving it a real treat the previous week. Hopefully a couple of weeks of antibiotics will see me fit enough to race the Nationals… watch this space!
It always seem to happen that I end up coaching on some lovely days, and when I try and train myself the weather is never so good! Saturday at Hill Head there was a moderate South Westerly, more than enough to tire out the dozen or so local Laser sailors I put through their paces. As always, I left them with a DVD of their efforts to provide future entertainment!
Saturday evening I dropped into Training Ship Lion of the Nautical Training Corps in Portsmouth. I feel I owe the NTC a great deal as it was they who first introduced me to sailing, which has now pretty much taken over my life! It was great to catch up with some old faces, some of whom it is years rather than months since I have seen them…
Whilst in Portsmouth I also popped into Alexandra Sports to buy some new trainers. It has been over two years since I last ran as the impact really aggravated the disc problem in my neck. However being away for a whole month I thought it would be very nice if I could go for the odd run. Alexandra Sports first does a biomechanical analysis and talks to you about your intending running to ensure you come away with the right shoe. After going for several short runs with a variety of trainers I left the shop with the most cushioned pair available.
Needless to say before I jumped back on the plane to Germany I popped into the International College of Oriental Medicine in East Grinstead for some acupuncture, and the Princess Royal Hospital in Haywards Heath for some more treatment from my physio., Tony, thus giving me the best preparation for my trip away.
From Munich airport it was only a few hours drive to Attersee, Austria. This time I remembered to buy the motorway pass before crossing a border as I made the expensive mistake of not doing this a few years ago and I was certainly not going to repeat that error!
Upon arrival I quickly registered and unloaded and washed my boat. It was extremely hot so I was keen to get out of the sun as soon as possible. All the competitors received a free model Laser kit in addition to the free food and drinks in the evenings which I thought was a nice touch.
The evening entertainment was great with the European Football Championship (which was being held in Austria). On the days there were no football games we had live entertainment including a lady from the German X factor who came and sang (thankfully all in English!). I actually celebrated my 31s birthday on the last day of the regatta watching the European cup final. All the Austrians were very pleased to see Germany beaten (by Spain) so there was a wonderful party mood.
Unfortunately we managed to race only one day, on day two, with the rest of the days suffering from no wind. Fortunately we went on the water on only one of the days we did not race. My time however was well spent as I sold lots of my book: Be Your Own Sailing Coach and made many contacts so I will certainly not have to look for coaching in the winter, as I will be in the nice position of being able to pick and choose the jobs I want!
The day we did race there was a shifty breeze (not really surprising considering the lake is surrounded by mountains) and good hiking conditions. My starts were quite poor but I did well to pick through the fleet finishing third in the first race and winning the next two comfortably, giving me the event win.
I had a leisurely drive up to Germany, taking two days to get up there before meeting up with a large British team in Warnemunde, most of whom had been racing in Kiel the week before. I joined the Radial development squad for a couple of days training before taking a day off before the regatta.
The first day of racing was extremely light and we sailed just one race which I was very pleased to win after a frustrating day of general recalls, black flags, people starting in the wrong starts and over six hours on the water. It was a good job I had brought out lots of food and water!
Day two was somewhat better with two more light wind races. The first I won comfortably but I was pushed hard in the second one. Usually when you are winning a race you can pull away from the chasing fleet as you have clean wind and lots of options. However I sailed into the fleet which had started five minutes in front, meaning I had lots of dirty wind and boats to overtake, allowing those behind a chance to close the gap.
By the third day things were looking much better with enough breeze to hike and three races sailed. I scored a second in the first race and then got two more first places. With two discards allowed in the eight race series, it meant I was counting five firsts and a second. I had won the regatta with a day to spare. However the strongest wind of the event was forecast for the final day so I thought I should go out. After all it is all good training.
Despite the first race finishing by half twelve we had only one race on the last day as they were not allowed to start a race after two o'clock and they did not manage to get a race off by then. I finished third, not quite the way I wanted to finish the regatta, but fine considering I went the wrong way up the first beat and had to retie my toe strap half way through the race!
So overall I win the Europa Cup series with wins in Holland, Denmark, Austria and Germany. I feel this has been excellent practice, having raced in most sea states (flat water to big waves) in shifty and constant winds and in light to strong breezes! I am now feeling well prepared as I travel to Belgium for the Radial European Championships.
Lastly, I must also say a big thank you to Matt Larkin from Weir Wood, Sailing Club. Whilst in Austria my laptop charger broke (my Dell XPS needs a very powerful charger, so I could not simply borrow someone else's…). Matt who is racing the International 14 World Championships on the same race course as the Radials used in Warnemunde, the following week, very kindly brought me out a new charger, although I did have fun trying to find him as he was in the East Marina and I was in the West! Anyway all sorted now and I am finally back on the Internet. Funny, I never realised what a slave to technology I was until I tried to survive two weeks without my laptop!
Danish Europa Cup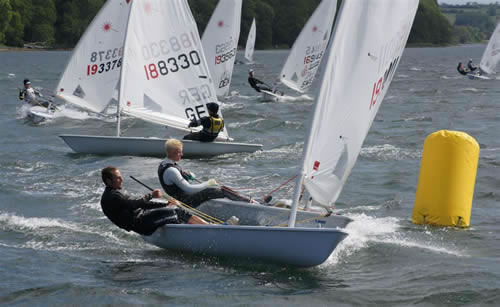 After five days of physiotherapy, stretching and acupuncture I was (very sore but) ready to go sailing again. My recovery from my neck surgery is by far the hardest thing I have ever done in my life but I really feel I am on the up now. I am trying to avoid medication, and instead using a daily stretching routine to try and remove any muscle spasm which may occur as a result of nerve irritation.

My last stop before leaving the UK was the Emsworth Radial open which I won in light and shifty conditions. I also managed to pick up some rope from Rooster sailing at the same time. Having the right equipment is absolutely essential and Rooster rope along with Harken blocks seems to be the optimum combination.

To cut down on the driving I took the ferry from Harwick to Ellsberg (Denmark) which meant I had only a short drive to Aabenraa sailing club. Rob Godwin, a British standard rig sailor, was also on the ferry so we drove in convoy. Unfortunately, on arriving in Aabenraa, Rob realised that he had left his passport and papers in the last service station we stopped in, so he had to drive back to get them.

The Danish Europa cup was just what I needed: 8 races sailed in strong westerly breeze, and although my legs were very sore I know my fitness has improved in leaps and bounds. Although I probably moaned at the time about the 45 minute upwind sail to get back in each day it was probably just what the doctor ordered.

There was a small but quality fleet. I actually won the event with a day to spare (there were two races a day with six out of eight races counting in the series) but I sailed on the last day, as I felt it was extremely good training. I won the last two races which gave me a minimum score (counting only first places), a very nice way to finish the regatta.

I then drove down to Germany and parked in Munich airport and flew home for my last break (well some more physio/acupuncture) before the Europeans. I will still spend a couple of days on the water coaching on the Saturday and racing on the Sunday at Hill Head, before flying back out to pick up my van and boat… next stop the Austrian Europa cup.
Final preparations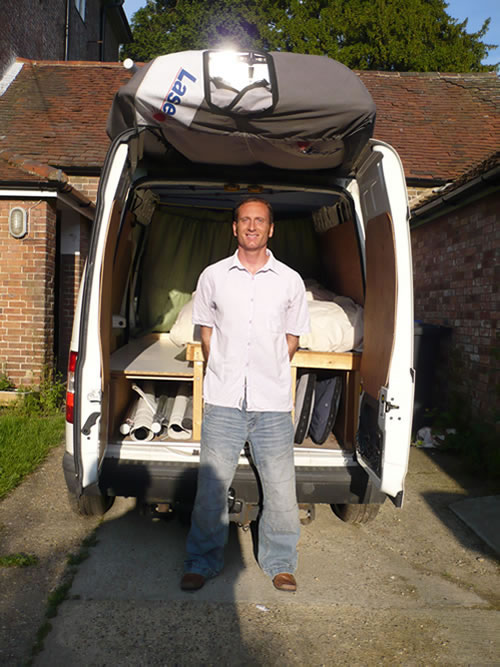 I arrived back in the UK on bank holiday Monday at 6:30 (with a 5:30 wake up call giving me plenty of time to take full of advantage of the all you can eat breakfast) and had to try very hard not to drive straight up to Weir Wood and go sailing again! However I decided it was more useful to go to the gym and do some stretching work to try and remove the muscle spasm which built up after a hard week's racing.
Tuesday started with pilates and then I did an interview with Southern counties radio. I was glad the wind was light or there would have been a real danger of me losing the interviewer, Katherine, off the front of my Laser. In the evening I did some light aerobic work and another marathon stretching session. I have decided it is wise to stay off the heavy weights until my neck has properly relaxed again. I then drove up to visit an old University friend, Paul Hyde and his wife Tab for a curry and a catch up. Unfortunately I missed their wedding due to my operation, so it was the first time I had seen Paul since his stag do.
Wednesday morning and I travelled up to Grafham to do some one to one coaching (I have got to pay for these trips away somehow) and then hot footed it to Wembley sailing club in time for their evening race! Fortunately I won comfortably, otherwise they may have decided that they did not want me to coach them!
Thursday and Friday I coached at Wembley with Ed Sibson. On the first day we worked on boat handling and then we ran a team racing competition. On the second day which was hard work but a lot of fun, we just managed to get all the races done before the wind completely disappeared. In the evening I managed to meet up with another old Uni friend, Ian Drew. It is really hard work to keep in contact with old friends but absolutely worth it. Funny how in many ways not much has changed since I was at Loughborough University!
The weekend saw me doing a couple of opens, first at Oxford then at Lancing sailing club, both really friendly clubs, although through no fault of their own there was little wind. However I did manage to win all the races (3 at Oxford and 4 at Lancing) which has been a real confidence boost.
On Monday I finally made it back to Weymouth (to do some more one to one coaching) and make my final preparations. I now have a few physio sessions (and quite a few evenings of ice) to get me in the best possible shape for my next trip away… I think I had better start packing!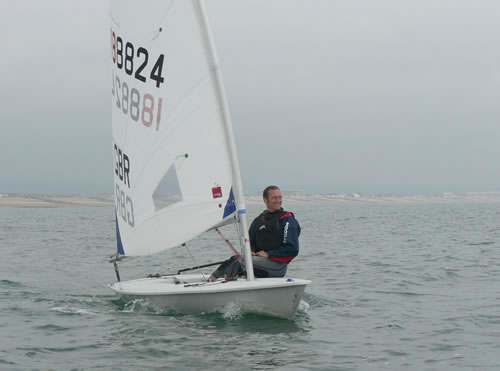 Delta Lloyd regatta
After the Hoorn Europa cup I drove north to Medemblik for the Delta Lloyd regatta, Holland's grade 1 international event. It has been eight months since I last raced the Tornado, which I have done only once anyway, at the UK Nationals held at Weston Sailing Club. So this was always going to be a learning experience and the timing could not have been more perfect.
There was a small but very high quality fleet of Tornados in Holland, basically fifteen of the seventeen teams who are going to the Olympics and who are now in their final stages of preparation for the most important regatta in the four year cycle, a couple of local (Dutch teams) and us. So we were never really going to be in a medal winning position!
The sheet loads in the Tornado are huge (I felt convinced a couple of times my arms may have been ripped out of their sockets) but I always realised after having major surgery last year it was going to take a little while to get back up to full fitness, and after all the 2012 Olympics are a looooong way away!
I also decided it was best to be cautious in this regatta. The Tornado is the fastest Olympic boat, reaching speeds of over 30 knots. The problem with this is when you suddenly stop, the crew continues at the speed the boat was going, which means when you hit the boat it really hurts! As a result we decided to sit out some of the windier races, so as not to damage the boat, or more importantly me!
At the end of the regatta I am now feeling somewhat battered and bruised but still very much looking forward to my next Tornado sail. I am now catching the overnight ferry from Hook of Holland back to the UK to spend a week coaching before heading back to the continent again.


Dutch Europa Cup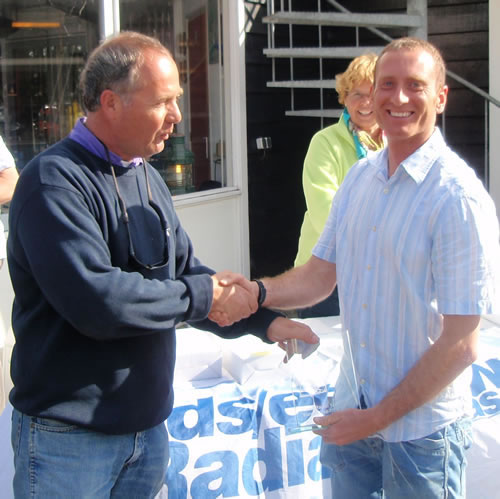 After finishing the spring Qualifiers (and thereby qualifying to represent the UK at the Radial Europeans in Nieuwpoort, Belgium, 12-19 July) I headed off to Holland for the Europa cup in Hoorn.

This is the first of four Europa cups. Later in June I shall be racing in Denmark and Austria before going to Germany in July. These three events will serve as my warm up for the Europeans. I also hope to finish top three in the overall series.

There were over one hundred entries for the regatta, but surprisingly I was the only Brit. I felt completely at home however, as I knew so many of the sailors there and actually the Dutch probably speak better English than I do!

Overall it was a very difficult regatta, as demonstrated in the final race when I was winning by around 400 metres and a huge wind shift put me down into fourth place. However despite feeling somewhat frustrated I won the regatta even though I never won a race. The key was consistency. Every race I counted was in the top five, and I was the only person to do this.

The first race was sailed in extremely light winds but the rest of the regatta was held in hiking conditions so it was extremely good fitness work. It also enabled me to double the number of races that I have done this year!

Straight after Hoorn I drove up to Medemblik (about 25 minutes up the road) for the Dutch international regatta, this year sponsored by Delta Lloyd. I am racing this event in a Tornado, so after just one day's rest it will be all go again.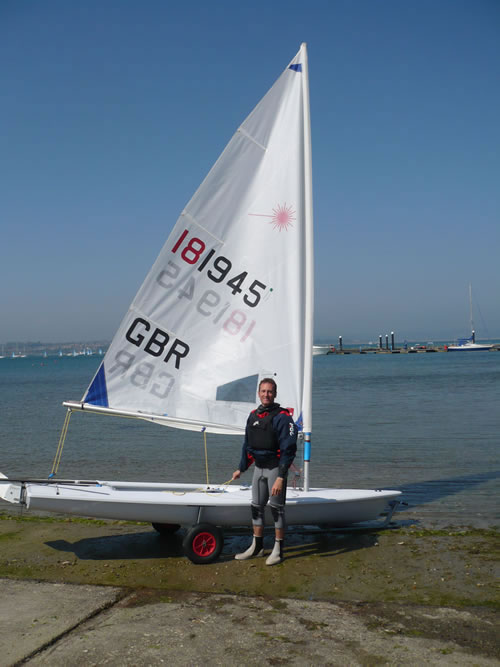 Radial Qualifiers
This year's qualification for the Europeans was based on four of the last six Qualifiers. I won the first two held at Pwllheli (Wales) and Paignton (South West) before having my neck surgery and taking six months off to recover. During this time I missed events at Hastings (South coast) and Stokes Bay (South coast).
My first Qualifier back was once again at Pwllheli and going into the last race I was leading the event. However as the wind rose my lack of weight (I lost over a stone during my time out) showed and I slipped into second place overall. However this was not a bad result considering the small amount of time I had spent in the boat, and since the event was won by an American I was still top Brit!
The final Qualifier was at Weymouth (South West) where I do much of my training (as it is the venue for the 2012 Olympics). With light shifty winds it was always going to be a difficult regatta and since the National ranking was based on four events, whatever result I got I had to count.
The first race I won the pin end of the line. However a large shift to the right on the first beat saw me only able to recover to sixth place. However I managed to win the next two races, to win the event by the skin of my teeth.
I am therefore first on the Radial Ladder counting three firsts and one second place, eleven points clear of second place, thus gaining a place for the Europeans to be held in July. My aim now is to get up to weight and be as prepared as I can be. With only a couple of months to go this is a tall order, but it is achievable.
Today I saw strength and conditioning coach, Dan Temple, who gave me my training programme for the summer. Between mid-May and the end of August I shall be away racing most of time and I shall only be "home" for three weeks, mainly coaching to get some pennies to keep me sailing! Therefore it is vital that I can get some effective training, especially to strengthen my spine and to continue to improve my aerobic fitness when I can not get to a gym, and making the most of the time when I can get into a gym.
Before I head off to continental Europe for the Europa cup circuit I have two National ranking events, the first in Pwllheli, Wales, on the first weekend of May. So I will be training hard over the next couple of weeks! This will be my first "Qualifier" event for over seven months and I am really looking forward to it. The following weekend I am racing in Weymouth, leaving me just a couple of days to pack before catching the ferry to Holland, for the start of my travels.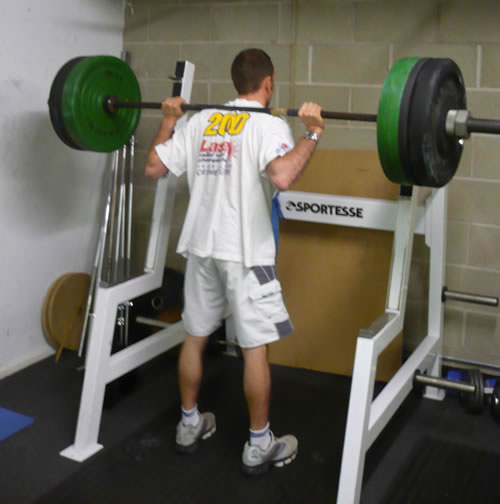 Back to Work...
My first weekend back coaching after more than seven months off was eventful to say the least. I was working with nearly twenty Lasers of varied abilities as part of the UKLA Southern regional training programme at Pagham Yacht Club (Chichester).
It was a lot of fun even if the weather was something to be desired! We had 3 knots and at points nearly 30, and sometimes body crushing hail whilst at others lovely sunshine. It was like nothing I have ever experienced!
I certainly found my video camera work was a little rusty as the first three minutes of filming were mostly of the sky, but in my defence it was a bit of a bumpy ride in the rib! However everyone seemed to really enjoy themselves and they certainly learned a great deal… I also sold a few copies of Be Your Own Sailing Coach!
My next coaching weekend is at Weston (Southampton) on April 19/20. I now finally feel I am getting back to normality!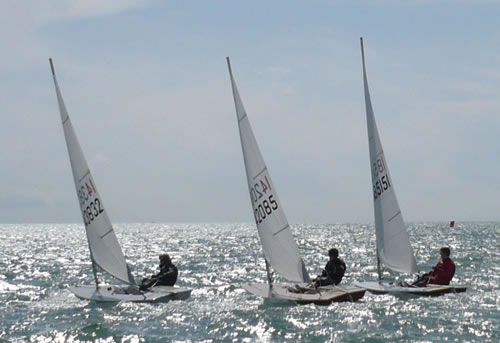 Local book signing
After a successful launch at the Dinghy exhibition in Alexandra Palace at the beginning of the month, my first local book signing was at the East Grinstead Bookshop in the High Street this weekend. I started the day with two back to back live interviews for Southern counties radio. Several reporters from the local papers attended. There was an enthusiastic response to Be Your Own Sailing Coach which will also be published in America and Australia from next month.
My next book signing will be in Weymouth WHSmiths on Saturday April 5th from 11am. I have already been interviewed by Wessex FM and hopefully there will be a piece in the Dorset Echo as well.
Grand Slam 2008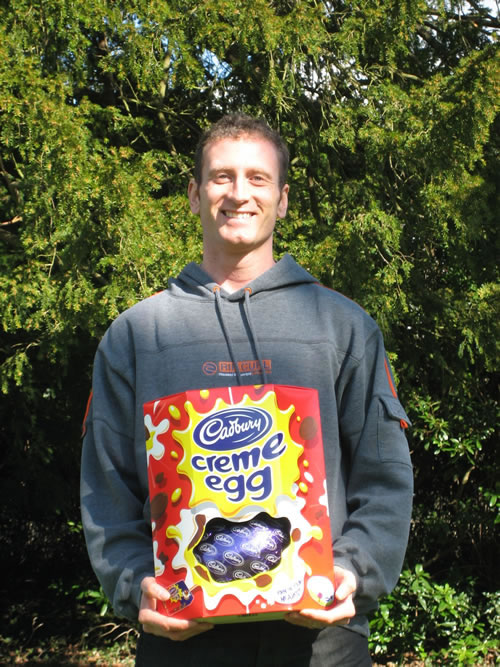 The Weston Grand Slam is a four day event (held at Weston Sailing Club on Southampton Water) over the Easter Holiday. I had a rest day on Thursday, and then set off from Weymouth around seven on Friday. I felt the wind on my van all the way there. Things did not start well with the wind already blowing 30 knots by the time I arrived and pretty much as soon as I got out of the van it had started to hail. However I managed to get the boat rigged in a small weather window before it started to sleet. The race committee decided to postpone the 11:00 race for an hour due to the weather.
At 11:00 the wind moderated and the sun came out; things were looking good! At midday the wind was once again honking, but the race was started. After much swimming I made my way to the front of the Laser fleet, grabbing the lead down the top reach and after a close tussle establishing a clear lead up the second beat.
I probably did more swimming on this one day then I did in all of 2007. Upon completion of the first lap I came inshore to the flatter water on the right hand side of the beat. Only to notice the postponement flag was flying, Doh! All that effort for no result… Upon returning ashore I found all racing for the day had been abandoned, but despite this I am sure the cameraman who came down from ITV to film me got some great footage.
The forecast for Saturday was much the same as Friday, so I was not surprised when there was no racing for the day. So I took the time to go to the gym and do some exercises to help improve my spine stability plus some light aerobic work so I could do some developmental stretches. I still have a long way to go with my fitness, but with time and effort I know I will get there.
In the evening the club did an excellent hog roast, which was enjoyed by all. This also gave me a chance to show some of the club members my book: Be Your Own Sailing Coach, and I was delighted when the first person I spoke to had already bought a copy from the local chandlery that morning!
Sunday, and the wind was slightly lighter and finally we got some races in! The morning was cold (I had to break some ice off my boat) and the windy gusty. At one point after completing a tack I thought I was holding my tiller but I wasn't (my hands were numb) and the boat headed back up head to wind.
After a six month wait to return to sailing, this was not really what I had hoped for but as they say, every little helps. I comfortably won both races in my class (Laser Radial) however on handicap things were very tight in the fleet. I found it very hard to concentrate, having been out of racing for some time but I am sure as with the physical skills this will come with time.
The final day of racing saw lighter winds and I once again managed to comfortably win my class but on handicap I was forced into second place in the final race leaving me to count 1,1,1,2 in my score. My prize was a great big Easter egg!
The longest six months...
Today I finally got back on the water after taking six months out due to injury, and I must say I was very nervous, waking a good hour before I needed to get up, just as I would at a World Championship. Preparation as always started the night before when I found out I had actually sold my kicking strap (and I had to re-rig one which is normally something I would not have to think about, but somehow seemed so alien). I also found I could barely open my sailing bags where the salt had made a good job of sealing the zips shut!

I got down to Weir Wood Sailing Club (my home club) nice and early and got the boat off the trailer and everything ready long before anyone else showed up. Although I was actually one of the last to get on the water, preferring to have lots of space to launch!

Sailing at first seemed very unfamiliar. The first sign of this came when I went to sign on for the races and I couldn't remember my sail number! I also had to ask where all the buoys were but I soon got into the swing of things. The breeze was an extremely gusty northerly, perhaps 15 knots. This is probably the shiftiest wind direction for Weir Wood (which runs length ways approximately East - West) and so after waiting six months to get back on the water I certainly felt as if I had been chucked in at the deep end.

I was absolutely delighted to win both the races, although I now feel as tired as I would do at the end of the Championships. I had also forgotten how cold the UK can be in March , especially with the wind coming from the North. I certainly wished I had worn more clothes, especially when sitting around between races! The only downside was with my hands being so cold I did not notice the very large hole I got in my finger, which upon warming up became extremely painful. Normally I sail more or less every day and so have very hard hands... not so after six months of sitting in front of a computer!!!

My sailing was also filmed by ITV (Meridan) although I am sure they would have preferred a little less rain too. I will of course blog when this is to be broadcast.

Straight after sailing it was off to the East Grinstead Sports Club to help with Sports Relief. There were three sports personalities, myself, one from Taekwondo and the other a Thai boxer, so I did my best not to upset them! The cold wind and the rain, although not pleasant for sailing made very little difference to the sailing races. However unfortunately it put off quite a few of the runners who probably realized much of the route was now under 2 inches of water (but it meant the reservoir was nice and full!)

Having put my toe in the water (literally), my next stop is now the Weston Grand Slam over the Easter bank holiday weekend. This will be four days of racing and a real test of all the hard work I have put into my recovery over the past few months. If things go well I expect to be back on the National circuit in May... I can not wait!

I'm using April to work in the gym and continue to promote my new book Be Your Own Sailing Coach.
Book signing
I have just returned from "The Dinghy Show" held at Alexandra Palace on March 1/2 where my book "Be Your Own Sailing Coach" was launched. The show really marks the start of the sailing season in the UK and is a great chance to meet people and find out what they are up to this season. I split my time between the Laser Class Association stand in my role as training officer for the class and the Kelvin Hughes stand where I did a session of book signings each day. The signings were great fun as it gave me an opportunity to meet some of the sailors who will be reading my book!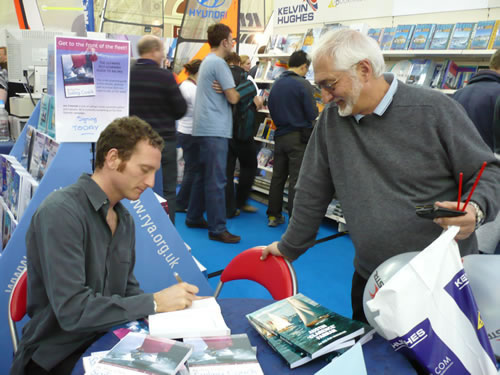 The Boat Show
I am currently very excited about the official launch of Be Your Own Sailing Coach which will be at Alexandra Palace this weekend (March 1/ 2). I will be running book signing sessions on the Kelvin Hughes stand both days which I am really looking forward to!:
Saturday 11:30-12:30
Saturday 2:30-3:30
Jon Emmett has over 20 years of coaching experience from grass roots to Olympic Gold.