BACK
Dec 15, 2009 |
Archive (2008 - 2020), |
admin
2009
It was nice to end the season on a high with a win at the Radial Inlands Rutland where 104 sailors competed in the light winds
The Radial Inlands
It was nice to end the season on a high with a win at the Radial Inlands Rutland where 104 sailors competed in the light winds. I was pushed hard by Cameron Douglas and Tom Britz, both names to look out for in the future. Perhaps one or both could be a future Youth World Champion?
Friday the thirteenth is said to be unlucky and unfortunately it was for me as I was involved in a pile up on the M1 where I got hit from behind whilst stationary into the car in front of me, on my way to see my University friend Paul Hyde and his wife Tab and their baby girl. I was extremely lucky I was not towing a boat as it surely would have been a write off.
That weekend I was coaching at the Midlands Regional training at Grafham Water, and actually I felt far worse from the whiplash (stiff neck plus pins and needles/pain/numbness in my face, shoulders, arms, hands and upper back) on the Saturday night than I did on the Friday. It was also a difficult day in the office with a forecast of 47 knots winds coming. We just did a very quick morning session before all hell broke loose, and spent the rest of the day indoors.
Fortunately the weather on the second day was far better and we managed to get around five hours on the water. Then I was straight off to Heathrow airport to catch a flight to Nice for my next coaching job in Italy. Coincidently Shirley Robertson was also on the flight and was even later arriving than I was.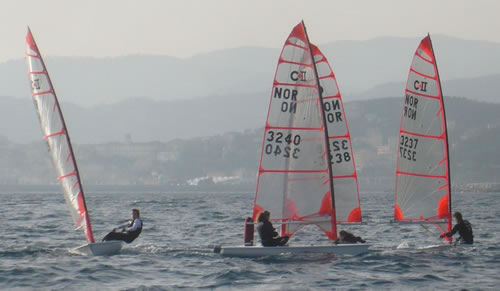 I actually arrived at Imperia around 3am Monday morning due to flight delays, feeling extremely stiff, and so 8am to collect the Bytes seemed like quite an early start. The Byte is a great little boat with a hull much smaller and lighter than a Laser, and a two part carbon mast and fully battened sail which looks much like a 29er mainsail – perhaps unsurprisingly as it was developed by Bethwaite.
The Youth Olympics is to be sailed in the Byte, and my latest job was working with four Norwegian sailors (two boys and two girls) in preparation for the Europeans next month. This is the qualification event for the Youth Olympics next year with the top seven European Nations getting a place.
Unfortunately when I took the sailors for some interval training (sprint then rest) I managed to get a grade 2 tear of my hamstring. Just as I accelerated to full speed I felt an almighty twang which was accompanied by a terrific pain, and I immediately lost the ability to walk (let alone run)… I now know how the 100 metre runner feels when he/she collapses writhing in agony after the first 10 metres.
Fortunately I knew what to do and got hold of pain killers and applied ice as soon as possible, and I even managed to see a physio whilst I was in Italy. Despite this and having to do huge amounts of stretching for my neck I think the training went well with the Norwegian sailors dominating the racing I did with the other teams at the end of the week.
I am now safely back in Weymouth waiting for my van, neck and leg to be repaired (lots of rest, physio, gentle pilates and the odd call to the garage!)…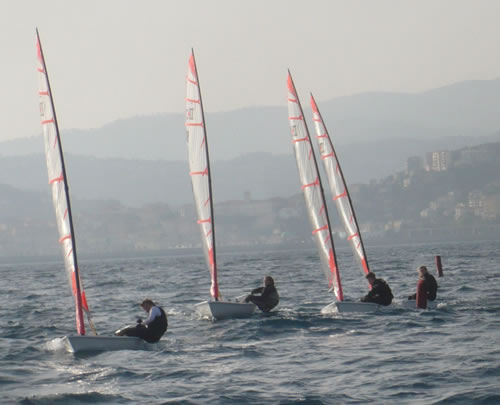 The Rooster 8.1 Nationals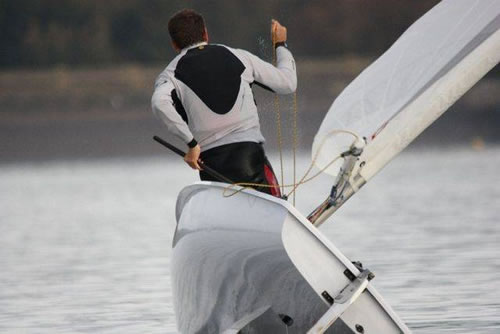 Well now the UK Qualifier season has ended we are into the training season. I am the training officer for the UK Laser Class Association as I feel that it is important to put something back into the class that started my professional sailing/coaching career. This means I send UKLA coaches to clubs as well has heading up the class regional training programme.
The first weekend I was involved with was the Southern regional training at the Royal Lymington Yacht Club. We certainly had a breezy weekend, and with the average wind approaching 25 knots I elected to spend the first day on shore. This proved to be a good decision as when we took to the water the next day when the average wind was more like 20 knots, most of the sailors found it pretty tough and four (one due to gear failure) had to be escorted home when the breeze proved too much for them.
However those who stayed out had a great time and learned a huge amount although everyone (coaches included) were pretty much exhausted after the three hours on the water session (with lunch on the water to save time by not having to launch and recover twice). This was probably exaggerated by the fact that it was wind with tide so we spent most of the day going upwind, but this did give me plenty of opportunity to get some good video of people's rigs, steering and hiking techniques.
Straight after Lymington I was off to Heathrow airport to fly to Cork for my next coaching job. A quick stop off for a Sunday dinner with my old University friend Dave Hay and his wife was great. I am so busy at the moment, finding time for family and friends can be difficult but I always make the effort and it was lovely to have a catch up, however brief.
In Ireland I was working with Matty O'Dowd (who represented Ireland at the Youth Worlds this year in the Radial). I sailed against Matty in his spare boat with Ian Neely working from the RIB. Sailing against someone is definitely one of the best ways of helping them improve as it gives you a direct comparison of boat speed, height and also allows them to see your sailing style. Being quite a small man I need to make large body movements to trim the boat so it is pretty obvious what I am doing!
However the initial trip was not that smooth. Issue one was the airport car parking. The area where I had booked was restricted to 2.3 metres and with a boat on the roof I am over 2.5 (nothing was mentioned on the booking form). Fortunately they did find somewhere for me to park, near the fence of the exit barrier.
I finally made it over to Cork at 11:30, and I was pleased to see my bag as one of the first to come on the conveyer belt. Unfortunately at 12:00 I realised that the tube containing my tiller and tiller extension was not coming (it was still in London) so we headed for Schull, arriving around 2am, Fortunately the next day the wind was extremely light and we got in a good session before the wind disappeared completely, giving me somewhat of a rest day.
The next day both the wind and my tiller had arrived. In fact the wind was so strong (gusting 30 knots) we decided to wait for it to die down slightly so as not to risk gear failure) and then had a good afternoon session. The next couple of days saw a range of conditions and we were able to work on both boatspeed in big waves and short course racing in the shifty conditions around Long Island.
The final day saw an extremely strong forecast so we packed up with a day to spare and I caught the bus to Cork airport. Unfortunately the severe weather caused a delay on the flight which eventually took off a couple of hours late.
Finally it was time for me to do some sailing for myself and it was great to be back racing at Weir Wood (where I first started Laser sailing) in the Rooster 8.1 Nationals (a Laser hull with a massive 8.1 metre rig on it – quite a handful for little ol' me!) Again there was a strong wind forecast…
The first day was certainly the lull before the storm. After the morning fog had cleared the race team at Weir Wood got four races underway although the wind rarely exceeded five knots. I won all four races, although to my embarrassment I did capsize when I put too much roll into my roll gybe (the 8.1 metre rig is MUCH heavier than my Radial).
Having reaped the benefit of being 20 kgs lighter than the average Rooster 8.1 sailor (the rig is after all designed for people who are too big for a Laser standard rig and I am too small for the Laser standard rig!) I was somewhat nervous about the strong winds of day two but in the end the wind was far too strong to race on the Sunday and racing was cancelled at 11:30. I couldn't help wondering if the same wind that stopped me sailing on Friday in Ireland had caught up with me again!
Spain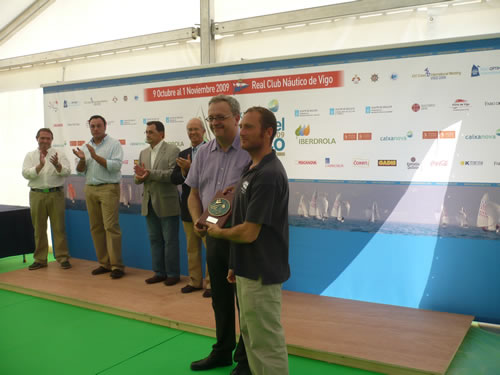 I drove down to Portsmouth to catch the 24 hour ferry from the UK to Santander Spain. It seemed funny that I was going from England to Spain but everything on the ferry was French (it was run by Brittany ferries). My journey did not get off to a good start when just off the Isle of Wight we stopped, looking for a man over board. It was a lovely ferry with a swimming pool and two cinemas, but after six hours when we finally got going, I was really worried. We were meant to arrive in Spain at midday, giving me plenty of time to drive the 370 miles along the north coast then down to Vigo (just north of Porto) before the end of registration at 9pm…

Fortunately overnight the ferry did make up some time but I still arrived in Spain well after 9pm with registration closed. Fortunately this was not a problem as they let me enter the next day. However since it was now raining, I found it rather difficult to put the event sponsorship stickers on, the result being they kept on trying to fall off! Racing was due to start at 1pm but the wind did not arrive until after the rain had finished so in the end we could complete only two races (with the last race finishing around six).

In the first race I won the pin end of the line but I was unable to cross the fleet so I missed the first shift. However I still ended up second at the first mark but I lost a couple of places downwind as the breeze filled in from behind. Working hard I got back to third at the finish, a good start. The next race I started further up the line making it easier to tack but I was crossed by those on the left and rounded the top mark in the teens. From here I worked my way through to the top six. A conservative start to the event but all in all not bad, and with six races left to go…

I had a nice hotel just 150 metres from the club with a double room with complete black out curtains which was great. However unfortunately the noise wasn't: the Spanish came in at 3:40am and put the telly on! I very nicely asked them if they could be a bit quieter and they turned down their TV but this did not stop their mates calling them every five minutes!

Eventually I got back to sleep and when I woke it was still dark (remember the black out curtains). I glanced at my watch and saw it was 11:00 am. AAAARRRRGGGGHHHH! The race was meant to start at 11:00… It took me 9 minutes to rig, change and launch and luckily I got a tow out with the jury boat.

Needless to say I was not fully awake for the first race. With the wind now coming from the opposite direction it was the right hand side of the race track which paid (keeping out of the adverse current). A poor start meant I could not tack across and I once again rounded the top mark in the teens, but pulled through to sixth by the finish. The next race I made no mistakes: I started by the committee board and worked right, rounding the top mark first. Unfortunately I went too far right on the final beat and just lost the lead which would have moved me up to second overall.

Unfortunately there was no more racing as the wind never arrived on the final day, and after sitting on the water for a couple of hours we returned ashore. So I had to be content with third place overall. However this was enough to move me into the overall lead in the Europa Cup series, with one more event in Hvar (in Croatia) to go. My return journey was pretty uneventful. It turned out the man over board on the way out was a hoax, so all that stress was for nothing. In fact we had a speedy return trip thanks to the strong wind… the waves in the swimming pool were 1metre high, so goodness knows how big they were outside the boat (it is a good job that I do not get seasick).
Sailing Fitness
Two years to the day (19th September) I elected to have two prolapsed discs removed from my neck (and the three vertebrae in my neck fused). This forced me to take over six months out of sailing but I felt it was my only option if I wanted to continue professional sailing.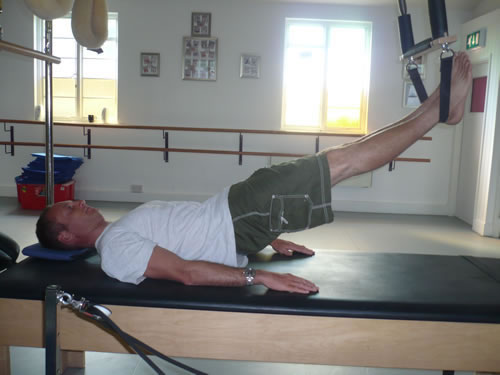 Upon returning to sailing my top priority was to bullet proof my spine to prevent any further injury as well as to improve my racing performance. I met Jenny Glover from the Pilates Centre Weymouth on March 23rd. Jenny trained as a dancer at the Legat School of Russian Ballet as well as the London Studio Centre. She trained in pilates in 1985 (so has some 24 years of experience), so I knew I was in safe hands.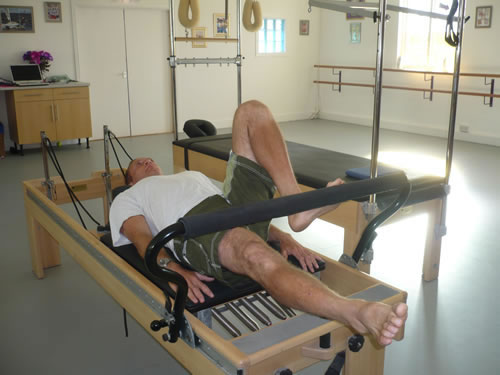 I worked with Jenny using the Pilates gym equipment throughout the summer whenever I was not away competing, looking towards the future rather than concentrating on that season. It was with great pleasure I officially opened Jenny's newly refurbished Pilates studio and Dance School on September 1st just a few days before the 10th Anniversary of the School first opening in Weymouth.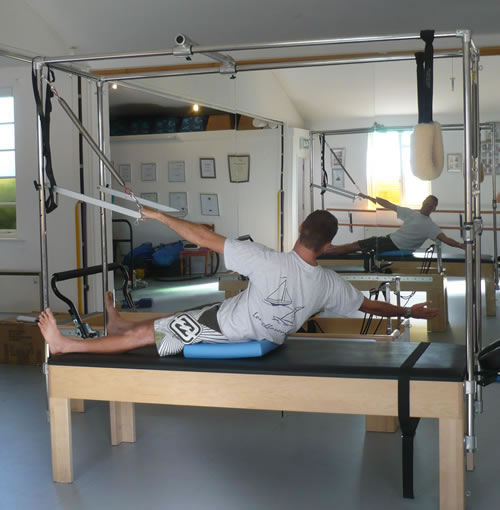 Although the Pilates sessions are extremely difficult I have no doubt how useful they are to me and indeed to anyone. The final National Ranking event takes place in Weymouth on the 1st weekend of October and I hope to remain ranked number one in the UK. After this I am going to take some time off sailing to concentrate on the Pilates (although I shall of course do some sailing!) to put me in the best possible shape for the 2010 season!
The Byte Worlds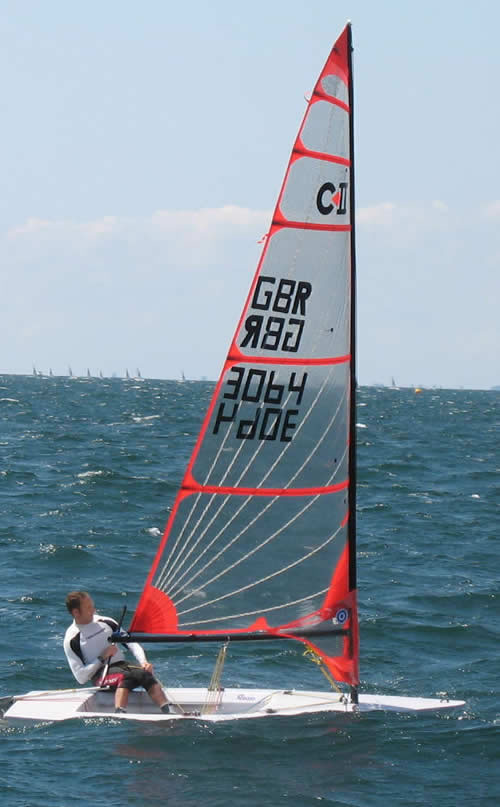 When I first landed in Canada (Montreal airport) I thought I was in France (everyone was speaking French and all the signs seemed to be in French!) However upon leaving the airport, I thought I was back in Japan as it was so hot and humid, especially considering it was late evening.
I was met by Ian Bruce designer of the Byte CII (and indeed the Laser), and spent the night in Montreal before making the three hour drive to Kingston the next day. I was in fact extremely lucky as two hours down the road someone flashed us to pull over and it appeared the boot had not been properly shut and my luggage and laptop were half hanging out the back. Phew… what a lucky escape!
My accommodation in Kingston was the students' halls, walking distance from the Harbour. The halls were called Royce which was also one of the halls in Loughborough University where I studied (I remember singing uncomplimentary songs about people from Royce!)
Also right next to Portsmouth Olympic Harbour (home of the 1976 Olympics) was what used to be a maximum security prison (think Silence of the Lambs) but I believe now the inmates are somewhat older it is not quite so full on, and the women's prison (which was actually on the Uni campus) has been turned into a museum.
When I was in Japan the main talk was of the Typhoons and although they never got close enough to reach us perhaps they could explain why it was such a windy week. Well when I arrived in Canada the talk was all about Hurricane Bill!
The first day (and only day) of practice was perfect, 20 knots of south westerly "sea breeze" (I know Ontario is a lake but it is certainly big enough – larger than many small countries – to benefit from a thermal effect). I trained for only an hour, thinking this is going to be a tough couple of weeks if it blows like this every day, but I was happy with my boat speed.
Unfortunately my first night's sleep was not so restful as the extreme heat and humidity set the (EXTREMELY) loud fire alarm off in my room at 11,12,1,2 . Each time I went to the front desk and explained, and each time I saw a different person and I certainly never saw the electrician who was meant to come and fix it. However at three I funnily enough got a new room. However by now I was wide awake (as it was 8am UK time).
Before the Worlds was the Canada Nationals, a good warm up regatta. The wind was a light southerly on the way out to the first race but I had a relatively good start and I was in the running until at the leeward mark a Brazilian barged in (he was later disqualified) causing a huge raft which lost me several places and forced me off to the right. Then half way up the beat the south westerly filled in (from the left) which dropped me out of the top twenty. I pulled up to 18th, but not the start I wanted to the regatta!
The next couple of races I managed now in hiking breeze. I managed two thirds, hot on the heels of the leaders (different in each race).
Fortunately on day two we had a moderate southerly and I won the first two races. However on the third race of the day when the wind started to die there was a change of course and I never found the alternative mark. I and the first half dozen or so boats sailed the wrong course and were later disqualified, meaning I would have to count my 18th… bugger.
I had a good final day with 1,2,1 but I could only manage a second overall due to the 18th, and at this stage I was wondering where this lovely thermal breeze was. Maybe something to do with the Hurricane?
We had one day off before the Worlds and after I had measured I made some final preparations to my boat but decided not to sail, so as to rest for the sixteen race series ahead…
However it was not to be as the first day of the Worlds the wind was very light and we only managed two races (for me a good and a bad 5,14) whilst further to the east the Laser Worlds were not racing due to strong winds (caused by Bill). Day two was equally light and unfortunately I had a pretty bad day (9,18,11,16) my speed was average but my decisions were below. I started at the wrong end in three out of four races and found it hard to predict what was happening in the unstable breeze (and unfortunately I seemed to lack the extra edge in speed needed to get me out of trouble when I went the wrong way).
Day three and I was woken by the crickets who were enjoying the hot weather and I knew it was going to be a good day. We started racing in 13 knots which gradually built to 17 knots which meant flat out planing downwind and hard hiking upwind against the short chop. I comfortably won all four races which drew me up to being in contention again.
Unfortunately it was not to last, as day four the wind was from the north. I won the first race but as the thermal effect gradually killed the breeze my results got worse 1,6,14. Lucky for me near the end of the day the air temperature dropped and the breeze came back to give me another 1st (my 6th of the event) putting me just one point off the podium.
The final day of racing started with a light northerly which extremely slowly swung to the south west but no races could be started by the end of the time limit (2:30pm) so the results stood. Darren Choy was a worthy winner with a consistent series (he never won a race, in fact neither did third place). As always you think what would have happened if we had just one more day of breeze, but then the pessimist thinks what would have happened if we did not have that one day of breeze!
It is funny how when you go to events they say it is never usually like this (strong winds in Japan where I raced the Radial <feeling a bit light> and light winds in Canada where I raced the Byte CII <feeling a bit heavy>) but that is just the way it goes in sailing!
Sadly before flying off to Canada I had the news that the IOC confirmed that there will be only ten sailing events in the 2012 Olympics meaning that there will be no Multihulls. I am now going to take some time to consider my options and try and raise sponsorship for a new campaign.
The Radial Worlds
Straight after the prize giving at the Radial Nationals (in Paignton) I headed back to Weymouth to drop off the boats and see my girlfriend, May, before driving to my parents' house in East Grinstead (near London). Any chance of getting a decent night's sleep was ruined by a coach fire that closed the M3. When I finally made it home the washing machine was put on strict orders to turn around my clothing for the next day, I then wrote the report of the Nationals for the Yachting press while I could still remember what happened, and stripped my mast and boom of the bits I needed to take to Japan with me before finally turning in.

Luckily everything (apart from my hiking pants and boots) were dry the next morning so I packed everything into a very large bag (well it had to be as I took my Laser foils and tiller with me) and off we went to the airport. As usual the M25 was pretty busy and my Dad dropped me off at Heathrow around 2 hours before take- off. I was surprised to see there was absolutely no queue for my flight… hmmm was this good or bad news?

I approached the check in desk and handed over my E-ticket. The lady looked at her computer and said, "Sorry, we have no record of your reservation"… at this stage mild panic started to set in. She then added, "and the flight is full"… at this stage major panic set in… then she finished, "but we could upgrade you to business class"… I didn't hesitate to say, "Yes please."

The next problem was when I put my bag on the scales (trying to make it look easy). It weighed 36 kgs. Fortunately because I was now in business class, I had an increased luggage allowance but you are now allowed more than 32 kgs in any one bag. The result was me sitting in the Executive lounge holding my hiking pants, kicking strap and buoyancy aid after a very interesting discussion getting through airport security.

However after this, the journey was uneventful and I was soon in Japan, just in time for the closing Ceremony for the Women's World Championships where top Brit Charlotte Dobson had finished top Brit in 18th and everyone was saying how windy it was for a light wind venue (never usually above 12 knots).

The next day I got up bright and early to get sorted. My aim was to get some exercise in nice and early to help me get over the nine hours jet lag! I walked down to the sailing club (around 25 minutes). First stop to collect my hire bike. Unfortunately they could not find my reservation (at this point I was beginning to wonder if Jon Emmett just did not exist in Japan) but I was told to come back in a couple of days…

Next stop was to collect a boat but apparently they did not have enough new boats for everyone so some people had to have older boats and you had to draw a ticket for a boat. I was one of the first in the draw and drew a ticket for a boat number 162217, a boat older than some of the sailors doing the Youth Championship and ancient compared to 196000 boats the Ladies had raced in.

It just seemed extremely unfair that the World Championships could be decided by a Lottery, especially when all the Japanese sailors could turn up with their brand new boats. So at 10am I complained, saying that my boat was unacceptable. I was told to wait ten minutes and they continued to give out boats… I waited patiently all day and at 7:30 finally made the long walk home with no boat.

Fortunately the next day a friendly Japanese guy staying at my hotel called Yoda (as in Star wars he was quick to point out) gave me a lift to the sailing club and fortunately they had decided to change my boat for a newer one (190317) which I soon managed to touch up. I then started to rig and I was nearly finished when I realised I had left one very important thing back in the UK… the ratchet block for my mainsheet… bugger… lucky one of the youth sailors, Elliot Hansen, had a spare but he was just off sailing and it was back at his hotel room.

When Elliot came back he very kindly went and got the ratchet block for me but it was now too late for me to go sailing. So the World Championships started the next day and I still had not been on the water… I was thinking I really hope my boat doesn't leak!

Day one and Karatsu was definitely not a light wind venue! We had two races in over twenty knots and BIG waves. I was pleased with two top five finishes with full rig sailor Marcin Rudawski from Poland dominating. I was quick downwind but did not quite have the pace of the bigger guys upwind which was hard as it was a one way race track (it paid to go right EVERY race)… still all things considered not a bad start. It was certainly a tough fleet as we overtook the majority of the Youth Women fleet who had started 20 minutes in front of us!

Day two was much the same, a 5th and an 11th when I got rolled off the start line, putting me in third overall, but day two I scored 10th after getting rolled again so I decided to try and start right next to the committee boat so I knew I could tack to the right. Unfortunately my outhaul slipped with 30 seconds to go and I got stuck head to wind. I tried to get the bow off the wind but I got yellow flagged for sculling. So whilst the rest of the fleet were sailing off I had to complete a 720 degree turn. Ironically due to good downwind speed I caught up to 10th which was better than my previous result.

Day four and five were much the same. A really good start gave me a 3rd place but apart from that I got a 9,7,11 where I was just behind the lead group of quick boats. At this stage Rudawski had already sown the championship up with a day to spare. I was in 8th but the points from 3rd to 10th were extremely close meaning anything could happen with a really good last day!

Funny the wind was lighter on the last day which really suited the Italian Giacomo Sabbatini who scored two firsts to sneak into the top ten. I had the second best day with a 3,4 which meant I closed the gap on the leaders and extended the gap behind me but I would have needed another day of light winds to have a realistic chance of standing on the podium.

In the end I finished sixth, just three points off fifth and fifteen points clear of seventh (in fact I was only 15 points off third and a place on the podium). Of course it is always frustrating to finish with a large points gap behind you and a small one in front of you but that is the nature of the sport and considering my upwind speed I think 6th was a fair result. After a day looking around Fukuoka I flew back home (lucky I was upgraded again so I could take all my stuff back with me) to spend some time catching up with friends before my next major championship…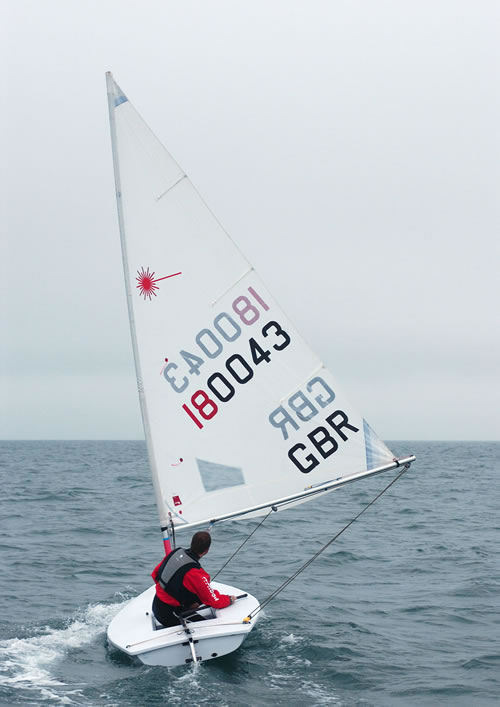 The Radial Nationals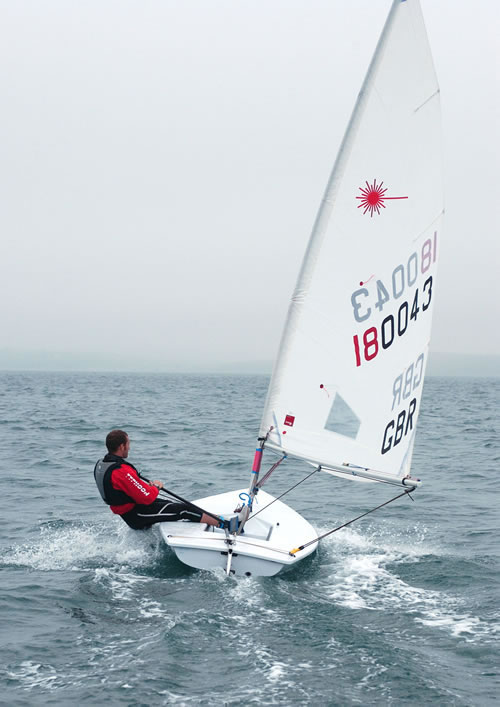 Well my aim after the Europeans was to have a textbook regatta at the Nationals. However it was not to be. There were fewer than a hundred entries for Paignton, many sailors absent due to the timing (being so close to the Europeans and the Worlds), but as the defending Champion I decided I really ought to do it, and with the winds in Japan usually below 12 knots I decided practice was more important than rest (especially after making so many silly mistakes at the Europeans).

For the first four days the racing was done in a round robin with the sailors drawn into three groups each day. On the first day I ended up in the same group as Steve Cockerill. He started on the right and I started on the left, and when we met he just crossed me. Steve sailed very well and with his clear weight advantage managed to gain enough on me upwind so that I could not catch him downwind, and he won both races. In the other groups Richard Talbot and Jack Wetherell won both their races (like Steve) meaning after the first day's racing I was fourth overall… not the start that I had hoped for!

Day two and I was not in a group with Steve, Richard or Jack but I did manage to start at completely the wrong end of the line when a huge left shift kicked in (and I was at the committee boat). I pulled my way back to second place and made amends with a clear race win in race four, but Steve had scored two more first places and Jack had a further race win meaning they were both on minimum points (with one discard). A second for Richard also meant I was still in fourth. Arrgghhh.

Day three and I decided I needed a good start! Being the third group to go I patiently watched the two groups in front of me start perfectly. At start time our group seemed to be lining up slowly but I decided to go for it and sheeted in perfectly, only to discover I had gone on the one minute gun (I had my watch on count up and went on 15 minutes, forgetting the first horn had been for end of postponement, one minute before the warning signal for the first group). There was no surprise when race officer Ken Falcon got my number (disqualifying me for being over in the one minute when under the Black Flag). I won race six comfortably but both Steve and Jack had won both their races, meaning I was now even further behind them. However I was now tied on points with Richard for third place after he scored two seconds.

Day four was the final day of racing in the round robin series and in the end we sailed only one race. Fortunately I won this but there was no surprise when so did Steve and Jack meaning they both entered the Final stages of the competition with a minimum score. Now the groups were divided into Gold (top 1/3), Silver (middle 1/3) and Bronze (bottom 1/3) so with the racing three times as hard in the Gold group I figured I had a chance to close the gap…

Day five and a reasonable start saw me crossing in front of Steve, ducking behind Steve, crossing in front of Steve, and then finally ducking behind Steve, on the way to the top mark. I then chased him hard all the race, finally overtaking him on the final downwind before going too far to the left, losing pressure and handing him a comfortable win. Hmmmm at this stage Steve had won nine races in a row and there was not much racing left to do!

Race ten and I had a good start and a comfortable lead by the end of the first downwind. However I missed a large right shift and from here it was a game of catch up. In the end I scrambled back to the top five. However Steve, Richard and Jack were all caught out of the top ten, their first mistake of the Championship. I had now finally moved up to second overall, and remembering how last year I was second overall until the last day (before winning the event) I knew anything was now possible.

Finally for day six it all seemed to go my way with two race wins and a 7, 5 for Steve. I took the Championship. In the end I was in the lead with one race to go, and knowing I had the better discard than Steve I tried to ensure that he got a poor start. Despite the fact that I also ended up with a poor start, I got back through the fleet, winning the final race and the Championship. So next stop Japan…
Disappointment at the Europeans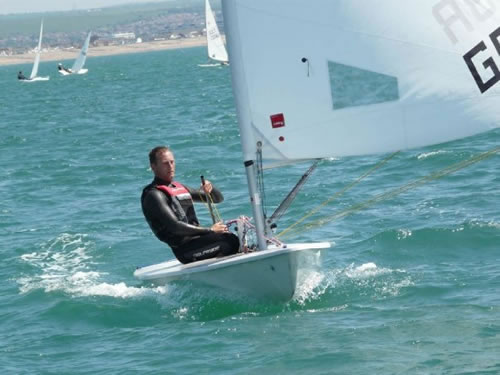 The Radial Europeans was my first major event of 2009 and after finishing third in 2008 just three points off winning the event I felt it was unfinished business. Just like last year I went to Germany first for Warnemünder Woche and won the event from a strong field which this year included the current Women's World Champion Sarah Steyaert and also the Double Youth World Champion Gabrielle King. However the conditions were light all week so there was no opportunity to practise hiking, but we got in seven races and many starts (several black flagged) so it was all good practice.

There is always a lot of pressure on the first day of a major regatta and my aim was simply to get through the first day without scoring my discard. I had a solid start in the first race and pulled through to top three overall. I arrived at the boat park late but changed so as to avoid all the pre-championship nerves that are always floating around there!

So far so good, but in the second race I was just outside the top five going down the first run when the wind dropped and I got swept well to the left (down tide) something that was going to haunt me later. I worked hard to get back in the race, reaching to the bottom gate (the leg should have been a run) but unfortunately picked up a yellow flag. The resulting penalty turns did not cost me much ground (I have done lots of boat handling practice) but this meant another infringement would cause me to retire from the race and so I had to be extra careful for the rest of the regatta. In the end I pulled back up to eighth but this turned out to be my discard from the round robin series anyway.

Day two and I bounced back with a race win and a fourth place to keep me in contention.

Day three and the wind was now coming straight offshore. I led the first race until the final run when the wind dropped and again I ended up too far to the left downwind (due to the current). However by the finish I was less than half a boat length behind the leader, and I entered the last race with confidence and was rewarded with my second race win, which was enough to move me up to third overall.

Day four and the wind was so light no races were held so the round robin series stood and the fleet was split in half with the top half in the Gold fleet, meaning the races were now twice as hard as it was before (in the round robin both fleets are mixed ability)! Therefore I decided a conservative approach was wise as you are only allowed one discard from the final series (of Gold fleet races).

Therefore I started the first gold fleet race well down from the committee boat, to avoid any chance of an OCS and it was a while before I could tack onto the first shift. I noticed the right hand side of the course was gaining but I had to duck a few transoms to get there. I managed to scrape into a top ten position before tacking onto the layline some distance from the mark. However the wind continued further to the right and even against the current, overstanding the windward mark was fatal and I dropped to midfleet and in a fleet where everyone is fast it is very hard to catch up, so a 15th was the best I could do.

In retrospect I should have really gone for it in the next race, but again I had another conservative start and unfortunately I was crossed by those boats who started at the pin end meaning I was now well to the left of the group. Rather than duck a huge number of boats and risk the layline again I stayed to the left, but everyone to the right rounded the top mark in front meaning there were just four boats behind me, a situation I have never been in before. Needless to say this was my discard from the Gold fleet

The final day I approached with a clean sheet (treating it like any other day and forgetting about the yellow flag and no discard hanging over my head) but I was determined to try and be consistent. I initially led the first race until the start of the second beat when the wind built. I felt I had lots of weather helm and felt slow. I kept to the middle of the beat and hiked as hard as I could but I was passed by two boats on the left and two on the right which seemed strange. I then checked my rudder and found large amounts of weed had collected in it. I quickly stopped to remove the weed and instantly found my speed improved. I gained a place downwind and one more on the final leg to the finish to score a third.

The last race of the event, and I rounded inside the top five with a medal in sight. It was a tricky race with big gains and losses to be made. However I had good speed, but once again on the final run the wind died and I ended up massively too far to the left dropping me to tenth and off the podium. Oh for the benefit of hindsight, but in fairness from my earlier experiences I really should have kept right but it was hard to do with boats under me holding me to the left but it is always easy to know what you should have done after the event!!!

Although getting a "Paper medal" (finishing fourth) is always disappointing (you are the last position not allowed to stand on the podium and you don't get a medal to take home!) I feel I have learnt from my mistakes at what was an extremely difficult regatta and although I unfortunately made the same mistakes a few times I hope not to repeat them later in the year. There were lots of good sailors who had a tough regatta and I was just one of them… My next stop is the UK National Championships in Paignton and I am aiming for a textbook regatta.
Catamarans at the Olympics?
It may seem strange after Team Alinghi just launched a giant 90 foot Catamaran (Alinghi 5) to defend the 33rd America's Cup while at present there is no Catamaran class set to race in the 2012 Olympics (one could well argue that there should be two events, one for Men and one for Women, like other disciplines…)

After the ISAF Conference in May the prospect of an 11th medal (for Multihulls) at the 2012 Games was looking more likely. No doubt helped by well over 6000 sailors who signed the petition to get Cats back in the Olympics and of course the set up of the new Multihull council (ISAF – The International Sailing Association had disbanded the previous Multihull Committee several years earlier).

The entire issue (the dropping of Cats from the Games) was brought about by the IOC (International Olympic Committee) limiting the total number of competitors and medals per sport in an effort to reduce the escalating costs of the Games.

If there is to be a Multihull discipline the most obvious choice would be the (now one design) Tornado but there is a shortage of time for sailors to prepare for the next Olympics. The closing deadline for entry to the Tornado Worlds is the end of the month (July) but the ISAF decision will not be made until August 17th and the IOC meeting not until October (which may or may not see the election of a new president). So it will be extremely interesting to see who is racing at the event.

So whatever happens, the full Catamaran sailors will have a whole year in limbo. Many have moved on to different classes or big boats so the question remains if Multihulls come back to the games will the top sailors return?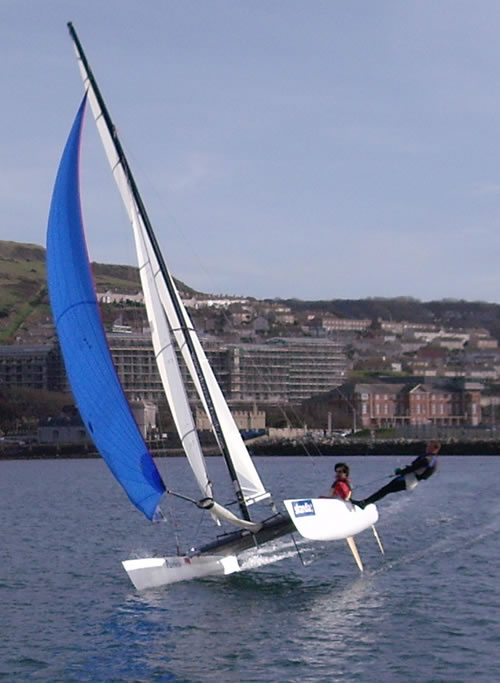 Neil Pryde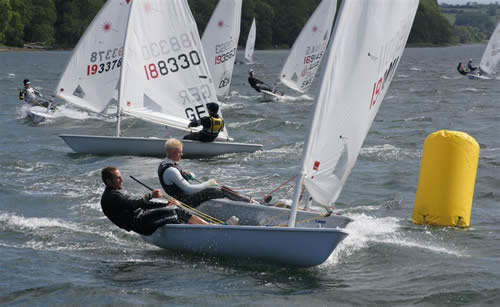 I am absolutely delighted to announce a new sponsor, Neil Pryde. It has been a difficult season for me so far which started with a leaky boat which I finally managed to sort out ready for the Holland Europa Cup. Here I managed to snatch defeat from the jaws of victory going into the final race in second place with the then leader OCS. I had the event in my grasp only to get black flagged myself and forced to take an early shower…

To add insult to injury the regatta had an excellent tracking system so that you could watch all the races live over the internet (we each carried a transmitter on our boats). So I saw my overall result drop from second to sixth as I was forced to count a fourteen and the guys just behind me scored 1st, 2nd, 3rd and 5th in the final race to pass me at the last minute. It was all I could do not to shout "capsize" at the screen every time they approached a gybe mark!

Follow the links to see the races:
Race 1
Race 2
Race 3
Race 4
Race 5
Race 6

The Europa cup has always been a great warm up for me for the European and the World Championships. A chance to get some hiking miles in my legs, some starting practice and to test the gear I am going to use. However I had of course hoped to repeat my success of last year where I won all the four events I entered.

My next stop was Denmark, an event I won with a race to spare in 2008. Obviously my hope was to repeat this success. However a top three seemed a more appropriate goal. The start of the event was incredibly windy and in the second race I passed over half the full rig fleet as the wind gusted up to 40 knots! In the extreme conditions I was very pleased to have all my new Neil Pryde gear as I was probably one of the only people who was warm!!!

Unfortunately on the way in I tried to be a nice guy and avoid the carnage on the slipway. Sadly the result was me capsizing on the rocks, holing my boat and severely bending the mast I intended to use for the Europeans. However you are allowed to measure in only one set of spars so I had to continue to use these. I bent the top section back, used plastic padding to fill the hole in my boat (it was a long night as the air temperature was below 10 degrees) but I couldn't do anything about my bottom section.

Despite this I went into the last race in the lead. After the extreme conditions of the start of the regatta the final race was sailed in sunshine and light winds and unfortunately with my lower mast looking similar to a banana. I could not get the boat to point and finished out of the top ten to lose the championship by just a single point. However all things considered I am definitely on the up. I am now back in Weymouth for a couple of weeks (to pick up a new lower mast!) and do some coaching with Erika Fredrikson the young Swiss girl going to the Youth Worlds.
Ten years at the top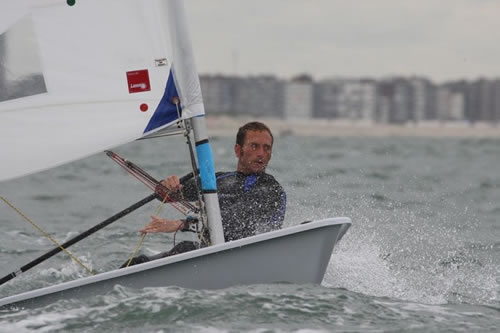 I initially changed from the Laser standard rig to the Radial after an especially windy European Championships in Cascais, Portugal. It was so windy that they could not really get the marks to stay in place with mark two moving downwind especially fast until the last race when they finally got it to hold place, but the race leader, Ben Ainslie, sailed to mark 3 instead (as mark 2 was now far further upwind than it had been all regatta).This I thought was a particularly harsh way to lose a European championship. However after this I struggle to think of a major regatta Ainslie did not win.

For myself this was also a turning point. Having reached twenty it was unlikely that I was going to grow significantly, and as I result I felt I was wasting my time in a boat I was too light in. I had some excellent races in the light winds but I simply was not competitive in the strong winds, so whilst at University and not having the time or money to change to a Tornado or 49er, switched to sailing a Laser Radial, and at the end of the 2008 season it was my tenth year at the top of the Radial Ladder.

I have not had the greatest start this year with a leaky boat. I did not notice so much with the first event being sailed in very light winds at the Stokes Bay Qualifier but a long windy day on the water at the Highcliffe Qualifier saw me get slower and slower throughout the day as I gradually took on water.

Upon returning to Weymouth I tested for a leak by covering the breathe hole at the front of the cockpit (under the toe trap) and using a foot pump to put air into the boat. I then washed the boat with soapy water but there were no bubbles over any of the fittings (toe strap, friction pad, cleats, blocks, grab rails etc.) but then I noticed there was a huge bubble bath coming out of my centreboard casing!

So I allowed the boat to dry, and the day before the Lowestoft Qualifier I "painted" the front and the back of the centreboard casing with epoxy (where the bubbles came out) and so I headed off to Lowestoft.

Saturday morning I had to sand out the casing to get the centreboard in so I knew I had done a good job. Just like Highcliffe we had one day of no racing and one windy day of racing and things were definitely better but after a long day on the water there was still water in the boat. However the good news is I still did comfortably enough to qualify first to represent the UK in the Europeans which will be held in Charlottenlund, Denmark, in just two months time (9-16 July).

… so back to washing the boat (it has never been this clean!) and there seems to be some bubbles coming out the side of the casing right near the back… so epoxy out again and the next time I go sailing there is even less water in the boat but arggghhh still water (and I want a dry boat!). In frustration I remove every screwed fitting and reseal it and then go for another sail. Well there was less water but hmmmm still not dry.

My next event is in Holland and as it costs nearly twice as much on the ferry to take a trailer I opted to put the boat on the roof (not too easy when your van is well over 2 metres tall) to save money, but feeling somewhat annoyed to go to my fourth event this year with a leaky boat.

Upon pulling away from the WPNSA I slowed down at the first roundabout to see water coming out of the front screw holes from the bow fitting you tie your painter to. Yippee, problem solved (I really hope) as after all where water can come out from it can also come in from (and before you ask, I know it definitely was not rain as there was lots of salt on my windscreen!)

I am now off to Holland for what could well be another windy event with a good screw driver and fresh sealant in hand!
The choice we make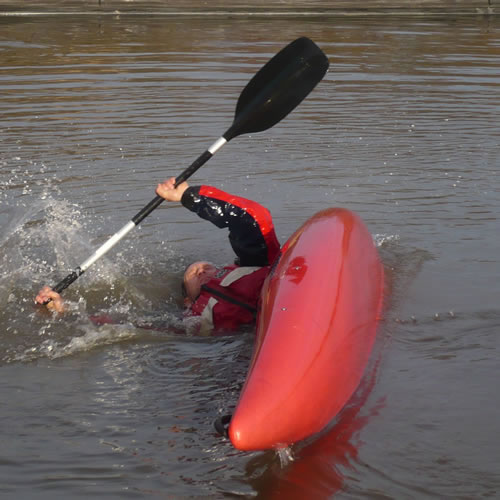 I initially got into water sports through a youth organisation called the Nautical Training Corps (NTC) where I did every outdoor activity imaginable. As well as sailing I particularly enjoyed kayaking and I was a good paddler.
In 2000 I went to Loughborough University to read Chemical Engineering. I was a sports scholar there and learned a great deal about how to train more effectively. I initially chose Loughborough for its excellent reputation for Engineering (at the time it was one of the few Universities offering the master course) and lovely campus.
However with a demanding degree I was hard pressed to fit in the three Ss (Studying, Sport and Socialising) and something had to give as I had only one weekend a week. Both the Canoe club and Sailing club trained Wednesday afternoons, Saturdays and Sundays (with circuit training on Tuesdays and Thursdays) so I could only do one or the other. I actually chose sailing as they did the best welcoming social… little did I dream I would one day be a full time sailor.
1995 was the year I started to get good results sailing. I remember being somewhat surprised winning the first race at the Youth Nationals (I later found out Ben Ainslie had got attached to the pin end) and in fact I was the only person to win a race that year other than Ben. However at this point my UCAS application was already in and I got my A results whilst winning the French Nationals, and the rest as they say is history.
The funny thing is the National Centre of Excellence for Canoeing is in Nottingham, right next door to Loughborough, whereas it was over a four hour drive to Weymouth…No wonder I now live so close to the WPNSA but I still do enjoy the odd paddle!
Qualifying for the Worlds
Phew! After sailing the worst two Qualifiers for many years: 6th at Stokes Bay (proving that you should not have two bad results in a two discard series) and 4th at Highcliffe (where I was just two point off second) I still managed to get my spot for the World Championships thanks to event wins at both Lowestoft and Torbay last year, but I guess I had better get my act together for the rest of the season!
The Radial Worlds in 2009 is being held in Karatsu, Japan. Co-incidentally my first ever World Championship was held in Japan (once again in the Laser Radial) in 1994… 15 years ago! I was still a Youth then, sailing the Laser standard rig (but as I did not qualify to go to the Standard Worlds that year I went to the Radial ones instead which at that time were open entry).
I initially sailed the Laser Standard rig (before realizing I was never going to be big enough and therefore I changed to the Radial). I was in the RYA Youth Squad in 1994, and 1995. I came second at the Youth Nationals in 1995 (held at Largs) and was therefore Ben Ainslie's training partner (and reserve) for the IYRU (now ISAF) Youth World Championship (the only event other than the Olympics where it is just one sailor per country).
I was sponsored by Brut while campaigning the Laser for a spot at the 1996 Olympics (which Ben Ainslie took) and continued to sail Lasers after I finished Youth. However my plan for my 2012 campaign was to race the Tornado. However as it stands this has been taken out of the Olympics, which seems a great shame when the IOC (International Olympic Committee) is asking to make sailing more media friendly, and then ISAF (The International Sailing Federation) remove the fastest boat in the sport.
However there is a glimmer of hope as ISAF have their mid-year meeting next month. So hopefully this will come under discussion. The problem is, only issues which are classified as urgent will be discussed, but I can not really think of a more urgent issue! So I will continue to sail single handers for the time being but watch this space…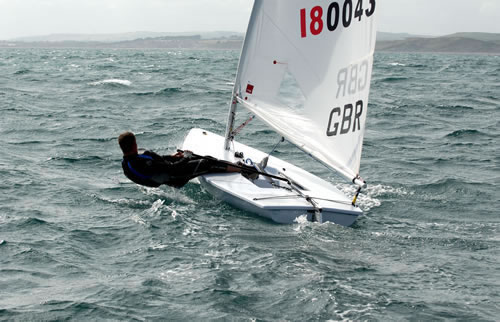 The Cayman Islands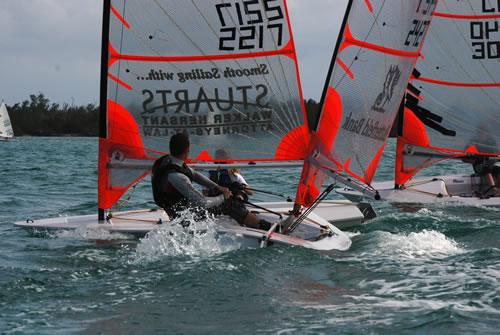 My latest job was running a Byte CII clinic in the Cayman Islands. I actually won the Byte World Championship in August last year at the WPNSA and so I was asked to come and run the training which saw sailors come from as far a field as Singapore. The coaching set up at the Cayman Island Sailing Club was awesome with sailors able to fly in (the airport is just ten minutes from the centre) and charter boats. I have also been asked to run a clinic before the 2009 Worlds which I may also race in (to defend my title).
I actually got into coaching to pay for my Laser campaign for the 2000 Olympics and discovered I really enjoyed it! Unfortunately it became clear that I was never going to be big enough to be fully competitive in the Laser (I blame my parents for giving me "short" genes). So I went to the Olympic trials in 2000 (Ben Ainslie had already been selected as the Laser representative) to see what other classes were on offer and the one I really liked the look of was the 49er and so I jumped straight into this!
I may have been too small to campaign a single hander as a man but I discovered I was the perfect size for the women's single hander and I have worked as a training partner for Shirley Robertson GBR (Gold women's single hander 2000 games), Laura Baldwin GBR (23rd women's single hander 2004 games) and a coach for Nathalie Brugger SUI (6th women's single hander 2008 games). I still sail single handers, and my next job is to qualify for a place at the Radial World championships this year.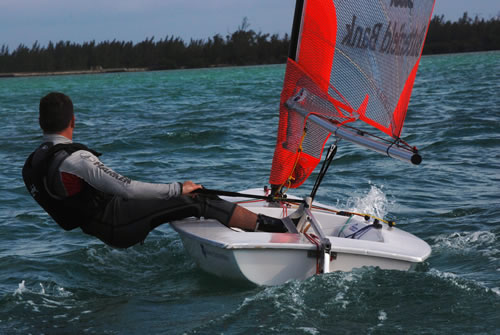 The Dinghy Show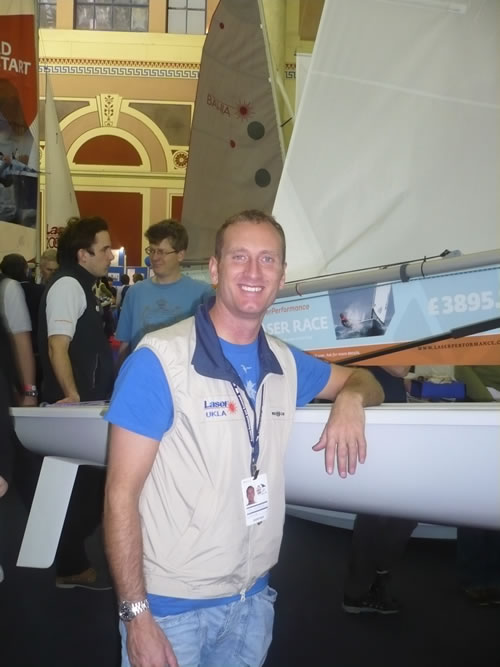 My final break before the season started was a three week trip to Margarita (Venezuela) to do some windsurfing. As well as being a lot of fun I feel it really helps my balance and core strength both of which are very important to my sailing. The Club Vass instructors there (John, Jamie, Nancy and Marco) were absolutely awesome and made sure that everyone had a great time. I certainly didn't miss much sailing as apparently it was snowing most of the time that I was away.
I also had the opportunity to do some holiday type stuff like visit the mangroves and eat fresh water mussels, and go trekking in the rain forest which is where the picture of Jamie and the spider came from! Then unfortunately it was time to come home although there was one scary moment when there was a major drugs bust on my plane and the airport security started looking very closely at my tub of protein powder!!!
Upon returning to the UK I went to the Dinghy show where I was talking to Laser sailors and prospective Laser sailors about the regional training programme I run as the UKLA training officer. I also had a chance to speak to people who had bought my book Be Your Own Sailing Coach (a book for anyone without their own coach – which let's face it is most people) which is always nice.
So now the sailing season is upon us, I have just one little job to do before I start racing again…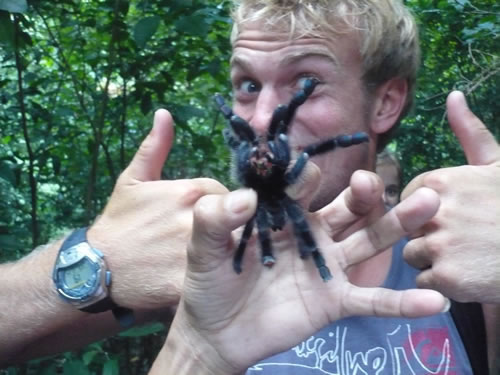 London Boat Show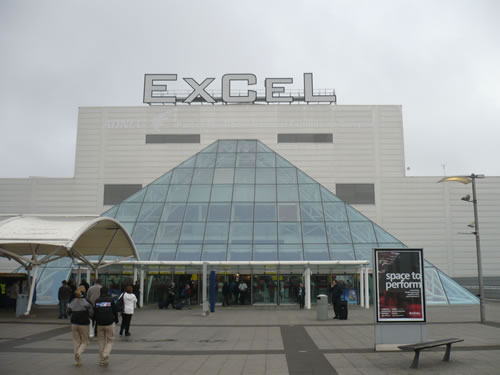 Well the first event of 2009 for me is the London Boat Show. This means we are about half way through the "off" season with the UK Qualifiers starting at the end of March. I still have a lot of land based training to do before I get back on the water training and racing. In fact apart from the Inlands the last time I did a race for more than two consecutive days was August!!!

You will have to watch this space to see which Olympic class I shall be campaigning for 2012 but with the final decision on the Olympic events not until mid June I may hold off my decision a while to make sure it is the right one. After all it is four years of my life (and maybe my final Olympic campaign) we are talking about.

The land based training is certainly paying off and despite avoiding all the exercises which compress the spine (like shoulder press, squats etc.) I have had a steady weight gain and I have already reached my target weight of 67kgs. Unfortunately I think some of this weight gain may be due to the excesses of Christmas and New Year but most of it has gone in the right place!
My spine is now feeling far more mobile and my daily use of the mobiliser has really helped. The great thing is I can fold it in half and take it to major regattas with me. Although I would definitely not call it relaxing to use, it does help my body stay more relaxed if that makes sense!

Although the left side of my body does seem quite tight (most noticeably the back) with the occasional cramping or electrical sensation in my left arm there is nothing that is going to affect my performance with the issues mainly being sensory rather than performance.

After all most people will have one side of their body a bit stronger than the other, I am just very slightly more extreme and I am doing my best to resolve this but as with all injuries it takes time, and having got the all clear from hospital in November (from the initial injury which occurred in early 2006). This fitted in ideally with the end of the sailing season meaning I can concentrate on my conditioning without being tempted to get on the water until the weather improves somewhat!

One of my achievements whilst I was injured was the completion of my first book, Be Your Own Sailing Coach. After all if you can not sail, why not think about it! I am going to the London Boat Show in Excel where I'm doing three book signing sessions on the Kelvin Hughes stand all day on Friday January 16th. Book signings are always great fun and it always amazes me the range of people who read my book!
Jon Emmett has over 20 years of coaching experience from grass roots to Olympic Gold.