BACK
Dec 15, 2011 |
Archive (2008 - 2021), |
admin
2011
Perth 2011: ISAF Sailing World Championships
Well I have just returned from coaching at the ISAF World Sailing Championships at Perth, Australia, and it was certainly an interesting regatta and overall a very positive one with so many learning points to take forward to 2012. From here the only way is up.
Despite not having the best result on paper the first thing to mention is Lijia Xu qualified for the Olympics so the first and main objective has been met. It was a difficult regatta which could have easily gone the other way but she showed her true strength of character.
Coming off a win at Sail Melbourne Lijia was keen to get racing, unfortunately a little too keen and was caught over the line in the first race. It must have been very close indeed and I had a chat with the race officer who kindly let me listen to the tapes which shows she was over in the very last second, just accelerating that little bit too fast.
Her disappointment was not with the lost race but that fact she did not get a chance to race. Having been looking forward to the Worlds for so long it was frustrating not to join in.
However the next race she made amends with a solid second place, although unfortunately she had an incident at the windward mark with another boat. I checked the notice board before leaving the club and there were no postings at all. I asked the girls who said there were no protests and I checked the time, which was well after the time for protests to be in. There were also several of the Chinese translators there so I felt safe to go home.
Upon arriving home I checked the results to find that there had been a protest and Lijia had been disqualified. Not wishing to rob her of a good night's sleep we just went for a long walk and a talk and so she was unaware until the morning.
Fortunately there had indeed been some issues with the posting of protests which had gone up several minutes too late. Lijia handled herself very well in the pre-hearing and got the protest re-opened. Due to thunderstorms there was no racing that day and we held the protest. Again Lijia spoke very well in the protest room but ultimately lost. The emotional tiredness was obvious as she slept most of the way home.
With just one more day of racing before selection for the Gold fleet Lijia sailed an extremely solid day with 11, 9, 9 putting aside the difficult first day and showing her true strength she qualified for the Gold fleet by just a few points.
Safely in the Gold fleet which was based on the top 50% of sailors after the initial three days Lijia came out with a bang scoring 2, 2, before a disappointing 26. To me this clearly showed what she is capable of, and the poorer result gave us points to work on. Indeed not a single sailor had three top results that day.
The final day of Gold fleet racing and getting into the medal race was a tough call. My advice was simply to do your best and see what happens. She knows she can win and a third place in the first race of the day brought her ever closer, until it transpired she had again been over the line. A ninth in the final race saw her finish 25th and qualify for a spot in the Olympics. A great result considering she was counting two disqualifications (there was only one discard in the series).
We now return to China for more physical training before taking to the water again after Christmas. The road to the Olympics goes on…
Sail Melbourne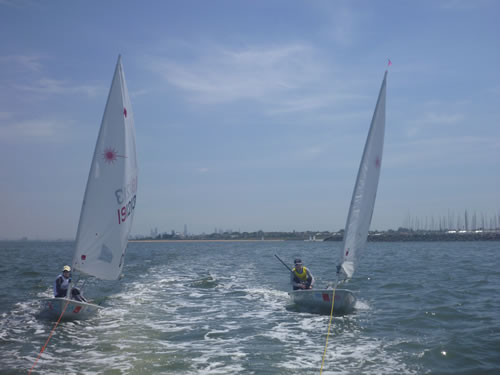 They say that you can experience all four seasons in one day in Melbourne and that was certainly true. In the space of a couple of days we had flash flooding which saw the road completely disappear and the drains back up, to bright sunshine which meant I burnt my arms even with factor thirty suntan cream. I was so worried about getting burnt on my face I had so much lotion I looked like a ghost. We had some quite windy races and also winds so light I could see my reflection in the water, so I was surprised the regatta was not more high scoring.
I have also, along with a number of mates, started to grow a moustache for the month of November in aid of Cancer for Men. I lost one of my best friends from University to cancer as well as my Uncle who lived with me for 23 years. So this has always been close to my heart. I started off not shaving for a full week and I am gradually removing the facial hair to leave a moustache at the end of the month before shaving it off on December 1st.
I was a bit concerned that my top lip may look rather pale after being hidden from the sun for a month, especially the strong Australian sun, but we shall see. Interestingly the Chinese have not asked about my sudden increase in facial hair, whereas for the Western sailors it is the first thing they ask when they see me. In fact when I went to a local Gym to find a place for the team to train the first thing the lady behind the counter said was, "Good on you," pointing at my hairy top lip.
The regatta itself was a mixed bag and certainly a learning experience for me. I feel the more time I work with Lijia before the Olympics the better. She won Sail Melbourne which is the first regatta in the 2011/2012 World Cup series which was a great start but it is just that, a start… training starts again tomorrow and she has asked to be pushed hard!
Off to China
Well I spent most of the UK Radial Nationals trying to get a Chinese Visa and there were some very early mornings writing letters, booking flights and other administration duties, but it was worth it when it was finally done. In fact I was more pleased when I checked my Blackberry that my Business Visa had been sorted (allowing me to come and go freely over the next twelve months) than the fact that I had won the Nationals for the fifth time!
I remember very well leaving launching as late as possible. With no wind at 9:00am and a cut off time of 3:00pm it is always tempting to wish for no racing especially when you are winning the Nationals and therefore the only way you can go is down! It also happened that on the last day my Visa was due to be processed by 12:00 (I literally got a Visa as fast as possible). However at 12:00 there was no news and the wind was filling in, and no news at 12:15, 12:30, 12:45. Eventually I had to launch or risk missing the race. In fact the Silver fleet which were held back were queuing to launch as I (the very last person to launch in Gold) finally made it to the water.
Luck was with me and despite a very slow sail to the start (no towing allowed) I made it out just in time for the start of the Standard rigs. I dumped my stuff off at the Committee boat (I must say a quick thanks to Duncan Hepplewhite who looked after my stuff the rest of the week) and we were off. A poor start near the pin end made it hard for me to get from the left to the favoured right side of the course but I managed to round in the first half dozen which is where I stayed all the race. With the rest of the top Brits fairing even worse than me off the line I was pretty safe for the Championships.
There was however a very strong international contingent and going down the final run I was just behind my closest rival (for third overall). I opted for the left hand side, which had paid on the previous run but lived to regret it as it peeled off slightly to the right. With a huge group of boats behind I could not get back across without going through a huge amount of dirty wind, so I opted to stay where I was, rather than risk dropping out of the top ten. As it was I stayed leading boat on the left but lost a couple of boats on the right with my closet rival winning the race to take third by a point (I would have won on tie-breaker)<sigh>.
However sometimes it is good to be disappointed as it only makes you drive harder. I had had a very busy week with many things on my mind, so it was a fair result considering a few minor hiccups that happened like a broken rudder, a non-ratcheting ratchet block which I replaced by a non-turning ratchet block, not to mention a few sleepless nights as I worked out how I was going to get everything done before I went to China (previously I was booked pretty much every day in the UK up until the World championships in Perth) but it is all done and dusted and I can now look forward to a new challenge. Time to get practising with those chop sticks!!!
Olympic test event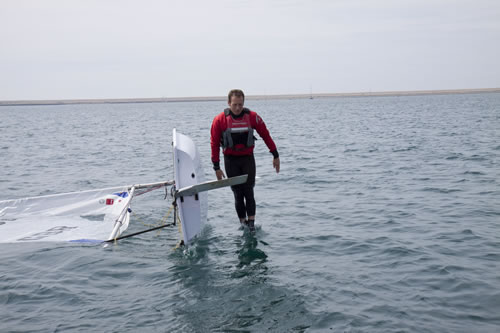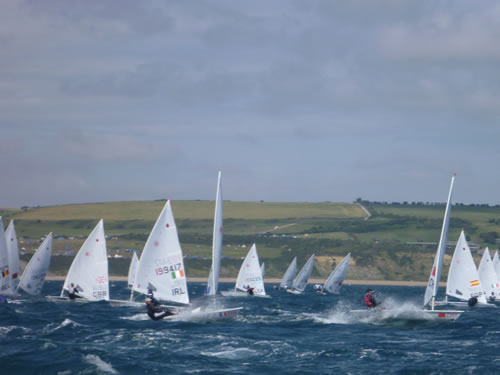 The Olympic test event was certainly that, a testing event for Sailors and Coaches alike.
The conditions ranged from terrible Tuesday (a very light and shifty Northerly) to big Wednesday (when the waves meant even going upwind in a RIB was less than comfortable).
Unusually the courses changed nearly every day. In fact in the initial programme the Radial class was due to race on two different courses on the same day, which has got to be unheard of.
It must have been especially hard for the Women Windsurfers who are used to racing in Portland Harbour and did not have a single race in there. However as always the cream rises to the top and there were few surprises in the top ten of any fleet.
One thing which was strange was how short the courses were, meaning three laps rather than the usual two and may have suggested why the courses were so far from WPNSA. I would hope for the real games we will be back to longer beats (and just two) like at most international regattas.
Overall it was a very positive experience, especially the opportunity to try out the medal race area near the Nothe fort. Being close to the entrance to both Portland and Weymouth Harbour, not to mention the high land by the fort itself, this is going to be a tricky place to race and may well decide many medals in a year's time. Any one who won a race here should be very proud indeed as this certainly bodes well for 2012.
Now more than ever it is clear how important training at the Olympic venue is, as it really could do anything!!!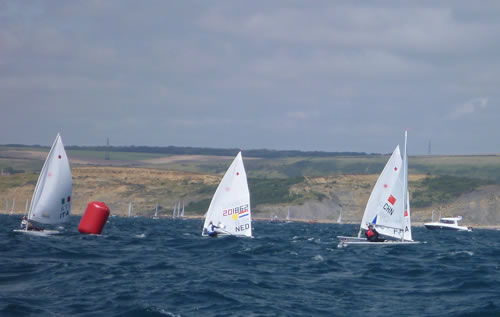 Sail for Gold regatta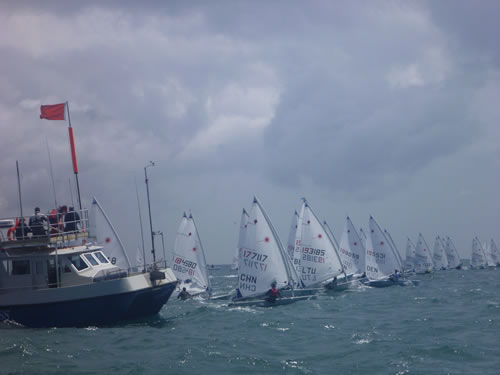 What better way to see how you would perform in Weymouth in the summer than racing in Weymouth during the summer! It is therefore no surprise that for many federations the performance at this year's Sail for Gold regatta is a key part of the selection for the Olympic test event in August.
After all if you can medal at Weymouth in the summer of 2011 then there may be a good chance you can repeat the feat in the summer of 2012. This has in fact been one of the largest regattas with over 1000 sailors taking part whereas the actual Olympics is restricted to just 380. Not only is this a good chance for the best sailors in the world to test themselves against each other but also for those who are considering running a campaign for 2016 or beyond to see just how high the bar is.
It certainly has been a tough week with big wind and waves plus long days on the water. To do this regatta unsupported would be extremely tough, with the sail in after a long day's racing exceeding an hour with the local marina fuel station doing a great business with the 340 coach boats, not to mention all those boats actually involved in the running of the regatta.
The racing itself was extremely tight and I was coaching the Laser Radials which shared its course with the Laser Standards with the race area approximately east of the Eastern entrance of Portland harbour. The WPNSA did a great job of coping with the huge numbers.
With around 400 days to go this is certainly a proving ground for the Olympic hopefuls but no doubt the runners and riders will become clearer after the test event. With many sailors vying for the single spot at the games in each class it is an exciting time and the media for the event was superb with live radio (although once I did have to tell one of the on-the-water commentators which race he was watching), tracking each day, and better than ever medal race coverage.
You can see more here.
Also check out some of my photos here.
Rigging update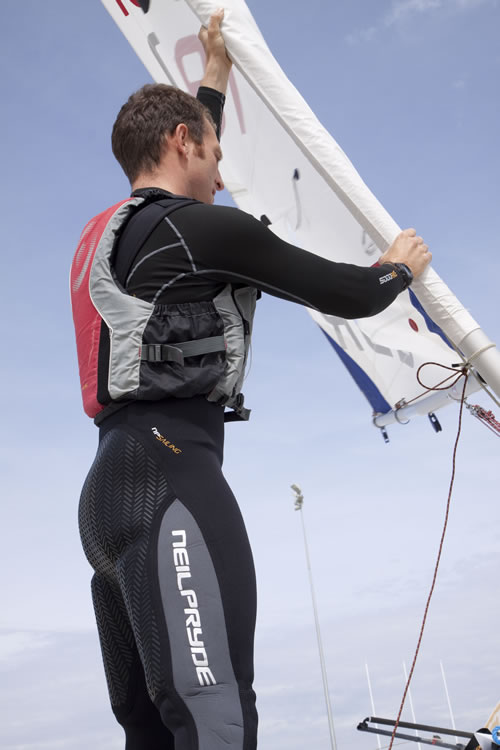 I was recently asked by Leonardo Ferrante from Argentina about the length of ropes to use for his new Laser. Now rigging the boat correctly is very important which ever class you sail but things are often changing as people test new ideas, and new materials become available, to try and get the best possible set up. However the basic principles remain the same.
The principles
The first principle is keep it simple! Use the minimum amount of rope you need, so you have less rope to pull and there is less rope to tangle. Where possible use the minimum purchase as this reduces the amount of rope needed and the minimum thickness as this reduces friction.
However before you even start to think about the lengths of rope, you must think which ropes you need. After all if you were going to walk around London you would want to make sure you were not trying to use a map of Paris.
For the sail controls you want to use rope with a minimum amount of stretch. Obviously if you use a stretchy rope then it would affect the lengths required but you definitely do not want to use a stretchy rope for the sail controls otherwise when a gust hits, the stretching of the rope would give you a fuller sail, which is the last thing you want.
Indeed the only place that you want a stretchy rope is on the rudder downhaul so the rudder is held tightly. If there is any slip the rudder does not come up as there is still plenty of rope tension holding it down. I would recommend a 3:1 system here.
The best ropes at the moment are Dyneema for stretch and I suggest using these on all the primary control lines (I also use this on the traveller but I have an outer hard wearing sleeve to protect it). However for the secondary line it is nice to have a softer rope which sits well in the cleats as well as being kinder to the sailor's hands (not everyone wears gloves), so I use maffoli. Many people also use this as a mainsheet but I believe it is too soft for this and when not under tension it can tie itself in knots!
The primary lines are those which take the main load, whilst the secondary lines are those which go through the cleats and actually end up in the sailor's hand.
When looking at the lengths it is important to have a good splice. A good splice to me is tapered (so there is no hard edge) with the splice length approximately ten times the thickness of the rope. Remember it will take a little while for the splice to bed in, so make the ropes around 2 cm shorter than you think and then re-measure them after a couple of hours sailing. Fingers crossed you will have got it spot on first time.
So to answer Leonardo's specific questions.
Kicker
For the kicker primary you want the secondary block very near to the primary block when the kicker is all the way off. Just ensure that the splice is not in the top block where the block is pinched as this will affect the smooth running of the rope. The primary needs to be 90 cm long.
For all the secondary lengths it depends on how you tie the handle. I like a nice big handle (so I can put my whole hand in it). If you can put only a couple of fingers in the handle then you are limited by the stretch of a couple of fingers. I also run a length of rope from the handle to attach to my centreboard, so if the handle slips to leeward I can still pull my kicker on. It is also worth noting many of the full time full rig sailors remove some of the secondary purchase but the majority of people don't. The secondary needs to be 300 cm long.
Outhaul
For the outhaul primary I have the system set up so the blocks on the primary just touch when you have the foot of the sail as tight as you are ever going to want it (the clew strap is as far along the boom as it can go). This minimises the amount of rope used. The primary needs to be 100 cm long.
Again for the outhaul secondary I make a generous handle, with the handle sitting firmly by the cleat when the outhaul is fully released. The secondary needs to be 300 cm long.
Downhaul
The primary line needs to be slightly overlong so that you can comfortably tie it each time. In light winds I rig the downhaul both sides so as not to twist the sail. At 66 kgs I need to pull the downhaul on alongside the boom, so in around 16 knots plus I rig it down the port side meaning I can pull more on. This slightly twists the sail but it is more important to get enough on (I choose port side to have the advantage on starboard tack off the line and we usually go round marks to port). The primary needs to be 90 cm long.
The secondary length required varies depending on whether the primary is down one side or another. Indeed in light winds it is best to have a small amount of slack in the downhaul to make it really easy to get off. This is not necessary in strong winds, which means you have much more secondary rope. The way I get round this is to make a much larger handle (but not large enough to get your foot through – just in case) and I also leave a bit of a tail. The secondary line needs to be 300 cm long.
All the control lines may be ordered made to measure from: www.thenottinghillriggingco.com
Mainsheet
I am still testing mainsheets but I have used the Rooster Polite mainsheet for many years. There may be a better mainsheet out there but I haven't found it yet. I use 13.5 metres. You can order it from www.roostersailing.com
Video of me rigging a Laser
www.youtube.com/watch?v=W70wB8JJH4E
Championship preparation
Failing to plan is planning to fail. My key regatta this year is the Radial World Championships in La Rochelle from July 16th to 23rd . I have just returned from the French Europa cup also held in La Rochelle , and hence a perfect warm up regatta.
It has been over ten years since I raced at La Rochelle (the Worlds were last there in 1999). So I am pretty much starting from scratch. It was actually a very easy trip, just catching the ferry from Weymouth (where I live) to St Malo, then less than a four hour drive to La Rochelle, far quicker than when the World Championships were in the UK last year (in Scotland).
Doing this regatta allowed me to get to know the local venue (getting lost can be a bit stressful so it's nice to know your way around); choose good accommodation: I had booked the closest apartment to the boat park but on inspection, it is right by a road and the local pubs and nightclub. So may not be too quiet in the summer. Hence I have opted to stay in the same place as I did this week (better the devil you know). Still just a short walk from the boat park but in a much quieter area, and as an added bonus it was cheaper!
I have also had the chance to test out all the gear I shall be using. The Neil Pryde kit has been great. Over the winter I got used to wearing ½ length hikers over a full winter wetsuit and I really enjoyed the extra comfort whilst hiking, having both a wetsuit and hikers provided. So now the weather has warmed up I am using a summer wetsuit. This means I still get the added protection on the thigh but without dying of heat exhaustion, and as an added bonus there are no silly tan lines (which you get on your legs when you wear ¾ hikers).
I am also now very used to my current rope set up and the Maffoli's nice and soft on the hands as well as being low stretch. The only thing which will be different is I shall have a new boat for the World Championships.
Rest and recuperation is also a key part of training. I am now off for a week's windsurfing holiday with Pompey Students Windsurfing Club before heading back to Weymouth. This gives me a well earned break from sailing whilst still testing my wind awareness, balance and fitness. Once back in Weymouth it will be a return to my usual routine, concentrating on my weak areas: core strength and flexibility using Pilates and Taekwondo as well as correcting any muscular imbalances in the Gym (particularly working on the shoulders and upper back which can become rounded with all the static holding you do whilst sailing). Lastly I will go and see my Physio and see what sort of shape I am in after being away for a month.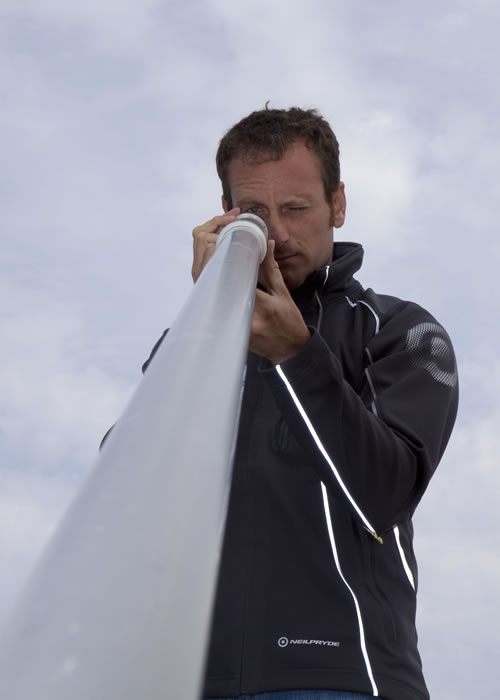 The start of the season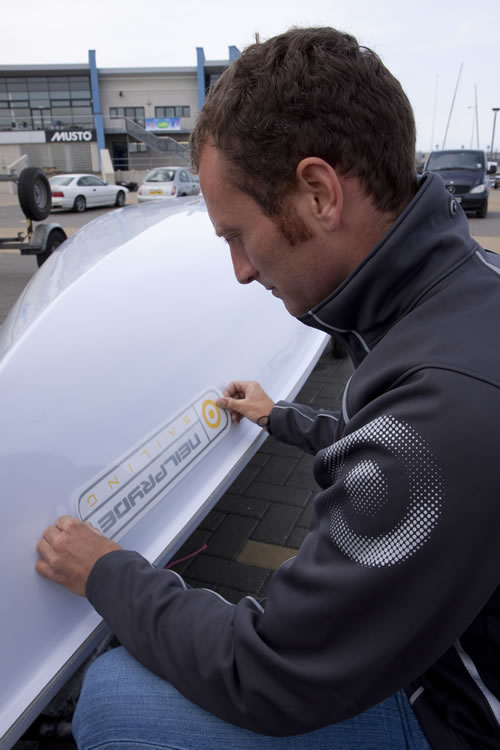 Well the season has now well and truly started even if no one remembered to tell the wind. My broken elbow no longer stops me sailing although it does make some pretty horrible noises. I guess it sounds like having a ratchet block in my arm (you can hear it clicking every time I straighten or bend my elbow). However my physio assures me it is not bone on bone or I would be in unbelievable amounts of pain! So I continue to have physio twice a week to get the bicep to relax and let go, allowing the arm to straighten fully. I have also recently had acupuncture: after all if someone stuck pins in me I would let go!
The good thing about having time off is that it has given me plenty of time to do some writing which also helps me think about sailing tactics, even if I have not always got it right myself! Also looking at the big picture: My first Olympic campaign was in a Laser: it is clear now that I was way too small for this to be practical; my second was in the 49er but unfortunately I had to pull out when two of the discs in my neck prolapsed, and my third campaign was going to be in the Tornado but this lost its status as an Olympic class. Currently I am committed this year to coaching both Sail for Gold and the Pre-Olympics and I wonder what 2012 will bring!
So far I feel I have had a productive year. I have been working with Neil Pryde on sailing gear. It is amazing what a difference good sailing gear makes. One of the things I like the most is the difference grippy hikers make. Much like doing pilates, you do not so much notice the benefit of doing it (having the hikers) but you really notice the loss when you don't (you start slipping up and down the decks). In fact the kit is so good I have at times been too warm at the Radial Spring Qualifiers… something which has never happened to me before!
I also continue to work with Gareth Griffiths on the Laser rigging: getting ropes for the primary control lines which do not go flat (and break the blocks). We are trying out a traveller with a cover so that it is not slippery (like pure Dyneema) as this leads to the traveller blocks slipping inboard in light winds and can allow the rope to slip in the cleat. We are also trying to consider the average Laser sailor: for example we recently went back up to 4mm and started using a shorter rope which was kinder on the hands (not everyone sails five days a week and has tough hands) for those times when you pull the rope, not the handle.
Lastly, Crew Fuel has been very useful in trying to increase protein intake without eating half a cow each week. I have found the sachets very useful although my energy requirements in recent weeks have been down as we haven't had very much wind!!!
Dinghy developments and Crew fuel
I have just returned from the Dinghy Show at Alexandra Palace which really marks the start of the UK sailing season and is a great place to see all the latest developments. I was on the Laser performance stand supporting the UKLA in my role as Training Officer. It was great to be able to show people the new Training Handbook which along with the training DVD every Laser Class Association Member will soon receive.
It was also really good to see that Laser Performance have recently updated their XD rigging systems and are now using Dyneema (SK 90) replacing the previous Vectran systems. I actual seemed to spent more time showing people the benefits of the latest rigging systems than I did talking about the class association!
Another interesting development was the self bailer spring Phil King developed for his own use. Time will tell how long it lasts but no doubt it will be more durable than the existing rubber rings. Further testing is obviously required but this looks a great idea to me.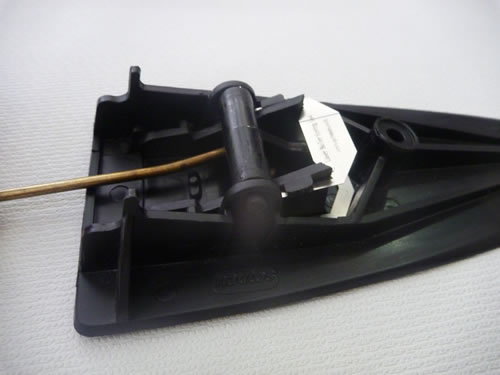 The UKLA Chairman, John Ling, picked up an award from Gael Pawson, Yachts and Yachting Editor, for the best Class Championship for the record breaking worlds at Hayling Island in 2010 (not such a good event for me, as this is where I broke my right arm!)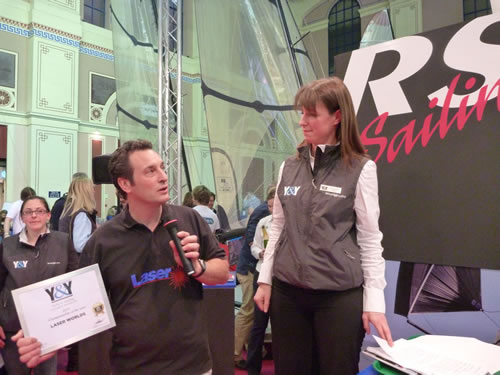 As always it was nice to meet people who had bought and enjoyed my first book: Be Your Own Sailing Coach and sign a few copies. It always amazes me the wide range of people who have bought the book and it is great to be able to help people whom I would never have the opportunity to coach in person.
Lastly, having spent lots of time examining rigging (I am particularly pleased with my new traveller for 2011, which is low stretch, sits well in the cleat (many low stretch ropes are shiny and slip in the cleat) plus is very durable.) I have also been considering looking after the sailor.
Crew fuel has a wide range of great tasting products which mix well and come in a convenient and mess free sachet. Sports drinks are by far the quickest and easiest way to refuel after sailing (or indeed any sport). I always think the taste is one of the most important things, as however good a product is, if you don't like the taste… you won't use it!
Goals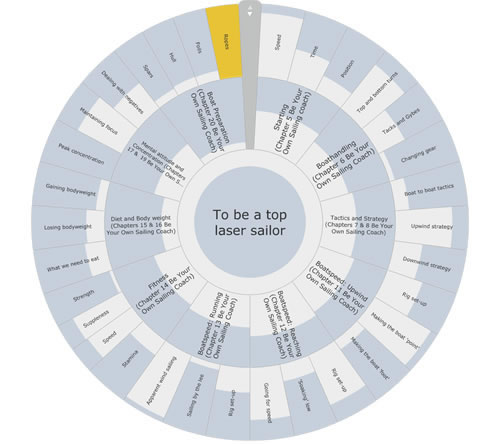 In order to be successful in life (not just in sailing) you need to set goals. After all, failing to plan is planning to fail. Goal setting will be a key part of my coaching when I work with Olympic medallist and former World Champion Lijia Xu and the Chinese Radial team for the Olympic test event at WPNSA in July.
I have now been using a great little programme called Goalscape which is the best software for goal management, providing a graphical representation of your goals, allowing them to be time scaled and in as much detail as you could possibly wish in a very easy to use package.
Goal setting is the key theme of Be Your Own Sailing Coach and above you can see a Goalscape which I prepared for Top laser sailors using Be Your Own Sailing Coach. Now Be Your Own Sailing Coach is a jack of all trades, giving you important information on key aspects of sailing but then allowing you to go away and work on your most crucial areas. The difficult part of writing the book was deciding what to put in and what to leave out. I could easily write a whole book just on sailing tactics!
Goals have always been very important for me, for example the recent completion of the UKLA Training handbook. Now perhaps this was not done in the time scale that I had first hoped but it is now finished and it is a real and tangible benefit for those joining the UKLA.
Rigging

I have recently been working with professional rigger Gareth Griffiths on updating the Laser rope systems. Many of the current systems in common use are woefully inadequate, where use of the wrong products is likely to lead to premature wear and breakage and prove expensive. For example, in the case of Vectran (which is UV sensitive) and Kevlar (which dislikes going round corners), Dynema would be a better product.
I have actually known Gareth for many years going back to the National Schools Sailing Association as part of the Kent Schools Sailing Association. I was team captain for my final year and went to the Nations Cup to represent England in the Laser with Paul Goodison. Wow that seems a long time ago!
Anyway Gareth brings a wealth of experience with him and is quick to point out that dinghies are not using systems, such as spectra chafe covers (which would be ideal for a Laser traveller) which are common place in racing yachts.
It really doesn't matter if you are a club sailor or Olympic hopeful. Having an awareness of the best systems means better working systems, lower maintenance (and any breakage can be damaging to a regatta result) and actually overall lower cost. This is obviously going to be an on-going project but I've included a couple of pictures of the latest developments.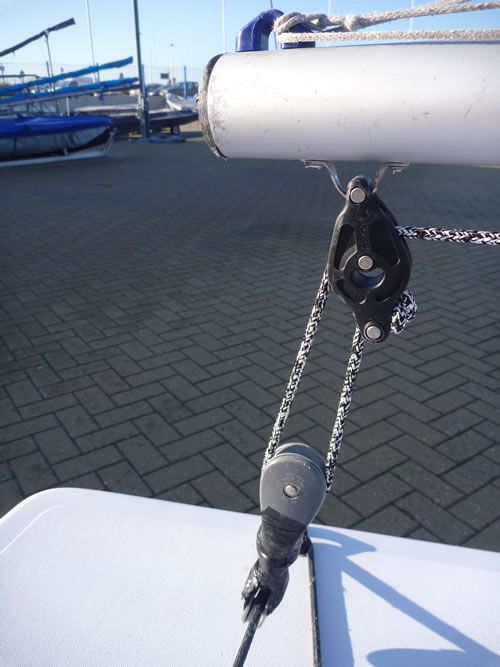 New Year in Cornwall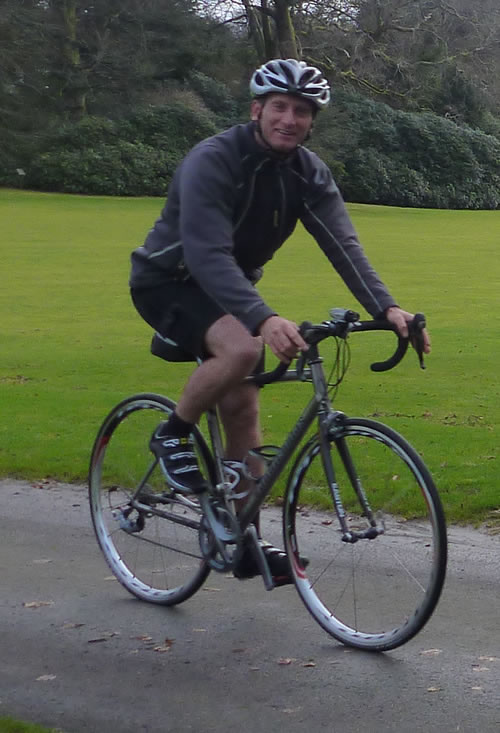 Well I had a super holiday… It was great that both Burn Park and the Clowance Estate had health centres which did massage. So I actually came back in better shape than when I went. I even finally managed to get back on my bike once, but I took it very easy, just a very short ride in the daylight when the weather was good!. The highlights of the holiday included the Eden project and looking all over Tintagal Castle for King Arthur!
My arm is now feeling much better, although there is still a long way to go. I guess I will be back sailing properly in a couple of months. It does not feel "right" but it is now just aching all the time rather than being painful: I have not had any sharp, stabbing pain (my arm telling me to stop doing what ever it is I am doing right now!) for a little while. So I feel able to get back to training slowly. The arm still trembles uncontrollably when I try and straighten it but the range of movement is coming back. There are also occasional pins and needles in the last two fingers on the outside of my right hand but this is becoming less frequent which is also good news.
I am looking forward to getting back to my local Weymouth gym, Future Physiques for the first time in months, to do some gentle upper body work. I must admit to being more than a little bit disappointed when I tried to do a wide grip pull up before I went on holiday and found I couldn't even do one (I used to be able to do sixteen!) However on holiday I managed to do my first one which I was dead chuffed with (I have never been so pleased to get my chin over the bar)! It should now only be a matter of time for me to build back up…
Having spent so long out of action I feel I need more rest than previously (I really don't want to push too hard, too soon and have a setback). So I have decided to have a mid week break. I find it very hard to simply rest so I am going to use Wednesdays as an opportunity to do some writing. This means I can still think about sailing but give my body a chance to recover. This also works very well as Wednesday tends to be the most popular day for my Be Your Own Sailing Coach talks.
Now my main aim is to be back fit for the World Qualifiers which start in mid March. Although I missed the first half of the series (the three October qualifiers) due to my broken arm, which means I have to count a last place in my series, I hope that if I get some really good results this spring I shall still be able to qualify for the Radial World Championships in La Rochelle this summer.
Jon Emmett has over 20 years of coaching experience from grass roots to Olympic Gold.