BACK
Dec 15, 2012 |
Archive (2008 - 2021), |
admin
2012
Well what a year 2012 was! An Olympic Gold medal and World Sailor of the Year for Lijia Xu.
Well what a year 2012 was! An Olympic Gold medal and World Sailor of the Year for Lijia Xu. For me it was both an honour and a privilege working with such a talented and hard working individual.
However now I feel it's time to take a break from the sport I love. The UK season really kicks off with the Dinghy Exhibition at Alexandra Palace in March and I will be there in my capacity as the Training Officer for the UK class association to answer any questions people have about Lasers, the class or just for a quick chat with old friends. So this seems a good a time as any to get back into things.
So as not to have too long off the water I kept sailing right up to the end of the year. This gave me a good excuse to go to Sydney. I was really looking forward to going in 2011 with the Chinese team but we pulled out at the last minute.
Sail Sydney was a huge regatta with 491 entries (making it the largest regatta in Australia last year). The organisers are actually having a bet they can get over 500 entries in 2013.
I just loved the atmosphere in Sydney. I have never caught a ferry to go to the sailing club before. Although those said ferries did make the racing somewhat interesting at times and it was without doubt the choppiest waters I have ever sailed on, Stokes Bay doesn't even come close!
I was really pleased to win the regatta. Actually I thought I had won with a race to spare but I decided to stay out and do the last race as the conditions were idyllic and it was very lucky I did as it turns out that I was Black flagged in the penultimate race! Luckily I won the last race and the regatta.
It was great to be a tourist and I loved climbing the Sydney Bridge. I must also give a very special thank you to my good friends Mel and Heath Warman who looked after me tremendously well and helped me decompress after a very manic year.
I was back in the UK in time for Christmas and to spend much needed time with my family. I managed to sail at Weir Wood a couple of times and catch up with sailing friends and I also did the Grafham Grand Prix on December 30th where I finished second (scoring 1st and 2nd in a two race series), so I really did sail right up to the end of the year.
I am now decluttering my life and I sold my two older boats (I originally had four boats as I thought that I was chartering them out to the Chinese team before they realised that it would be cheaper for them to container their own equipment across). Although I couldn't help but take them out for one last sail, just to make sure everything was all working properly!
It makes me think ahead, about Rio and what it can bring. Certainly in the last campaign there were things that I would have liked to have changed and this is true of any campaign. Whether as a sailor or a coach we are all looking for that perfect regatta. This is also my time to recover both physically (I need to manage long term shoulder and back injuries for which I am having cortisone injections and visiting the Weymouth Pilates centre) as well as mentally (just having fun times with the people I love).
I look forward to 2013 and the new challenges that a new year will bring.
Rolex World Sailor of the Year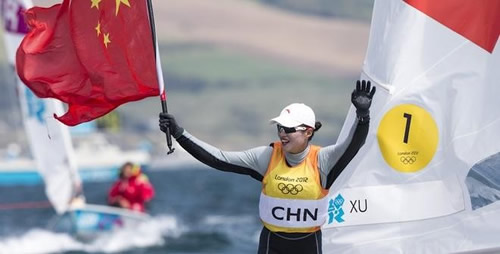 Well the Rolex World Sailor of the Year awards last week now seem a very long time ago. It is always a very tough award but especially so in an Olympic year. I really do not think that there could have been two more worthy winners than Ben Ainslie and Lijia Xu.
In fact if you look under the word winner in the directory in a few years time you may see a picture of Ben under the word winner!
Both winners battled with injury and both came through, in the last race of the Olympics, under tremendous pressure when it counts.
Ben has now collected his fourth Olympic Gold medal, while Lijia collects her first at 24, the same age as Ben was when he collected his first Gold medal. So who knows what career lies in front of the young Chinese girl, who was the only 2008 Radial medallist to medal in 2012.
However time and tide wait for no man, and no sooner has one Olympiad finished than another starts. The level (and I mean this in every way: technical, physical, psychological) is always rising, the bar becoming ever higher. So if you are in performance terms standing still, then you are in reality going backwards, compared with the rest of the fleet.
Already many, many people have been to Rio and are putting together their four year plan for the next Olympics. Planning is after all the foundation of success.
The first year of a new Olympic cycle may be a quieter year compared to the others, a time to catch up with friends and family, but there is no such thing as a quiet year in Olympic sailing.
One aspect of the sport that has certainly not been quiet is Olympic Windsurfing/Kitesurfing and I can only imagine the levels of emotion that so many people have been going through. It's been an incredibly difficult six months for everyone, although hopefully the drama is now behind us although there is still the IOC meeting to come next month.
The RSX World Championships have actually been moved to late February in Buzios, Brazil and I shall certainly watch this event with interest although I am not sure when I will make it out to Brazil myself.
I have been enjoying a quiet time in the UK, catching up with friends and family, even if some did not recognise me as, half way through "Movember" I now have quite an impressive Moustache.
I finished the last couple of UK events, the Radial Inlands and the Radial Masters (over 35s) Inlands. Ironically I won the Radial inlands which had a much larger fleet (about 100 boats more) and was in theory a much tougher fleet with a race to spare, whereas I made very hard work of the Radial Masters, to win it by the narrowest of margins (1 point) after sailing a poor first day... I think I find it easiest to perform at my best when I feel under pressure.
My next stop now is Australia, for Sail Sydney and some holiday afterwards. I hope this will help clear my mind and allow me to make some good and well informed decisions for what I wish to do in 2013 and beyond. I currently have many options open to me and I want to be truly sure that I select the right one.
The Europeans
Well this year due to my involvement with the Olympics I was unable to attend any World Championships, however I hope to make amends by attending two in 2013: the Radial Worlds at the end of August/beginning of September in Ireland and the Radial Masters Worlds in December in Oman. As a result of this I will be taking a little bit of time off at the beginning of the season as it looks like a long 'racing' year next year. However 2012 was not devoid of Championships. I feel as a coach it is vital to race myself, to keep understanding fully the pressures that the sailors all go through.
For me it has always been a case of normalising things, so whether it is a club race or the Olympics you have your little routines that you can relax into, making it feel just like another day at the office. After all you cannot win a championship on the first day (unless it is a one day championship hehe) but you can lose it. So preparation and consistency of approach is key. After that it is just a case of going out and doing your best in every way, just one step at a time: a good start, a good first beat, a good windward mark rounding... just getting the processes right and fighting for every available point
This year I managed to do only two major Championships, the Radial Europeans, followed by the Masters Europeans. So after the disappointment of the Radial Europeans where I finished fourth it was great to come back and win six out of eight races at the Masters Europeans. I have not done nearly as many regattas as I would do normally and this has really showed in my race performance. I won three consecutive races at the Europeans to lead the regatta overall but then followed this up with a black flag, forcing me to count a 17th place. Any reasonable result here would have seen me lying second overall, but it was not to be. So it was especially nice to win the Masters.
Sadly I won't be able to do the Masters Europeans next year as it is the week before the UK National championships, which I feel I must attend, especially as I missed the event this year due to its proximity to the Olympics. However I shall be doing the Radial Europeans which is combined with the Worlds in Ireland at the end of August in 2013.
I am going to take a little time off at the beginning of next year before returning to sailing: to spend more time with friends and family and to allow an old shoulder injury to recover. I feel the element missing from my sailing has been the international races. At the last two UK World Qualification events I attended I won 2 out of 4 and 3 out of 5 races respectively but I failed to find the consistency that I needed to win the events overall. So my goal is clear.
One of the things I stress when coaching is regular racing at top competitions, to keep good habits. As always I need to follow my own advice but there is only so much time in the year. Already I am inundated with coaching requests and it is hard to know what to take up. Certainly the 2016 Olympics may seem a very long way away but actually experience shows that it will be here before you know it, especially with the possibility of the Laser and Radial class having a new rig to get to grips with.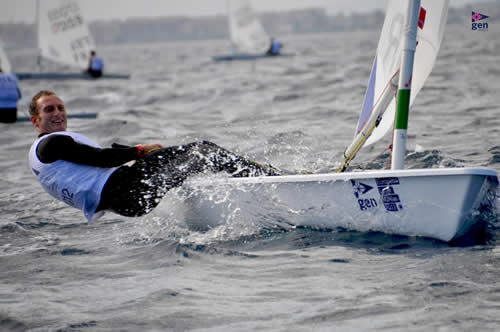 First steps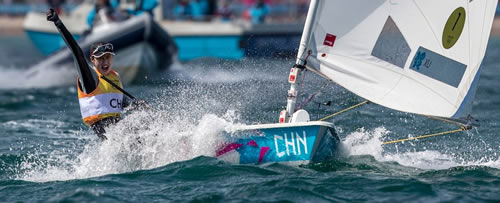 I first started working with Lily (Lijia Xu) after the 2011 Sail for Gold regatta where she had finished 15th. Looking back it is amazing that the results were almost identical to the Olympics. In 2011 the results were NED, BEL, IRL, GBR the only difference for the 2012 Olympics was the results where CHN, NED, BEL, IRL, GBR!!!
Although I guess this is not that surprising as it featured the same people racing at the same venue. Just the standard of the whole fleet would have been higher at the games, but the fleet size was much smaller...
It struck me that a year really is an incredibly short time to prepare for a major championship and this was clearly demonstrated in the closeness of the results. It was probably the closest medal race there will ever be, with four boats separated by a single point at the start. Lily showed great courage to sail her own race and to win despite been given a penalty. She never, ever, stopped fighting. For such a quiet girl to shout and punch the air at the finish, really did show the level of emotion involved and I am proud to say it brought more than a single tear to my eyes.
Now I feel it is time for me to do my own sailing. For this I need a clear goal. I officially became old this year or in more politically friendly terms I qualified as a "Master" sailor. So my aim for next year is the Masters' World Championships, which are to be sailed in Oman. I have a little over a year to prepare but I believe that this is enough time.
My first step was to attend the Masters' Qualifier at Arun Yacht Club. A nice gentle start with mainly light winds (we only hiked for two out of six races). After spending a lot of time out of the boat I was very pleased to win five out of six races, although I did feel more than a little rusty, and much to my embarrassment I even went for a quick swim at one point haha.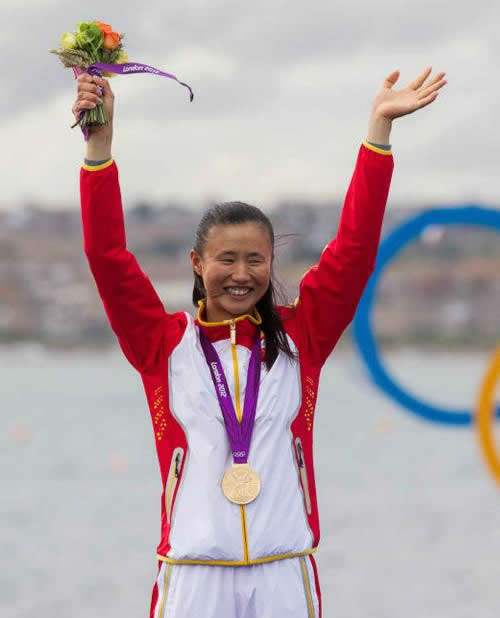 After the Olympics
Well it is just one month today that the Olympic Medal race took place for the Radial class. A day which I will surely remember for the rest of my life. I have just returned from a well deserved holiday, perhaps the first of many over the next few months in what is always a quieter period after the games.
I am more proud than I can put into words of Lijia Xu and her achievement. The time has just flown by. When I look back at my last blog entry I see it was my last break whilst I was driving down to Hyeres to meet "Lily" for the Semaine Olympique Francaise de Voile (or SOF regatta!) It seems that was the last time I had a proper break haha.
Lily actually won SOF regatta making it three out of three in the World Cup series. It was actually a great shame that she was unable to attend five World Cup events otherwise I feel confident that she would have won the series but actually there was only one result which counted this year and the one which everybody will remember.
There is never enough time when preparing for the Olympics. It really is a case of making the best of every opportunity which comes along. I feel that a huge number of lessons have been learned and it is my greatest hope that these can be taken onwards, towards the future.
One thing which stuck me is life is all about the journey, not the final destination which makes up such a small part (although there is surely no better sporting destination than an Olympic Gold medal). I knew that whatever the result in Weymouth I would be able to sleep well, knowing that I had done my best and no one could have asked me to do any more.
We worked just so hard to be consistent, to deal with the pressure and to communicate. When I heard Lily laugh the morning of the medal race I just knew we were going to have a good day.
The previous two regattas before the Olympics were the World Championships and Sail for Gold regatta, both of which Lily was winning going into the last day but actually I think this was a blessing. We learn more from our mistakes than our successes and using disappointments to make us even more determined is the mark of a true champion.
For now is a period of reflection. To contemplate the future. To get out the map and work out which direction I want to go on the next journey...
The Road to Hyeres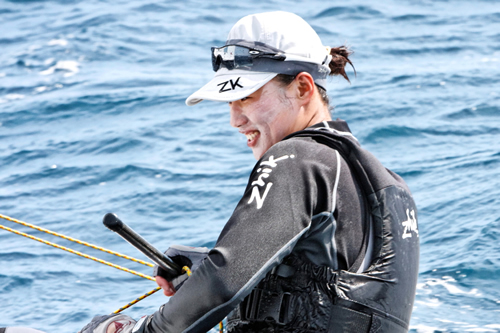 Hyeres was the first stop in our European tour this year. On the way to Hyeres I raced in the Martigues Europa cup. So the logistics could not have been easier. As a coach I feel it is important to do some racing yourself so you can have good empathy with the sailors, understanding the regatta day pressures and also the importance of rest and quality training. After all it is not very hard work sitting in a coach boat, although it is often the coldest place on the race course!
Hyeres is less than a two hour drive from Martigues so it could not have worked out better. I actually arrived in Hyeres shortly before the plane with the Chinese sailors landed. Having my van worked out very well. I could take the sailors to and from the sailing club, gym etc at a time which suited them and of course it was very useful to have a vehicle with a tow bar to get the team's RIBs on and off the water.
We stayed in a caravan site about 2km from the Sailing club so some mornings I ran down to the coaches' briefing and in the evening they locked the gate, so I used my bike. I must admit I am not a big fan of caravans and I spent many of the nights dreaming of my own bed back in Weymouth
Unfortunately the trip did not start off too well, but luckily I had given myself plenty of time. The UK service stations that I passed on the way to the ferry were closed, so when I finally arrived I had very little fuel. I think there must be a diesel shortage in the UK... Something about a French lorry strike but I am not sure exactly. Beyond my control anyway.
I headed for the first fuel station in France but I did not make it. I was about 20 km short. I did actually consider running but then I thought better of it. I have of course insurance with the AA (British Automobile Association) but the French motorways are governed by the French Police rather than the AA.
So I had to wait six hours for them to bring me diesel rather than the usual 30 minutes. However since I am a member of the AA I did not have to pay, only for the diesel. They wouldn't give me that for free haha.
Luckily the food on the ferry was very good and I have been able to break up my drive with stops at the various service stations where you can eat. Lots of veggies, fish, steaks etc. The French are very keen about their food, so the journey really was very pleasant.
The drive was actually very good as I went through the night so there was very little traffic. You can easily get to any of the European World Cup or Europa Cup events other than Palma in a day. There is so little traffic in Europe compared to the UK.
I first went to Martigues several years ago but my van took me straight to the club, no problem. I have actually been many times and sailed there in extremes of both light and strong winds. Once again I think we may well get both extremes this year. The weather in Europe this time of year can change very quickly. I actually parked in the same spot as usual, under a group of trees about 40 metres from the water and about 36 metres from my boat. Perfect!
I love having my van with me as it gives me a good place to relax. I can sleep when I need and the single bed is much better and more comfortable than the average caravan. Plus I can also carry lots of spares and things that may help you like grip for the front of your centreboard casing, speed polish like I used at the test event etc etc.
It was as if I had never been away. I soon settled into my little routine. Fresh baguette, usually with cheese, ham and salad at the sailing club for breakfast. Dinner and lunch usually a large fruit or cold vegetable salad followed by roast chicken, fish, pork, moules or one of the various cuts of steak on offer (I wonder which cut would be your favourite) and as many veggies as you can eat. I was also able to get any other little things (another Blackberry charger) very easily. Even the self service check out at the supermarket is now in English so it is all very easy.
The Europa cup was held over four days with two races planned a day. The start on the first day was not until 15:00, all very civilised and the only thing you had to do was to measure your sail which took just a moment (the measurer wandered passed my boat whilst I was rigging). On the last day the first start was at 10:00 and no start after 15:00, which hopefully means that everyone gets an early get away.
There were 220 sailors so we were separated into three groups. Many of whom I knew. Actually a few sailors popped in to say hello on the way from Palma to Hyeres which was nice. I have not raced internationally since the Worlds/Europeans last year, which now seems a very, very long time ago.
The first race and the fleet were nervous which led to one general recall. In the second start we got away but I got rolled. There were a few people black flagged, but to me it did not seem worth taking the risk on the first race of what would most likely be a one discard regatta (you only get two discards after eight races and looking at the forecast this seemed unlikely).
I soon got clean air and managed to stay on the shifts. I was more towards the middle and tacked for the pressure as well as the shift and ended up leading by the top mark. I extended downwind but then I rounded the leeward mark about 2 minutes after the start of the last group.
So it was a huge mess with boats everywhere. I pulled through the group in front and got up to third place, although I did over stand the windward mark slightly to get clean air but I think that it was the right thing to do. In the end I had a massive lead, as all those behind me got much more caught up in the other group.
The second race and this time I popped out and was able to tack immediately after the start. However the wind went hard right and I did not manage to get across. I kept believing the wind would come back and it never did. I went down the middle of the run as most people went hard left looking downwind but still the wind stayed right. Up the next beat I again stuck to the middle and the wind went even further right. Oh well, you cannot get it right all the time. Lack of racing practice (only six days in the last five months) often shows in a difficult first day...
Day two and I was up early and rigged but instead of increasing, the wind died. This is often what they call the lull before the storm. Patience is a virtue...
Although the wind did eventually come and built throughout the day, having already played my discard I was very safe. Rounding the windward mark just inside the top ten each time and getting two seconds for my efforts. However in race three I was about 10 cm behind the winner and in race four I was about one boat length behind the leader, so maybe a tiny little bit more risk would have seen me rewarded with two bullets... we will never know!
The forecast for day three was for mistral so I went to nch twice in the evening, just to be safe. I just love packing the large bowls full of lots of lovely fresh salad. Tasty and very healthy too :) As expected the forecast was right and we were hit by over forty knots all day, so it was a good job I tied the boat down. I spent the whole day relaxing.
The final day was gold fleet racing but due to the wind dying only one race was sailed. Actually it started quite windy from the North but died as the day warmed up, so come midday there was no wind at all. This mistral direction feels quite cold.
It is actually feels far warmer in the North (Weymouth) with southerly winds than it feels in the South with Northerly winds (Hyeres) but luckily there does not seem to be too much Northerly forecast this week. Although this of course could change.
I had a good start but the pressure differences were huge with boats on the left and right making huge gains as they ended up in more wind than everyone else due to the mixing of the North and thermal breezes.
I kept my cool and rounded the top mark in the top half. I did the big things right, I tacked on the shifts, kept my wind as clean as possible and kept the boat going fast, and in the end I was rewarded with a top ten. I had to count this race after my horrible race two.
This is a lesson in being consistent!!! Actually many of the top boats had an awful gold fleet race but they were able to discard it due to having a better round robin.
So all in all a good event, I finished second overall. Although I did get a bit of a black eye. Where I was on starboard pre-start and I was nice and ducked a port tacker who then tacked immediately and somehow stuck his boom in my right eye. So when I arrived in Hyeres it looked as if I had been fighting!
Arriving in Hyeres seemed like an old home. I have been there so many times in the last twenty years. I did not bring the road bikes (other than mine to Hyeres) so we did stationary bike training in Gym Passion using Polar heart rate monitors to ensure that we trained at exactly the correct intensity and we continued our weight training, even through the regatta...
Miami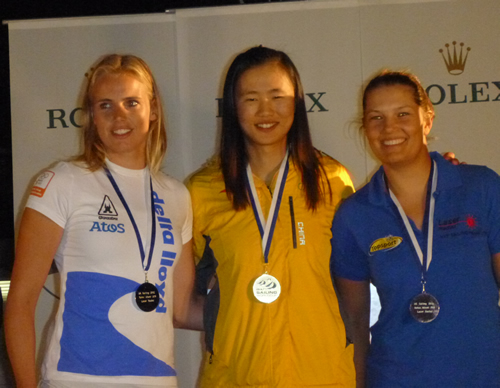 Lijia Xu has just returned from her second World Cup victory in Miami in the Laser Radial class (to add to her win at the first event in Melbourne) to make it two out of two in the series. Xu had a difficult World Championship in Perth last year being caught over the line twice and also disqualified for a rule infringement on the first day when she tacked in too late at the windward mark. However she still did enough to qualify herself for a spot at this year's Olympics in the Women's single handed class.
Therefore to come straight back with a regatta win shows true strength of character, something of which Olympic Champions are surely made. Miami was actually the first grade one international regatta of 2012 with the previous event in the series being held last year in Melbourne.
Even the start of Miami was less than ideal, with the planned flights to Chicago cancelled making for an exhausting journey which took far longer than it should have done. Xu had one of the worst first days of the top sailors, just scraping a top five finish in the first race after a poor start, before picking up a large discard in the second race of the series. However this did not stop her, and showing a maturity beyond her age, she put together a consistent regatta by avoiding high risk strategies and playing to her strength. Indeed she improved tremendously as the regatta moved on.
The final day of the regatta always ends in a medal race. A result which you have to count in your series and one which is worth double points. Just like in Melbourne only two people could take the Gold medal and one of them was Xu.
She played a good game and eventually sailed her nearest rival to second to last place. She also had to sail her nearest rival down the fleet in Melbourne, so these regattas really are great practice for the Olympics which could well be decided in such a fashion.
She now has the opportunity to have a little break from sailing and there follows a period of general training before heading to Europe in the Spring, and it now feels like the countdown to the Olympics is sounding ever closer and ever louder.
Jon Emmett has over 20 years of coaching experience from grass roots to Olympic Gold.