BACK
Dec 14, 2015 |
Archive (2008 - 2021), |
admin
2015
They say variety is the spice of life and I am always keen to learn. By doing different jobs it not only makes the coaching more interesting and enjoyable but new experiences make a great way to improve.
Back to basics
They say variety is the spice of life and I am always keen to learn. By doing different jobs it not only makes the coaching more interesting and enjoyable but new experiences make a great way to improve. Every different experience is an opportunity to learn and when we train we do a variety of exercises to keep things fresh. Well it is the same in coaching.
My life always seems to get consumed with the Olympic sailing. There is never enough time to achieve everything you want and I feel our aim is often to make the best of whatever situation we find ourselves in. Everybody is busy, but busy people make time for what is important to them.
Now in terms of the Rio Olympic Games this is the beginning of the end, the final sprint to the finish as it were and the results of the events this year, specifically the Olympic test event are often a very good indicator of who will perform well at the Olympic Games itself.
So this winter was my final opportunity to do some different coaching... I last went to Turkey nearly 20 years ago for a Radial World Championships and later on to do some coaching.
So what did I learn from working with the young sailors in Turkey? Well it was really back to basics. The important stuff which you have to get correct from the beginning:
1. Rigging: It is essential to get the best out of your boat, simple good rigging practice not only make the boats faster but can prevent equipment failure which hurts not only your race but your pocket.
2. Time management: We want to make the most of every minute of every day and time saved rigging, launching, derigging, changing etc can be well spent doing other things and this is probably one of the biggest differences between the professional and the amateur sailors.
3. Fitness: What does the word mean? Well it means fit to do the task (in this case race a Laser) and it is only when working with those sailors at the start of their sailing career that I fully appreciate the elite levels of fitness achieved by the top international sailors.
My first visit to Singapore
The year started with a trip to Singapore to work with their Laser standard sailors. I have often thought what a nice airport Changi is, so nice that I have never left it! Simply flying via Singapore on my way to Australia many times... however in 2015 this was set to change and I stepped outside the airport for the first time.
My first impressions of Singapore were great and not just due to the hot weather, in fact I was so scared of the sun I completely "whited up" (covered my face in suntan cream so I looked like a ghost). Upon seeing me for the first time one of the girls in the office screamed (at least I hope it was just the suntan cream which caused this).
In 2011 and 2012 I spent a huge amount of time coaching in China, and Singapore seemed a very good mix of east and west. Indeed I went to the Gold Village Cinema and the movies were all in English but with Chinese subtitles (the Gold class seating is definitely worth a look, very cheap and you basically have a seat which could be considered a bed <blanket included> and you only had to press a button for waiter service direct to your seat).
Singapore really is a global hub and on taking to the water I was amazed at how many container ships there were just offshore, I do not think I have ever seen so many in my life. This meant that racing was held close to shore for the selection trials, which with an offshore wind definitely made it important to keep your head out of the boat. The cream usually rises to the top and even with the trying conditions I feel that the final results were a fair trial.
2015 will be a tough year for the Singapore sailors with the new ISAF World Cup system meaning that just 40 boats will be invited to the World cups: 30 from the World rankings (with sailors given just 72 hours to take up their place) and the rest from previous regattas (so you can get a place for Hyeres if you do well at Palma and a place for Weymouth if you do well in Medemblik). Currently all their Laser sailors are outside the top 30 (latest ranking release February 2nd) so Palma is a very important regatta.
So I did my best. I know that every little helps, especially when you see how close the points are at major regattas. I will watch their results with interest.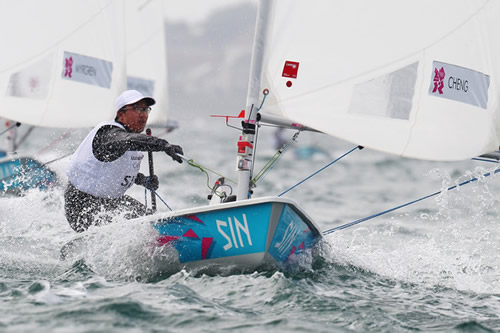 Jon Emmett has over 20 years of coaching experience from grass roots to Olympic Gold.