BACK
Dec 31, 2018 |
Archive (2008 - 2021), |
jon.emmett
2018
From Grass Roots to Olympic Sailing
I am writing my first blog of 2018 from Sunny Miami preparing for the 1st World Cup of 2018 where we have so far enjoyed hiking conditions every day, I am working with Tuula Tenkanen from Finland and Lucia Falasca from Argentina and we have enjoyed some super productive training days working with Alison Young and George Povall from the UK, along with their coach Penny Clark.
The end of 2017 seemed to pass very much in a blur but it was certainly time well spent. One of the most useful things I attended was the RYA South Conference where I learnt a huge amount. Both the UKLA and ILCA are currently undergoing a huge modernisation and I am keen improve participation where ever I can.
Since working with Lijia Xu I have always been keen to promote sailing in Asia, and Vanhang Sailing is doing a great job, with the recently set up Vanhang Sailing Academy. The first step is increasing the number of junior sailors and I spent Christmas time over there both coaching and at their Christmas regatta, ably assisted by Summer (Song Xiaqun), Maxi and Izzie Berkley. I coached Christmas day in a very appropriate hat and you can even see our New Year Celebrations video.
Summer who did two Olympics in multi-crewed boats (470 and Yngling) is keen to learn more about Single handed sailing and made my life very easy both on and off the water. The plan is also for her to shadow me at some of this year's training and regattas.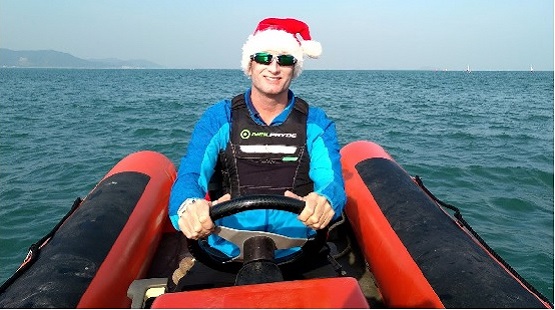 The last Hyères World Cup
It was with some sadness I travelled to Hyères in 2018 for the last Hyères World Cup. Hyères has been part of my life for well over twenty years and having probably spent an average of 3 weeks there every year during this time, I have effectively lived there for over a year of my life. A lot longer than I spent at some addresses in my younger life! From 2019 onwards, the European leg of the World Cup will take place in Genova.
The first three days we spent training in our little group: FIN, SWE, SUI, GBR and this time we used a camera mount from Imperial sailing attached to the back of the boats to provide detailed information about sheeting, steering and body movements. I deliberately did not say hiking, as the conditions (hot, sunny and very light winds) did not allow this.
Hyères was of course the final opportunity to qualify for the World Cup final in Marseilles. It is especially important to go here as not only will it be a very high-quality competition (with 25 entries rather than the 70 at the World Cups) but it is the first chance to test the 2024 Olympic venue in earnest. Although of course the weather at the end of May could be a bit different from that in August (when the Olympics is usually raced) any time at the Olympic venue is always useful – just like we were in Enoshima (2020 Olympic venue) in October last year.
Probably my biggest memory of the regatta was being put in a box, and therefore not able to watch the racing other than on the excellent SAP tracking on my phone. I should mention that it was not just myself. All the coaches were in a Box (with the majority of us just anchored, although a few joked that having towed their sailors out they might as well go in for lunch now…)
Of course, there is a need to ensure fair racing and I understand that not all countries can afford top coaching but to prevent everyone from having coaching seems a very heavy-handed way of doing things as it is these top-class regattas we use to test and improve our sailors' technical skills and it means non-World Cup regattas such as the Europeans, Palma, Medemblik and Kiel will now become a much more attractive way of enhancing our sailors' skills. It was with a heavy heart I was unable to answer Tuula's question when she asked why was XXX going faster than her downwind… I had to be honest, from just looking at the tracker I did not know.
There is another issue, which also affects the fairness of racing and that is reducing Coach boat wash (the waves/wake caused by RIBs going around the race track) but to stop coaches moving at all goes beyond heavy handed. At the moment it seemed we would just be required to tow the sailors to the course and probably provide safety cover if it was strong winds (remember nearly 70 boats and not a single designated rescue boat). The Coaches' commission has already spent a lot of time on this and there was a series of meetings, and my hope is that the situation will move on in the near future.
Hyères was predominately a light air regatta: the famed Mistral wind never made it past Marseilles, so safety cover was not needed. Our main issue which in the light winds was a costly one was starting and fortunately this is something I was able to see and so this remains a key area of focus for progress this year. Long gone are the days you could win races purely on speed. A good start and good tactical decisions throughout the race are required for a single point finish at any World Class event.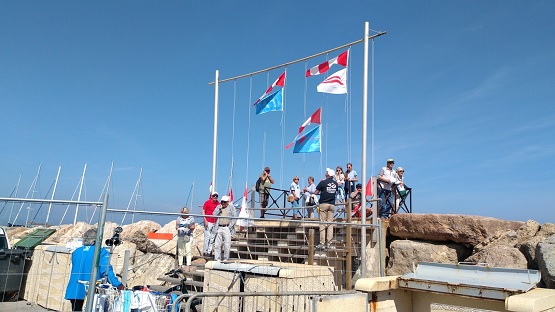 The World Cup Finale
It seems as if I have been spending all my time in France recently, with Hyeres (World Cup), La Rochelle (Radial Europeans) and now Marseille (the World Cup final.) It makes me feel it would have been very helpful to have learned French better when I studied in school. Although I guess it is not just French, as in recent years I have been encouraged to learn Spanish, Finish, Chinese and even Hebrew!
My heart will always be with the sailor, that after the cliché blood sweat and tears, we are left with the correct people standing on the podium at the end of the regatta. For the Olympic games this can be many years of dedication all coming down to one final medal race. So, in the past I have not always been a great fan. The importance of a good show is important but my feeling, the importance of a worthy winner more so.
The medal race in Marseille for the Radials had a bit of everything. A match race style beginning for gold and silver with up and coming star Mari Erdi HUN making the best of the start but ultimately Emma Plasschaert BEL taking the gold, her first win at the major Championships, and whilst watching this I was also following the battle for bronze between Tuula Tenkenan FIN and Viktorija Andrulyte LTU which literarily came down to a photo finish with the live commentary initially displaying the wrong result (Tuula won the bronze).
All in all, it was fantastic racing with some worthy winners and even before the medal race the final day saw Lucia Falasca ARG, the other girl I coach, getting soooo close to making the medal race. Just one more good result and she would have been there. So, the future for sailing is good, with such depth and talent in the fleet. I wouldn't be surprised if Aarhus is a high scoring regatta.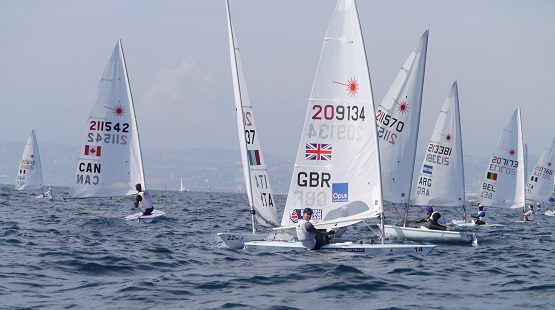 Aarhus World Championships
As I write this the World Cup finale in Marseille seems a long time ago. Indeed next week I shall be jumping on a plane to Japan to start preparation for the 1st World Cup of the 2018/2019 season and it may be the last full World Cup series we do in this cycle because in the Olympic year the World Championship (in Victoria during February) and venue specific training in Enoshima take priority.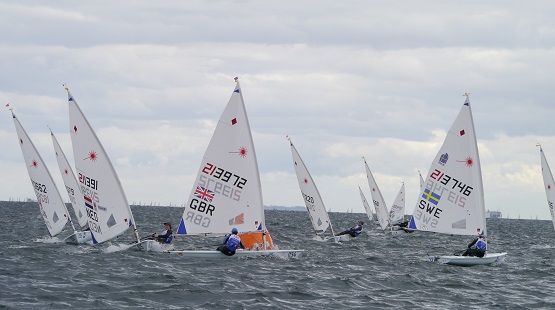 Aarhus actually marks the half way point of the Olympic cycle (time flies when you are having fun) and it is certainly the biggest event of the Olympic quad. I have spent the last few days going over all the videos I took on the final days and it occurs to me that doing all the simple things really well is what is important. There are so many things beyond your control but if we can take care of the important things that we have control over then we will achieve the best possible result under the circumstances.
Listening to the commentary from these events it was perhaps unsurprising to hear most of the winners said they were having fun, and yes, it is important to have fun, although it is probably easier to do so when you are winning! For me a good environment is important, and of course I would like to do the medal race at every regatta, and I certainly don't want tears on the final night. A good working environment will ultimately be the most productive and it is easier to work hard when you are happy. This regatta our team was actually accompanied by a psychologist who even commented he was surprised to hear so much laughter in the debriefs.
Preparation is one of the most important keys to a good result. Last month I was PRO for the Radial Coaches' regatta, a regatta which was as much as possible designed to simulate the Worlds itself. Now in hindsight if we look at the winners click here you will see 2 of the top 3 at the Coaches' regatta were also on top of the podium at the World's Championships. It would be remiss of me not to say many, many congratulations to Emma Plasschaert our new Radial World Champion from Belgium who was amazingly consistent during a very difficult week and probably made it far more enjoyable for Evi Van Acker (also from Belgium) to commentate!
Not every regatta goes to plan, that is life. Dorian Van Russelberghe in the Men's RSX had a pretty disappointing 2017 Worlds by his standards and bounced straight back to win Aarhus 2018 before the medal race, as did fellow Dutchman Lilian de Geus in the Women's RSX, who also suffered disappointment in 4th place at the Rio Olympics. Such a dominant display by these two shows what is possible. Mental toughness is key.
Enoshima World Cup
It was wonderful to see 4 of our training group make it to the top 10 in Japan and therefore qualify for the medal race, with Josefin Olsson with SWE coming top with silver overall (Hannah Snellgrove GBR 4th, Tuula Tenkanen FIN 5th, and Alison Young GBR 8th)… with less than 2 years to go to the Olympic Games themselves and most MNAs (Member National Authorities, for example the RYA) are starting their Olympic trials in the next 6 – 12 months it is going to be a very busy time. Although it is interesting to note that Marit Bouwmeester NED not only won the event but her MNA selection as well (qualifying for her 3rd games at Tokyo 2020).
While 2 years on may sound like a long time, it will be gone in a blink of an eye. Time at the Olympic venue is at a premium especially in the summer months. Remember the Olympics starts on July 26h 2020, so it is this time of year (end of July and beginning of August) that we need to be practising in to experience similar conditions to those we are likely to have at the Olympic games.
So although the Enoshima World Cup event was held quite late this year with mainly northerly (offshore) winds as opposed to the summer sea breezes (onshore) I was pleased with the progress made by Tuula Tenakanen and Lu Falasca who finished just inside and just outside the medal race zone respectively. Of course, there is still a lot of work to do as the bar continues to be raised as everyone improves with passing months, but at the half way stage we are where we need to be.
Full results of the regatta are found by clicking here.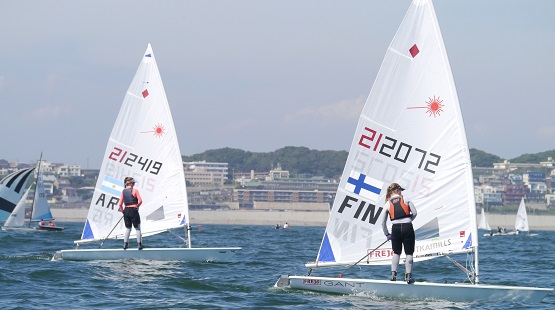 Winter training
Overall 2018 for my own sailing was a moderately successful year: I remained ranked no 1 in the UK Radial Ladder, although some of the top sailors couldn't do as many events with me, which did give me a bit of an advantage.. In the Championships I was not quite so successful, ending up finishing 2nd at both the Inland (strong winds) and National (light winds) Championships. On both occasions I wasn't quite able to match the eventual winners. The Inlands was incredibly close: I won all 3 races on the Saturday and Ben Elvin won all 3 races on the Sunday to beat me on tie-breaker. Whereas the Nationals were less close with George Povall doing nearly enough to win with a race to spare.
The last domestic event of the year was the Masters' Inlands, held in Grafham. So it was nice to win the event (counting 5 1sts) and end the season on a high. Although, as always, the results do not always tell the full story and as always I was pushed very hard by Ian Jones.
Next year I am hoping to improve my personal fitness and I have started going to the Pilates Centre Weymouth. Jenny was a key part of Lijia Xu's very successful 2012 Olympic campaign.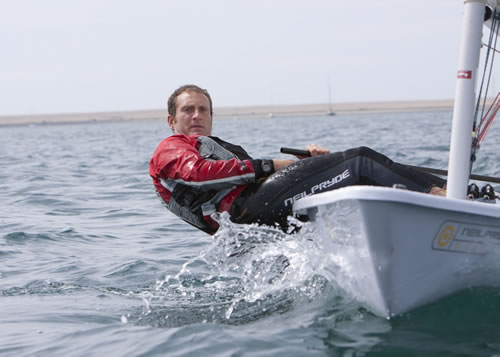 Jon Emmett has over 20 years of coaching experience from grass roots to Olympic Gold.